Posted
3 years 1 month ago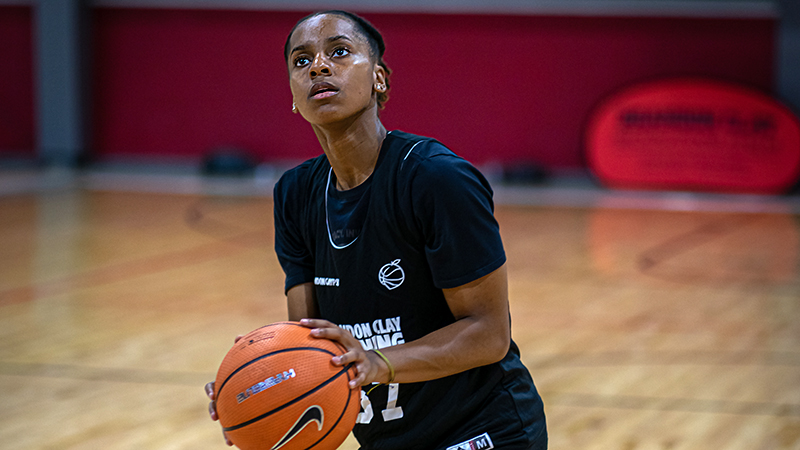 Ari Wiggins works on her jumper at the BCS National Training Academy in Anderson, Indiana.
ANDERSON, Indiana – The BrandonClayScouting.com National Training Academy has become the nation's premier proving ground to train with and compete against elite competition. Our favorite part of the showcase is working with campers during our Spotlight Session Workout. Here are the takeaways from the session:
Brown continues to make an impact every time we train with her consistent improvement. Her jumpshot mechanics were improved just two weeks after our last training academy. Brown's development comes in large part due to her vocal nature on the floor. In many ways, she is an extra coach on the floor. She sees the game how it's supposed to be played.
It speaks volumes that Burgher made the trip to train with us again before playing in a club game that evening. She is a big, versatile wing who in this session showed an improved jumpshot after working on that with our staff 14 days ago. She has the size to keep rising as her wing skill set continues to blossom.
Culberson's game looks fantastic. She does a little of everything with the skill to shoot the ball, run the point and knows what she's seeing. Culberson has the skill set to be a team leader with her performance and toughness. She is a potential shot creator off the bounce and shot maker off the catch. Continuing to control the game with her voice on each and every possession from the guard spot will make Culberson that much better.
Madeline Freeth (Avon, Indiana), Covenant Christian – 2023
Freeth's skill improvement has been fun to track so far. If she'll continue to find chances to compete and train in environments, her game will keep rising as a result. Freeth took the floor with some of the nation's top players in her first game back since December. There's plenty to like about what she does on the floor but her IQ level is her biggest attribute right now.
Goehring has good size, ability and movement at the guard spot. She can potentially play either wing position depending on matchups and style of play. Goehring showed progress here from our session in Alabama last month. She shot the corner 3-pointer well during gameplay and was effective as a catch and shoot option in that regard. For Goehring, talking on the floor will enhance her presence.
Montasia McCallister (Indianapolis, Indiana), Gym Rats – 2022
McCallister has the size, skill combination to be a bigtime option on the wing. She plays both club and high school ball at a high level. McCallister can shoot the ball from beyond the arc with a consistency that lends itself to the college game. She has a chance to be a true scoring threat in that way. McCallister has a chance to be a producer in multiple areas especially when her 3-pointer is falling.
Bibi Mercardo (North Aurora, Illinois), Midwest Elite – 2023
This was our staff's first chance to train with Mercado. What she lacks in physical stature, she made up for her with her work ethic. Mercado showed here that in time she can become a specialist knocking down shots with her feet set. Look for Mercado to keep improving as she gets stronger physically.
Olivia Nickerson (Monticello, Indiana), IGB – 2024
Nickerson is an elite level shooter at an early age. We just watched her with IGB two weekends ago before working with her here. Nickerson can flat out shoot the ball but has the skill to be a talented off guard creating her own shot off the bounce or off the screen action. She's got a chance to be a premier guard option in a state full of elite talent.
Rucker has been absolutely wonderful to train this summer. Her game has blossomed as she will hit a 3-pointer on one end of the floor then take a charge from the biggest kid on the floor the next possession. She is going to be a bigtime addition to a roster at the college level. If anything, Rucker's ability to keep learning when and where to take shots will help her game elevate.
Smith has had a fantastic 18-month run where she has emerged as one of the Hoosier State's premier rising seniors. The future Purdue Boliermaker was back at it here showing an activity level that was hard for opposing defenders to match. She's also a major factor on the defensive end of the floor taking on all comers off the drive. As Smith keeps showing increased confidence in her jumper, look out for another major jump in production.
Rachel Smith (Georgetown, Kentucky), Scott County – 2022
This was our fourth time working with Smith this summer. We knew coming in that she can really shoot the basketball. What we had not seen was a chance to watch her in live gameplay the way we did with Brandon Clay Select this weekend. There's a calmness and patience that Smith is starting to play with usually reserved for college veterans. She's contributing in all facets of the game in battles against college bound guards.
This was the second time this summer that Stewart has trained with our staff. This time, she flew more than halfway across the country to train with us and suit up for Brandon Clay Select. She made the time count putting on a solid showing in every aspect of the game. Stewart's emerging ability to stretch defenses with her jumper was impressive. There is a bounce to Stewart's step that is unexpected but allows her to be a threat on both ends.
Mckenzie Swanson (Rochester, Michigan), MI Crossover – 2024
Swanson has fantastic size and skill in the frontcourt. She is a fantastic young post prospect with good hands and feet already. She played against two of the best post prospects in the country in Faith Carson and Kyra Oldacre not giving either ground. That's pretty impressive for a kid who hasn't entered high school yet. Swanson will add physical strength in due time but the foundation is solid.
This was our staff's first time training with the left-hand dominant forward. Her activity level and willingness to focus on detail was evident right away. She has the frame to be a true hybrid forward at the next level. Thorne has the athleticism and bounce to be a tempo changer defensively but the skill, IQ to be a system fit on the other end. As her jumper improves, it will become even harder for opposing defenses to guard her.
Wiggins is a dynamic force with the ball in her hands capable of applying real pressure to the defense. She spent considerable time this weekend working to improve her outside shooting consistency. That's the next area for Wiggins to make noticeable growth. She's such a fast option that getting downhill to score or create is not a challenge against most teams at the club or high school level.
Timothi Williams (Georgetown, Kentucky), Great Crossing – 2022
Williams was a pleasant surprise in this setting. She shot the ball well all weekend creating space. Her game is versatile reminding in part of Sean Kelly Darks with her production. Like Darks, Williams is a slashing option with the ball but showcased the range to be labeled a shooter on that end too. Williams foot speed should allow her to be a consistent on ball defender as well.

Brandon Clay serves as the Director of Scouting for ProspectsNation.com and owns The BrandonClayScouting.com Evaluation Report, which is read by more than 200 colleges and universities nationwide. He also serves as the Executive Skills Director for the Brandon Clay Scouting Academy Series.