BUFORD, Georgia – The Brandon Clay Summer Showcase allowed some of the nation's elite prospects to take center stage going into the month of June. We offered a spotlight training session ahead of the start of the sessions. Here are the first takeaways from that workout:


Bowman puts the time in with her skill set. As a result, her game has gotten significantly better in the last 12 months. When Bowman's feet are under her shoulders she doesn't miss much. Working on releasing the ball high and keeping her elbow above her eye are essential to shooting a high percentage.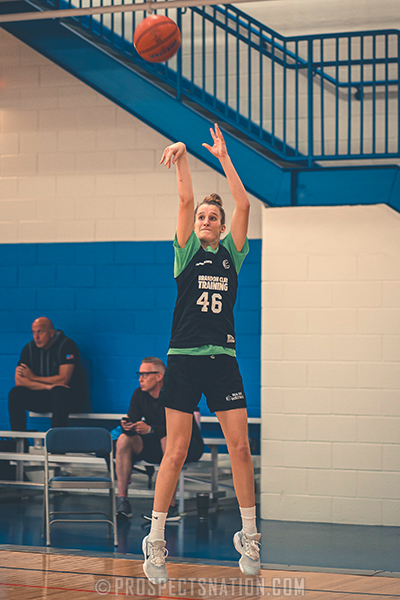 Emma Risch of West Melbourne,
Florida. *Photo by Anthony Lugardo.Risch has established herself as one of the nation's premier sharpshooters. In complete fairness to her game, Risch doesn't get the credit she deserves nationally for her skill set and physical attributes. Her length, ball handling ability plus shot making range to 25 feet give her a distinct advantage over most of the kids in the class nationwide. She's as good of a shooter as I've seen in recent memory at the high school level. Sticking the landing on her jumper is key.
Jadyn Brenneman (New Fairfield, Conn.), New Fairfield – 2024
Simply put, Brenneman has the tools to be a quarterback's quarterback. If she doesn't get something conceptually, you can teach her once and she's got it down pat from there. Long term, Brenneman's game will be predicated on her ability to stretch the floor on the open 3; She's rarely if ever going to beat you by trying to do too much on her own.
Peyton Gluesing (Brookhaven, Georgia), Holy Innocents – 2026

Coming off an injury, she looks like she hasn't missed a beat. She is shooting it significantly better than 12 months ago. Continuing to develop the confidence in her shot is essential. Gluesing's game is in a good place. She was in a game full of elite level talent and found ways to be impactful.

Freeth has become a high level shooter off the catch and off the one bounce pull up. In the session, she showed fantastic growth in that regard from where she was a couple of years ago. In gameplay, Freeth made shot after shot off of dribble penetration and kickouts into her spot up looks.

Harpring has really put the time in on her game this spring. She was a quality shooter walking into the early part of March and has taken her shooting to another level since then. Harpring has all the tools to be a low 30's, high 40's percentage kid from behind the 3-point line at the college level when her mechanics stay consistent and solid.
Like Brenneman, Hedge came from Connecticut to train with me. She is smooth with the basketball is her hands and good athlete to go with it. Hedge has the ability to create down hill off the bounce. She's a fantastic outside shooter with real range to 22 feet. If anything, Hedge can look for her shot off the catch and shoot action a little more frequently.
Kailani Merrell (South Daytona, Florida), Spruce Creek – 2026

Shot maker around the rim, as her release finishes higher her range will increase as well, she's really good getting down hill to create off the dribble. A lot of Merrell's progression over the next couple of years will be predicated on her physical development. That will happen on its' own time. The tools are there.
AC Milam (Dickson, Tenn.), Dickson County – 2023
Milam can create off the bounce into a jumper. In time, she potential range to the volleyball line with current consistent range beyond the 3-point line. Adding consistency in shooting beyond 20 feet and shooting off the bounce will change her game.
The progress in Miller's game over the past two years is undeniable. She's become a quality shooter off the bounce and a capable shooter off the dribble. Miller also made multiple nice passes in the pick and roll action continuing to raise her game will lead to increased production offensively

Coming off of an offer from Henderson State last week, Pollock showed improved condition and strength. She has the size and skill in the new era of the basketball to be a legit face front court kid with the shooting range to be a spacer. Her follow through has to get higher for her range to keep extending out.
Liliana Rosario (Ocala, Florida), Trinity Catholic – 2026
Rosario has great size in the frontcourt. A left hand shooter, she has legit physical tools for an upcoming freshman. When she shoots the ball in one motion, she's tough to guard. Rosario provides scoring in the post and developing her perimeter shooting will be an additional asset to her game.
Jasmine Watson (McDonough, Georgia), Ola – 2023
Watson has great communication even in drills. She is shifty with the basketball in her hands and is a hard worker on both ends of the hardwood. Watson's jumper is at its best when her guide hand stays tall and doesn't flare out to the side. Watson's willingness to talk is extremely unique and did not go unnoticed by our staff.

Brandon Clay serves as the Director of Scouting for ProspectsNation.com and owns The BrandonClayScouting.com Evaluation Report, which is read by more than 200 colleges and universities nationwide. He also serves as the Executive Skills Director for the Brandon Clay Scouting Academy Series.