Posted
1 year 5 months ago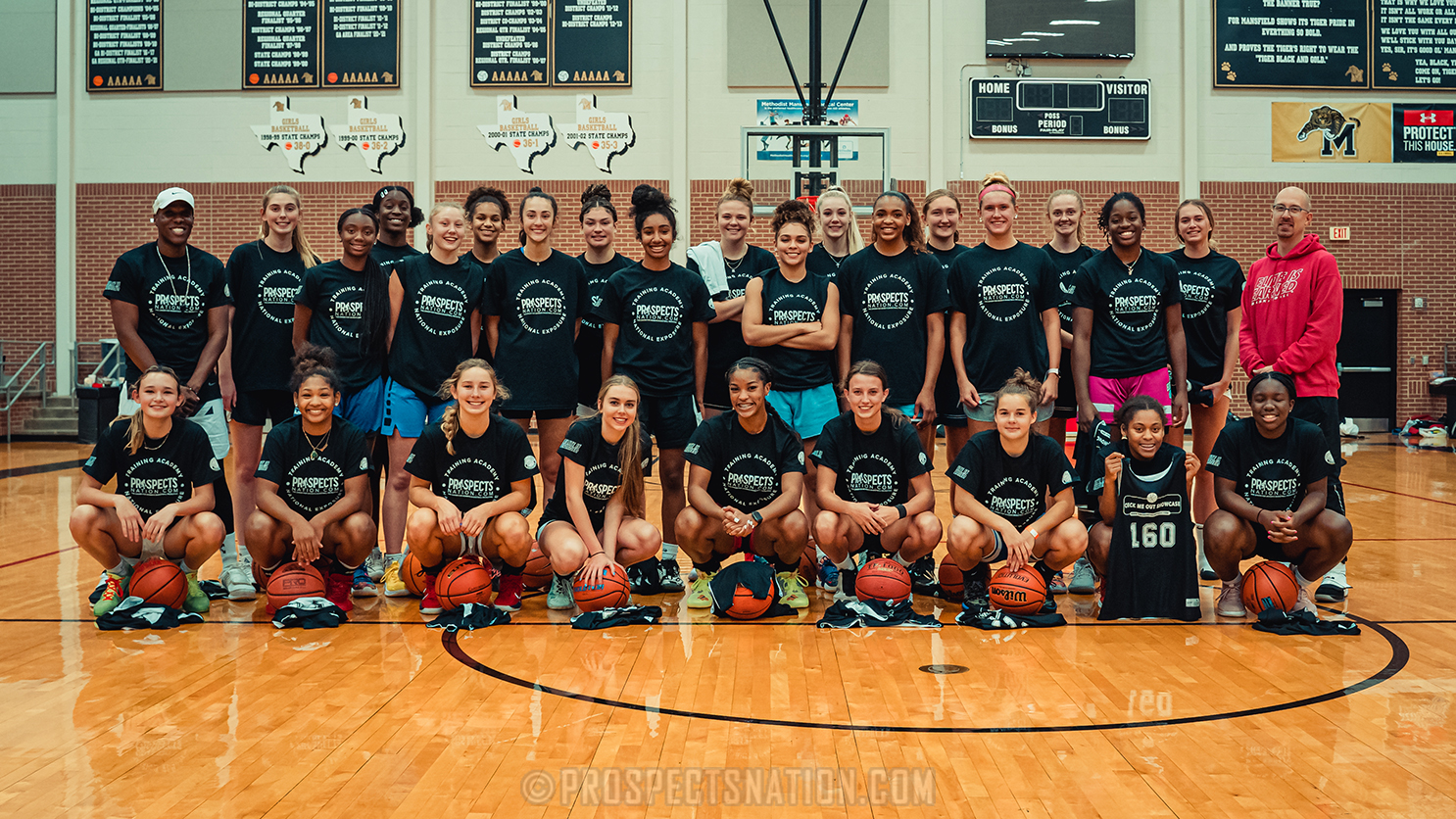 MANSFIELD, Texas – October in Texas means marquee matchups in grassroots girls basketball. The 2021 ProspectsNation.com Friday Night Lights training session allows some of the nation's best players to train with three members of the McDonald's All-American Selection Committee ahead of a weekend of competition.
Blue's work ethic has her in a good place basketball wise at a young age. Her game has developed nicely over the past twelve months with legitimate shooting range well out beyond the arc.

Bollin is such a leader on the floor. From working out early with Class of 2024 forward Harper Peterson to the very last drill of the night, Bollin is in a different league with her energy and effort.

Collins showed really well in an elite grouping of guards being instructed by former McDonald's All-American Ashley Corral. Like Corral, Collins has the toolbox needed to be a true PG1 at the next level.
Devin Coppinger of Everson, Washington, is a known commodity in the Northwest and seeing her compete on this platform solidifies that she can compete with the best in the country.
A healthy Bella Fontleroy is a dangerous weapon on the floor. Sandwiched in between official visits to Arizona and Texas Tech, she made time to come and train. The 6-2 swing player from Springfield, Missouri, is back at 100 percent and the joy paired with her talent leads to plays being made.
Rian Forestier of Helotes, Texas, is just adding to her impressive 2021 resume. This sophomore is building on her game that starts with one of the sweetest shooting strokes in her class.

Groot has really blossomed into her own over the past twelve months. She is such a versatile option in the front court with multiple NCAA Tournament caliber program offers already. We'll train again in Boston later this month.

Shay Ijiwoye of Phoenix, Arizona, is an explosive and physical option at either guard spot. Seeing the game slow down for this 2024 talent is fun to watch, seeing her game evolve every outing.
Bailey Maupin of Gruver, Texas, has her ticket punched, committed to Texas Tech, but if you think she'll take her foot off the gas, you're wrong. Her bounce, length and passion for competing are always on.

Cameron Rust of South Kingstown, Rhode Island, is a matchup nightmare. The 6-2 forward from the 2024 class is starting to add the long range jumper that will frustrate defenders as she's too strong and skilled off the bounce to play close.
Malia Samuels of Burien, Washington, has a nickname as the pitbull. But when she goes in to attack she really puts help defenders in a bad spot because she's got the vision and smarts to make the read and play in front of her.

Jenna Villa of Arlington, Washington, has been a national tour seeking out any and all competition. She's showing that there isn't a court she doesn't belong on. And its worth repeating her range is crazy deep.
Sammie Wagner of San Antonio, Texas, has been in the gym with the best in the country since the 5th grade. She just knows how to play with other great talent and is most comfortable when surrounded with players at this level.
Chloe Kitts of Oveido, Florida, has a jumper now. That's scary as she's almost impossible to stop from getting to the rim where her length and bounce make the bucket hard to stop.
Ashlon Jackson of China, Texas, is one of the most versatile players in the class. And with the emphasis of Friday Night Lights, her swiss army knife skill set stood out the more layers added and that should make Duke fans excited.
Madison Heiss (Dallas, Texas), Highland Park -- 2023
Heiss was on point in our first viewing of her game. She is a guard with size and skill who we fully expect to be in the mix with our staff over the next 12 months. Keep a close eye on her development.

Minch was in her element here surrounded by some of the nation's best. Her size and length at the forward position continue to serve as a potential separator when we view her through the next level lens.

Rickard has continued to put the time in on her game. After committing to Rice and then moving to Michigan at the end of the summer for her last two years of high school, Rickard's skill looks like it's headed in the right trajectory.

Fresh off of a visit to Northwestern, Swanson has an elite size that should allow her to serve as a consistent frontcourt threat in due time. As her outside shooting range continues to emerge so will her productivity.
Miyah Verse (Flagstaff, Arizona), AZ Elite -- 2023
Verse brought a true versatility to the group. She has the size and strength to be a true presence at the forward spot. In this setting, Verse showed that she won't shy away from trying to improve her outside game either.
After visiting SMU earlier in the day with her Bay State Jaguars coach Laurie Bollin, Vital came ready to get some work in. Her deceptive speed keeps opposing defenders guessing. She is a capable ballhandler who goes to another level when she talks the game.
Williams has been busy this offseason. Moving to San Diego to play with Cal Swish EYBL and La Jolla Country Day has kept Williams on the go. When she's been at her new home, a revamped jumper has been the focal point of her growth. The results are paying off.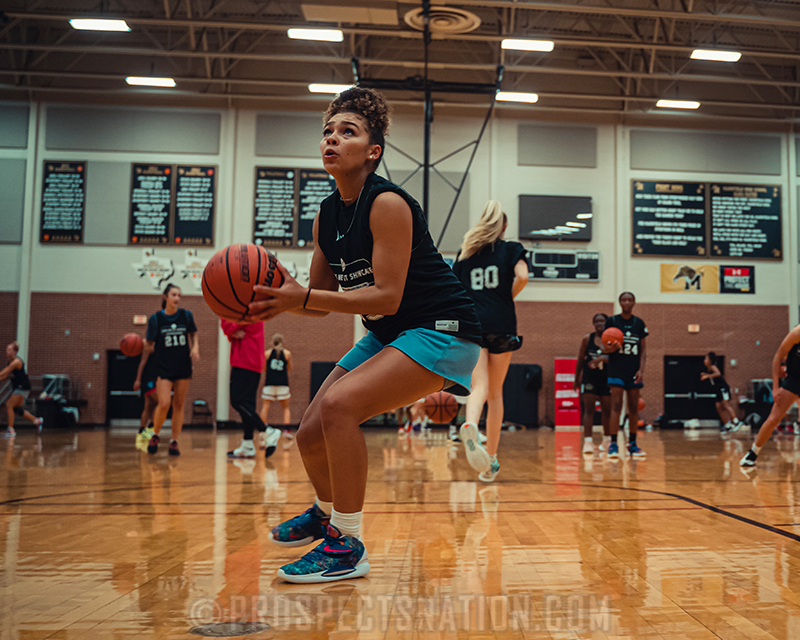 Brandon Clay serves as the Director of Scouting for ProspectsNation.com and owns The BrandonClayScouting.com Evaluation Report, which is read by more than 200 colleges and universities nationwide. He also serves as the Executive Skills Director for the Brandon Clay Scouting Academy Series.

Chris Hansen is managing editor of ProspectsNation.com and serves on the McDonald's All-American and Naismith Trophy selection committees. He was a co-founder of and the national director of scouting for ESPN HoopGurlz from 2005 until 2012 and is the director of the Check Me Out Showcase and ELITE is EARNED events. He can be reached at chris@eliteisearned.com.