Posted
1 year 12 months ago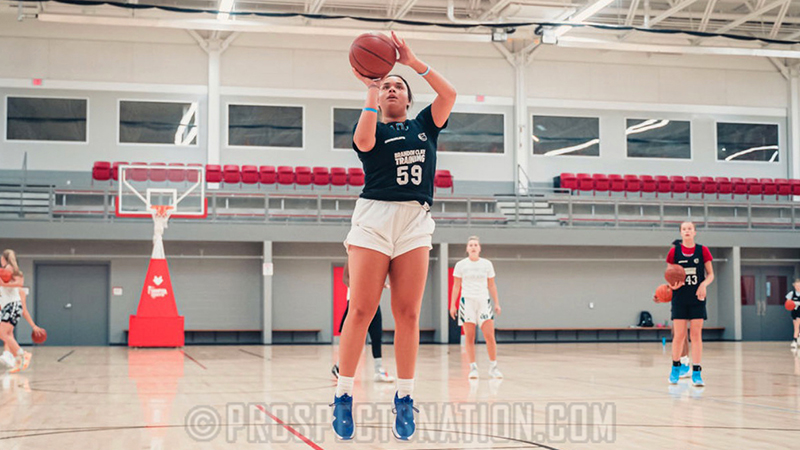 McClain Mahone of Verona, Wisconsin, elevates for a jumper at the 2021 BCT Academy in Appleton. *Photo by Anthony Lugardo.
APPLETON, Wisconsin – The BrandonClayScouting.com National Training Academy has become the nation's premier proving ground to train with and compete against elite competition. With numerous campers representing the best that the Badger State has to offer, this edition was no different. Our favorite part of the showcase is working with campers during our Spotlight Session Workout. Here are the takeaways from Thursday night:
Payton Beck (Sun Prairie, Wisconsin), Cardinal Heights – 2025
Beck is a steady hand from a shooting perspective who very well could wind up as a premier sharpshooter in the state. She kept her feet under her shoulders with a nice, tall followthrough during our time together. As Beck gets more and more efficient using her left hand dribble to create, she'll get easier looks from midrange and at the rim as a result.
Brooklynn Butler (Fond du Lac, Wisconsin), Fond du Lac – 2024
Butler has good size and versatility on the perimeter with her outside shot. It leaves her hand consistently off of the catch and shoot chances. That coupled with her ability to pick up new offensive concepts quickly was fantastic. Keep an eye on Butler's skill level shooting off the bounce.
Holmes shot looks much improved from a year ago. She's putting the time in and it shows. If Holmes can keep growing as a shot maker from the outside to go with her skill set creating looks off the dribble for her and her teammates, she'll keep elevating. Holmes has the bounce and speed it takes to create space to score it.
No prospect on hand showed more physical growth over the past twelve months with her shooting than Jaglinksi did. She can really shoot it for a middle school prospect with plenty of upside remaining both skill wise and physically too. As she keeps filling out, her offensive game should do the same.

Mahone has the size to play in the frontcourt but the ability over time to be a floor spacer in the hi-lo game or in the slot on the trail. Working on her handle in the halfcourt will only help Mahone make matchups harder for opposing teams no matter what position she is playing. Mahone showed the moxie to take instruction and keep building during this workout.

Arguably one of the hardest workers we've been around the past decade, Meulemans never misses an opportunity to train with our staff. In this session, we worked on her ability to use the ball screen action as a shot maker while sprinting to get shots in various catch and shoot scenarios. Expect Meulemans to use this session to keep growing.
Meulemans emerged as an elite level middle school guard in this setting last year and reinforced that with her shooting touch here. She is a rare case of a young prospect showcasing so much athleticism that is ahead of where her footwork progression is. That is an A1 issue to have at this stage and will be easily correctable over time.
Peyton Musial (De Pere, Wisconsin), Notre Dame Acad., – 2025
Musial is going to be a really high level scoring option as she enters high school. She can shoot it both efficiently and effectively off the catch in addition to starting to build her skill set with the handle. As she gets stronger over the coming 12-18 months, we expect Musial's range on her jumpshot to improve as a result.

It's tough to be in a shooting group with Jordan Meulemans and Kamy Peppler then match them shot for shot. That's just what Ouimette did on Thursday night. She's a quality shooter both off the catch and off the bounce using the pick and roll action to create. For Ouimette, continuing to be a confident shooter when she gets looks is paramount.
Ouimette has improved greatly over the past year as she keeps getting more and more comfortable with her length, size at an early age. Shooting wise, she projects as one of the premier spot shooting options in the state class wide right now. As Ouimette keeps building her skill set to score off the bounce, the sky is the limit for her scoring.
Kallie Peppler (Hortonville, Wisconsin), Hortonville High – 2024
Peppler's natural calling card is her versatility. In the session, she showed a real untapped level of offensive productivity she can still grow into. Her mechanics lead us to believe that Peppler can be a high level shot making wing who is also a diverse defender positionally too. For a game that values 3-point makers who serve as defenders, Peppler fits right in.
A true veteran of our Training Academy circuit, Peppler is both a shot maker and a game manager at the point guard position. She has fantastic mechanics out beyond the arc. When Peppler stays square on her shot not fading after the release, it's going in more times than it doesn't.
Lindsey Schadewalt (Belleville, Wisconsin), New Glarus – 2024
It was a joy to watch the bounce in Schadewalt's step from the first drill. She has fantastic length at the guard position for an underclass kid and has the base to be a really good shooter for the long haul. Her feet were consistently square with a tall, one second follow through to match. Schadewalt could be a great option off the bounce coming off pindown screen actions.

Brandon Clay serves as the Director of Scouting for ProspectsNation.com and owns The BrandonClayScouting.com Evaluation Report, which is read by more than 200 colleges and universities nationwide. He also serves as the Executive Skills Director for the Brandon Clay Scouting Academy Series.