BCE100 Indy Spotlights II
Posted
8 months 1 week ago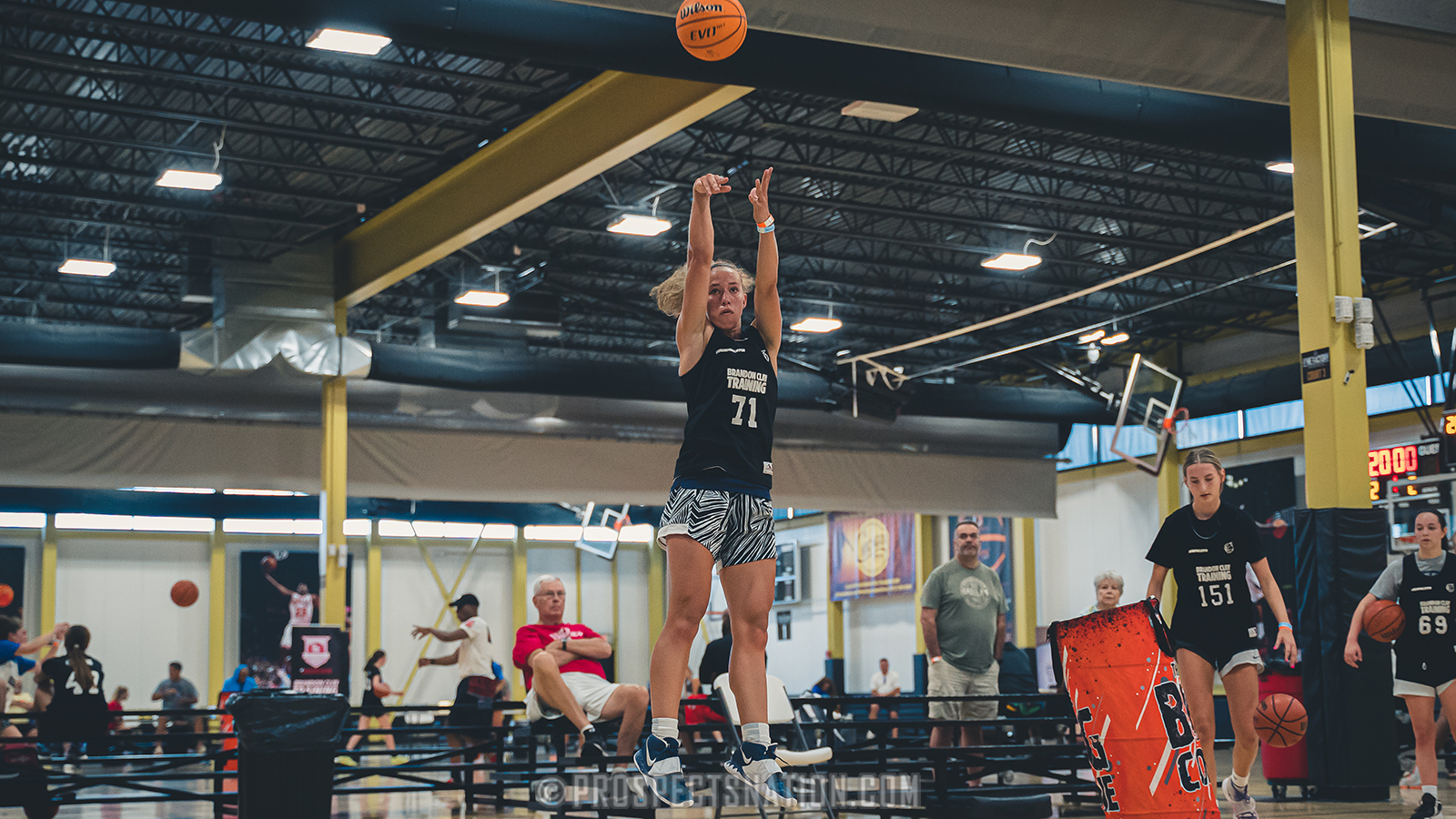 Connecticut commit Ashlynn Shade elevates for a jumper at the BCE100 camp in Indianapolis. *Photo by Anthony Lugardo.
INDIANAPOLIS, Indiana – The Brandon Clay Elite 100 Showcase Midwest allowed some of the nation's elite prospects to start working on their games coming out of the July evaluation period. We offered a spotlight training session ahead of the start of the sessions. Here are the second set of takeaways from that workout:
Abney's feet have slowed down from this time a year ago. As a result, her shot looks better and is a little more compact in movement / mechanics. Abney plays and shoots with pace which is hard to find in a lead guard.
The growth in Freeth's shot and mechanics has been exponential since we first connected in 2020. She has put thousands of hours of reps since then. The result is a clean, compact jumpshot that has allowed her to knockdown shots on teams with some of the nation's best playmakers this summer.
Even with a face mask on, Makalusky still shot it well in drills and live action. She has legitimate size on the wing with the jumper to force other teams to play her out to 23-24 feet. In that regard, she's one of the better shooters to come through the Hoosier State in recent memory.
Minch is so skilled at the forward position. On her jumper, when Minch's right elbow stays under the basketball, she's a completely different shooter than when that elbow flies off the line on her. For Minch, that small tweak is a huge separator giving her shooting range to 24 feet.
Rhodes is much improved. The progress we would have projected for her as a younger prospect is coming to fruition now. Rhodes footwork looks good and her shot is starting to slow down. She is on pace to be a real force in her class inside the Bluegrass State.
Schellhammer is a shot maker from the outside. At this rate, she is going to have a nice guard skill set in terms of her shooting mechanics. Schellhammer should be a consistent option from the perimeter especially as she fills out over the coming years.
Shade has put in so much time in on her outside shot. The followthrough and mechanics are vastly improved from three years ago when we first saw Shade in this setting. Her pull up is extremely tough to guard due to her elevation and now her 3-pointer is a weapon too.
Spink has some of the same athletic and explosive qualities that make Shade so effective on the floor. Spink is a good shooter especially when she stays square to the rim on the release. At times, the momentum from her athleticism can carry her to the left or right after a shot is taken.
Sterling has fantastic size on the perimeter. She just keeps getting better. If anything, Sterling needs to shoot it with the knowledge that her skillset is elite. She is a true big guard and real shooter with range out beyond the 3-point line.

Brandon Clay serves as the Director of Scouting for ProspectsNation.com and owns The BrandonClayScouting.com Evaluation Report, which is read by more than 200 colleges and universities nationwide. He also serves as the Executive Skills Director for the Brandon Clay Scouting Academy Series.