The Stars Of EBA All American Camp
Posted
6 years 9 months ago
LAWRENEVILLE, Ga. -- With 100 plus campers in the building yet again, the focus of the Elite Basketball Academy All-American Camp was solely focused on-floor development and providing elite-level assessments afterwards as a result. After two days in the gym with both upperclassmen and underclassmen, here's a look at players showing their talent and progress in their skill development over Labor Day Weekend.
Upperclass Spotlight
Katlyn Ghavidel (Fair Oaks Ranch, Texas), Boerne HS - 2018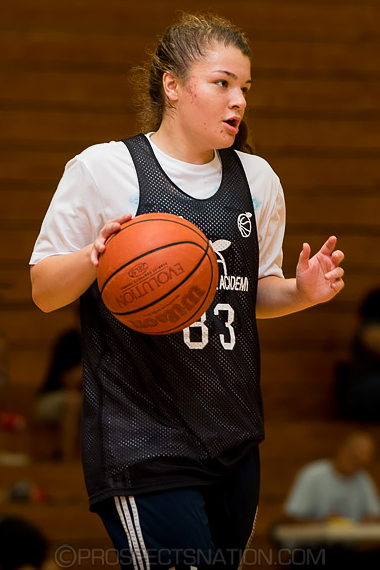 Katlyn "Snoop" Ghavidel is one of the
top sharpshooters in the 2018 class.
*Photo by Ty Freeman.With so much social media chatter recently about the lack of shooters in women's basketball, expect this Texas native to receive plenty of attention going into her junior season. Ghavidel earned mention by backing up what she did at the PSB Elite 32 at the end of July and the Check Me Out Showcase in May. She proved that she was one of the best shooters in the gym, regardless of class. Her confidence and ability to score buckets from anywhere instantly gives her value on most any team.
Kennedy Roberts-Rosser (Fairfield, Ohio), Fairfield Senior HS – 2017
Roberts-Rosser was one of many talented frontline players at the camp. She stands at 6 feet 2 with a rangy wingspan, but can also run the floor as quickly as a perimeter wing. Her specialty centers on defending and rebounding. However she proved to be effective at scoring at the rim off of post feeds or put-backs. The value in a prospect like Roberts-Rosser for college coaches is very high. She is one of the rare types of players who can defend pick and roll situations 30-feet from the bucket while also being able to rebound like a true post player. Expect her phone to be busy this fall and possibly into the winter if she does not sign in the early period.
Brishonne Tollie (Bartow, Fla.), Montverde Academy – 2018
Currently ranked No. 52 in the ELITE 60, Tollie cemented her place among the nation's best. Her high motor and strength to rebound the basketball made her a consistent producer at the camp. However, what will keep Tollie in the conversation of the nation's best is her growing ability to score in traffic. Her soft touch and footwork to score even around taller players should keep her stock high as a recruit. Given the growth in her game she projects to be a double-double threat each night when she suits up this winter for Montverde Academy.
Mary Martha Turner (Atlanta, Ga.), Greater Atlanta Christian – 2018

Mary Martha Turner is an EBA Camp
veteran and maximizes her time each
time. *Photo by Ty Freeman.Turner has been a consistent performer at many Elite Basketball Academy events in past years. She brings a workman-like attitude yet always manages to have fun in a camp setting. Turner's value as a prospect continues to trend upwards. Standing near 6-2, she has the size and wingspan to defend many interior players. Yet she is versatile enough to do damage on the arc as an offensive threat. She is becoming a match-up nightmare for defenders in the pick-and-pop game. As she demonstrated last weekend, she can help point guards get open by setting solid ball screens. However, her ability to get downhill with either hand on the 1-2 dribble bounce makes her an even bigger scoring threat. Turner will attend Greater Atlanta Christian this year after attending IMG Academy in recent years.
Destiny Williams (Clemmons, N.C.), Forsyth HS – 2017
College coaches begin to scramble for quality post players in the months before the late signing period. Williams should be at the top of the list for many regional schools within the Southeast. Standing at 6-1, she has good size and strength to push around opponents in the trenches. Although she is not the most fleet of foot, she uses her body well to create angles to score. When she catches on the block Williams can score over either shoulder. Her blue-collar attitude and willingness to work hard only add to the fact that she is ready to be a productive player heading into her senior year of high school.
Underclass Spotlight
Sydney Bowles (Lithonia, Ga.), Woodward Academy – 2022
Bowles showed potential and skill at the camp. The 5-10 forward might be most comfortable playing along the frontline right now, but she showed wing skills that will pique people's interest. She is a natural athlete and proved she could pick up on new concepts with ease.
Evie DePetro (Knoxville, Tenn.), Halls HS – 2020
DePetro has stretched out to 5-10 and yet still possesses all of the guard skills that she displayed in the past. What stuck out most about DePetro's game last weekend was her smooth jumper. She is shooting with consistency and has a release that is quick and compact. Her passing ability is still the strong suit of her game. She is able to deliver the ball to her teammates at the right place at the right time.
Erin Toller (Louisville, Ky.), Sacred Heart – 2020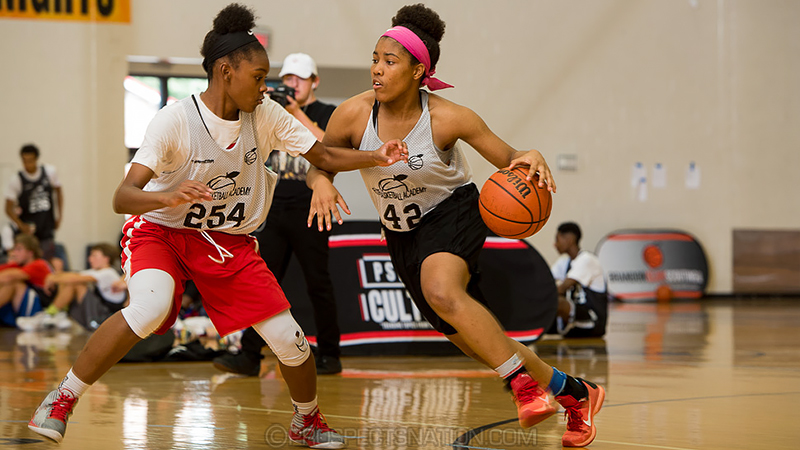 Erin Toller is strong wtih the basketball in her hands and
makes teammates better. *Photo by Ty Freeman.Toller is a strong shooting guard that showed advanced offensive skill. Her jumper is compact and consistent. Her versatility also showed at the All-American Camp. She posted up smaller defenders while also running the break with ease. Toller will join aforementioned Marshall at Sacred Heart this winter as a freshman.
Destinee Marshall (Louisville, Ky.), Sacred Heart – 2020
Marshall showed her slashing abilities very well at the camp. Her specialty currently is putting pressure on the defense by attacking off the dribble. Her ball skill combined with her athleticism make her tough in one-on-one situations and in transition. The 5-5 point guard enters high school this year and projects to be a contributor for years to come.
Kristian Young (Indianapolis, Ind.), Lawrence North – 2020
Young made a name for herself by pushing the ball in transition and finishing plays at the rim. She has a feel for the game when she does not have the ball as well. She flashes to open areas and will make plays regardless if the ball is in her hands or not. The 5-5 point guard is on a trajectory for bigger things in the future.
Clay's Corner
Gilbert is an uber talented option in the backcourt. She has all the tools to be a consistent primary scorer. In coaching her team we talked about reading player personnel and making decisions about shot attempts and shot selection based on who is on the floor alongside her. Continuing to learn how and when to assert herself offensively will be the key for her next step in development. On the other end, she is a capable option as a defender with the length to guard multiple positions.
I leave every eval with Green thinking about how the Knicks use Carmelo Anthony as a mid post 4 who is at her best in iso sets to score from there. I envision Green being effective with the same side ball screen action that Miami used with LeBron primarily with Mario Chalmers during the 2013 run to the Finals as well. Green can shoot over the top of guards if there is a switch and has the skill to beat slower forwards if they're late to recover after helping. On top of all that, she rebounds it well. She'll have to get physically stronger for the next level but is a tough matchup if put in spaces to be effective.
As a quarterback on the hardwood, Peoples can make all of the throws. She has the talent to be a high level scorer, elite passer and primary on-ball defender. There were times where no one on the opposing team could keep Peoples from getting into the lane. She added Georgia and South Carolina offers on unofficial visits after shining with at EBA for two days. Like her club teammate, Gilbert, reading where and when to impose her will offensively on games will be the next step.
Simply put, Scott was awesome and separated herself from the pack of similar style prospects here. Her competitive nature is infectious. She belongs in the elite specialist category like her Indy Lady Gym Rats teammate Karissa McLaughlin does in 2017. Scott's wide assortment of schools in the recruiting process, from Duke to UCLA, supports that theory as well. She'll be at her best in the coming years as she continues to dedicate herself to being in elite shape. She was a joy to coach and work with for two days.
Brandon Clay serves as the WNBA Director of Scouting for ProspectsNation.com and owns The JumpOffPlus.com International Report, which is picked up by more than 150 colleges and universities nationwide. He serves as the Executive Camp Director for the Elite Basketball Academy Camps. He serves on the Naismith Trophy Men's / Women's College Player of the Year Academy and is chairman of the HS Boys / Girls Board of Selectors and is on the McDonald's All-American Selection Committee. He also is the publisher of PSBPopCulture.com.
Jonathan Hemingway is the Assistant Director of Scouting for the JumpOffPlus.com National Scouting Report, is on the Naismith Trophy Board of Selectors and owns CoachHemi.com, the go-to source for coaches for X's and O's. He is the floor director of #TeamEBA camps, a site director for #TeamPSB tournaments and can be reached at jonathanhemingway@peachstatebasketball.com.