Posted
2 years 8 months ago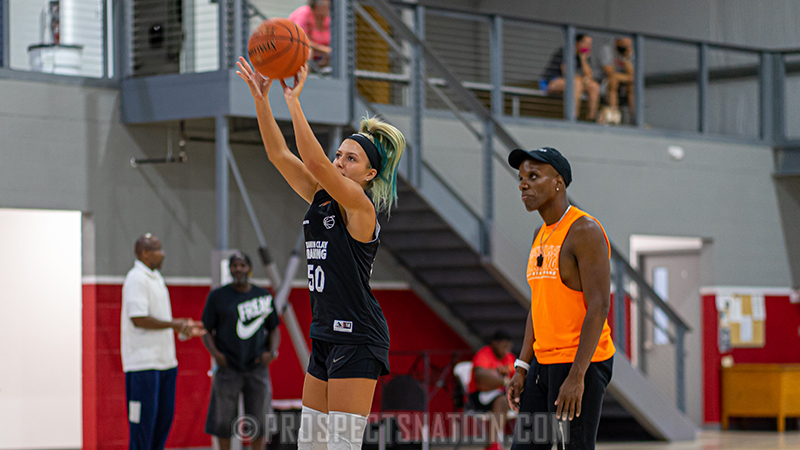 Harley Paynter of Grayson, Kentucky, gets shots up with Brandon Clay during the spotlight session of the BCS National Training Academy stop in Anderson, Indiana.
ANDERSON, Indiana – The BrandonClayScouting.com National Training Academy has become arguably the nation's premier proving ground to officially start the summer months. My favorite part of the showcase is working with campers during our Spotlight Session Workout. Here's my takeaway from the session:
Gracie Barnes – Cincinnati Country Day School (Cincinnati, OH) – 2023

Barnes has a chance to be a high level shooter. She showed that she can get her shot off quickly in this evaluation and is a silent assassin in that regard. Barnes has the range to be an effective specialist. As she keeps getting stronger, her ability to create off the bounce will keep growing along with the added strength.
Tyranny Brown - Heritage Christian (Indianapolis, Indiana) - 2021 - Southern Illinois commit
Brown has the size and strength to play as many as four positions on the floor. She was an absolutely fantastic fit for the roster bringing a unique blend of skill and toughness to the Select team. Brown's willingness to compete on every possession will help set her apart from the other kids in her size range at the next level. She looked comfortable letting the 3-pointer go as the weekend went on. That part of her game can really separate her in college.
We've had Burgher at multiple academies over the past couple of years. She showed in this setting some of the potential coming to light that we predicted back when she first came through the doors. Burgher is a talented prospect at the wing spot with a build that projects to be college ready when she arrives on a campus. Skill wise, Burgher can get it done on both ends of the floor.
Madeline Freeth – Covenant Christian High School (Indianapolis, IN) – 2023
Freeth has been with us twice in the past month showing growth in each eval. What she brings to the table is a combination of effort and an emerging jumpshot that should place her game in a good spot 12 months from now as she gets more and more comfortable with the mechanics. She's got the work ethic to get the job done.

Chloey Graham – Gibson Southern High School (Fort Branch, IN) – 2024
Graham has a solid tool box to work with. She's been in the gym with our staff before for training at an Academy. Graham has a nice jump shot already developing and has spent dedicated time honing her craft since that session. As she fills out, Graham's shooting range from the outside will improve as a result.
LaSonja Hill – Princeton High School (Cincinnati, OH) – 2023
Hill is a slender framed option in the backcourt. She showed speed getting downhill with the ball in her hands. As her shot consistency continues to blossom, so will her overall game. She has the athleticism to be an effective on ball defender as well. Getting stronger in the weight room will only help Hill's on-floor production.
Rhylea Johnson – Ofallon Highschool (Ofallon, IL) – 2022
Johnson came in ready to work and grow her game. She has a world of potential with the size and length to be a consistent factor in the frontcourt. Johnson has a smoothness to her skill set that should allow her to blossom as a rim to rim runner over time then face the basket to make an open jumper too. She has the ability to make plays around the rim with her rebounding giving her a diverse skill set.
Emilee Neese – Boyd County Middle School (Ashland, KY) – 2025

This was our first chance to work with Neese. It was evident very quickly that she has a chance to be another college level guard coming out of the Boyd County High pipeline. Neese can shoot the basketball and has a solid skill set handling the ball as well. She'll have a chance to keep filling out physically in due time but for now, Neese has all the tools to be a name we talk about for years to come.
Newman had a club game at 9:30 pm on Friday. She still made the trip in the opposite direction from the game venue to train with us before it started. The mechanics on her jump shot are vastly different now than they were the first time we trained last August. As a result, Newman is seeing results with her shooting efficiency. As that part of her game continues to improve, so will her overall skill set.


Paynter has been on fire this summer both on the floor and off the floor with her recruiting. She is an extremely hard worker taking the footwork drills we've been repping inside the Academies and going back to Boyd County with them to grow her game. During our Brandon Clay Training Select gameplay, Coach Hemingway was able to utilize Paynter in iso spread sets with the ball in her hands to make plays then put her as the off ball option receiving the pass. In both scenarios, Paynter was comfortable making the shot when she had it.
Destini Rogers – Ladue Horton Watkins High (St Louis, MO) – 2022
Rogers has the size and strength to be a factor in the frontcourt. In this modern day of the game, it's always helpful to possess the skill to step out to the short corner if not the 3-point line and make open shots. In time, Rogers should be able to stretch the floor with her shot consistently. She plays hard on the inside.


Rucker is a bigtime guard capable of being an impact kid taking charges, grabbing rebounds or making 3-pointers. She has the chance to be an elite shooter at the next level. Rucker's ability to shoot it quick from seemingly anywhere on the floor then go to the other end and sacrifice her body to gain a possession is a scarcity in today's game. Rucker is the type of prospect who can reel off three or four 3-pointers in a five-minute stretch of gameplay.

Smith had an elite weekend shooting the ball. She's no stranger to our staff having trained at three academies during the summer months showing improvement at each one. Smith hit for 20 points on six 3-pointers in our first game then hit multiple 3-pointers in the two games after. Smith's defense improved as a result of playing and communicating with other college bound prospects as well.

Brandon Clay serves as the Director of Scouting for ProspectsNation.com and owns The BrandonClayScouting.com Evaluation Report, which is read by more than 200 colleges and universities nationwide. He also serves as the Executive Skills Director for the Brandon Clay Scouting Academy Series.