Spotlight On Appleton III
Posted
2 years 10 months ago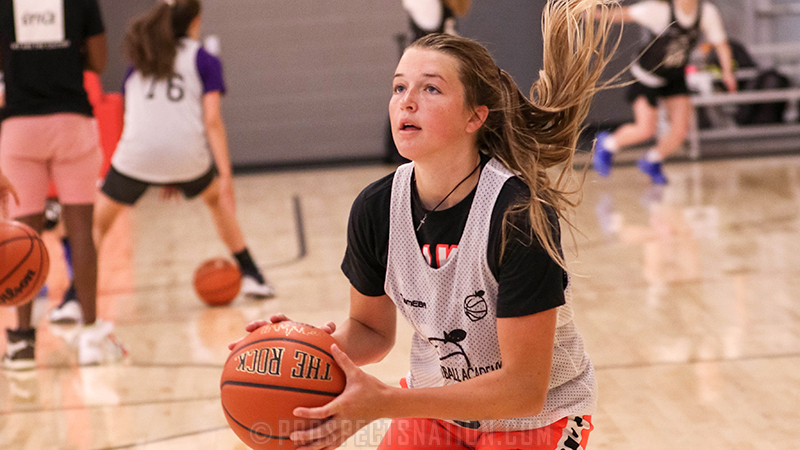 Taylor Stemlow works on her jumper during the spotlight sessions in Appleton, Wisconsin.
APPLETON, Wisconsin – The BrandonClayScouting.com National Training Academy has become the nation's premier proving ground to train with and compete against elite competition. With 85 campers representing the best that the Badger State has to offer, this edition was no different. Our favorite part of the showcase is working with campers during our Spotlight Session Workout. Here are the takeaways from the first full session on Thursday night:
Al-Hameed was slated to train with us in February but had to reschedule until June. It was worth the wait. She's got a quality build, foundation from which to grow her game from here. Al-Hameed got the chance here to be trained by Maddie Manning, who is from the same town that she is. Manning has played the collegiate game at the highest level during her career at Oklahoma and gave Al-Hameed multiple tips on shooting, footwork that will aid in her journey.
Bindley's attitude was right in line with the tenor of this group – coachable and ready to work. She has the size to be a solid option on the perimeter and play multiple positions in that way. Bindley's game is tailor made to be a floor stretching specialist who can also rebound from the position as well.
Briggs has been with our staff before and looked comfortable from the first teaching point here in her home state. She's got good size and shooting ability already before getting to high school. She's a confident scorer in that regard. Briggs has another level she can top into learning how to use her body to shield defenders from the ball off the attack and the dribble.
What Gopalan lacks in physical stature right now, she's already offsetting with her energy and work ethic. She's a highly skilled point guard who wants to get her teammates involved early and often. Gopalan led from the front by setting the example in paying attention to detail from the opening drill. Kids like her make our academies first class.
The sky is seemingly the limit for Holmes. She has a powerful yet graceful build and was able to pickup on concepts quickly as we taught during the sessions. Holmes is a consistent jumper away from being an extremely tough matchup for opposing defenders on every possession. She has a consistent pace to her work.
Jaglinski was the youngest camper here. That didn't stop her from jumping right in during drill work or competition. She's got a fantastic skill level given her young age. Like Gopalan, what Jaglinski lacks in size, she more than made up for in effort and shot making. Jaglinski came in ready to work and wasn't the least bit affected by the big stage or age of the other campers.
Krahn has an elite level work ethic based on what we saw here in Appleton. She is going to be a guard capable of getting it done on either end of the floor with a toughness that's hard to find these days. Krahn does a lot of things well on the floor including passing, attacking and defending. Continuing to add range to her jumper will only enhance all the things she does well already.
Mallegni has legitimate size and length at an early age. Projection wise, she's a quality frontcourt option who can be successful long term scoring around the rim or facing the basket if she keeps working on her game. Mallegni was more than willing to try some of the perimeter oriented drill work that we were focused on over the two days and left a more complete player as a result.
Meulemans displayed the type of attitude that makes training at these academies so much fun. We were working through shooting mechanics with a high one second followthrough and rather than get frustrated, Meulemans stayed dialed in and really grew in that area over the couple of days we spent working. She has the vibe that good ball players possess and as she grows into her frame will be one to track in the Badger State.
Stremlow's scoring skill set is that of a kid who has already played major high school minutes. She hasn't yet. That's a good thing. Stremlow is a wllling scorer who also has the awareness and ability to get her teammates involved. That's a nice combination for a prospect just now entering high school. Add that to her mean shoe game and it's safe to label Stremlow a cool customer.
Tripp has legitimate length for a young guard. She's a talented prospect in that regard who has a bounce to her step even during training sessions. Tripp showed here that she can attack the lane off the bounce. Adding a dead eye jumper to that over the next year or two as she fills out at the same time would elevate Tripp's game to another level.
Wood is a steady hand at the wing forward position. She projects to have the versatility to be effective facing the basket especially on corner and trail 3-pointers. Wood is a joy to coach and train with her even demeanor and desire to get better. She can continue to add to her lateral quickness to add to her defensive skill.

Brandon Clay serves as the Director of Scouting for ProspectsNation.com and owns The BrandonClayScouting.com Evaluation Report, which is read by more than 200 colleges and universities nationwide. He also serves as the Executive Skills Director for the Brandon Clay Scouting Academy Series.