Posted
7 years 1 month ago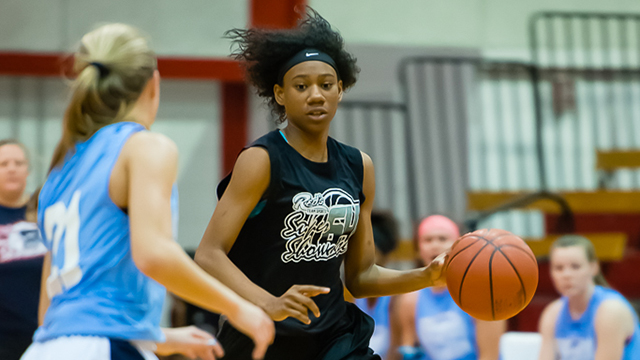 Shania Meertens of Winter Springs, Fla., showed off her game at Red's Super 64. *Photo by Kim Carpenter.
LAKELAND, Fla., - The third annual Red's Super 64 Showcase hosted by the Tampa Thunder organization took place the first weekend of October. The setting is ideal for uncommitted seniors as there were as many as 30 D-2, D-3 and NAIA coaches in attendance. It also a great opportunity for underclassmen to play in front of multiple media outlets to build reputations before the high school season begins. Here is a rundown of this year's top performers.
The 5-foot-7 point guard brings instant energy each time she steps on to the court. As we saw during the #EBAAllAmerican Camp in September, she is a bulldog with the ball in her hands and consistently presses the issue. Her aggressiveness with the dribble keeps defenders on their heels and as a result Carpenter is a consistent performer. It should be noted that the junior point guard is a shot-maker from beyond the arc. That type of diversity makes her a truly dynamic threat.
Kiana Chew (Crystal Beach, Fla)., Palm Harbor University HS - 2017
There is always a premium on height in the game of basketball. For Chew she fits the bill of a player that will be tracked by a number of schools in and out of the southeast region. Standing at 6-3, she proved to be a premier lane protector at the showcase. She can block shots in her area while also hauling down rebounds on the weakside. Chew is just beginning to scratch the surface of her offensive potential. With a year of skill and physical development in front of her, she could turn out to be one of the Sunshine State's top post prospects.
A year ago we tabbed the 5-4 point guard as a prospect to watch. Twelve months later Guisto has blossomed into the prospect we predicted that she could become. She is a fundamental guard who can create plays, distribute to others and hit open shots. Her confidence seems to improve with each outing as does her physical strength. We will continue to track the progress of Guisto as she is an Elite Basketball Academy veteran and plays with the Florida Future travel organization.
Audra Leipold (Wesley Chapel, Fla.), Academy of the Lakes – 2018
Leipold has grown to 5-8 and appears to blossoming into the full-time playmaker we saw last year. She is a fundamental floor general who can score the ball as well. Her added strength and size allow her to play with more confidence and efficiency. Her ability to shoot the jumper and attack the rim opens up the floor for her teammates. She is quickly becoming one of top prospects within the Tampa Thunder organization.
Rachel Levy (Boca Raton, Fla.), Boca Raton HS - 2017
The 6-2 forward showed terrific development since last year's showcase. She showed versatility once again, but it is her improved upper body strength that points to even greater production in future years. She projects to be an ideal combo-post player that could play in a triangle system. She is skilled enough to score with her back to the basket, but also has range on her jumper.
Grace Marko (Boca Raton, Fla.), Boca Raton HS – 2017
The 6-2 wing forward had everyone in the gym talking by the end of Saturday afternoon. She blends skill, size and energy while on the court. She quickly drew attention with her back to the basket game where she posted up defenders and scored in the lane. However, it was her transition threes where she caught and released in perfect stride that really opened people's eyes. Her versatility should catch the attention of college coaches heading into her junior season of high school.
Shania Meertens (Winter Springs, Fla.), Winter Springs HS - 2017
One of the most athletic guards in the gym had to be Meertens from the Blue Star Florida organization. The 5-7 combo-guard has springy legs, which allows her to impact the game on both ends of the floor. However, Meertens displayed more than just athleticism as she has refined skill to go with her natural ability. She showed the ability to go either direction with the bounce while also hitting jumpers from the perimeter.
Deja Turner (Tampa, Fla.), Plant HS - 2016
Turner emerged as the unofficial senior stock-riser coming out of this event. Her athletic build and ability to lead the break garnered attention from many in attendance. She sports a high release on her jumper, which allowed to connect on several 3-point jumpers last weekend. The 5-11 wing should pick up attention coming out of the showcase event.
A player that has steadily been on our radar for the past twelve months is the 6-1 wing from Atlanta. She gave another consistent performance at Red's Super 64 where she showed the specialty of hitting the 3-point jumper. Her length and skill will make a prospect that should be tracked by schools across the southeastern region. As she grows and matures, we expect to see her impact increase as a result.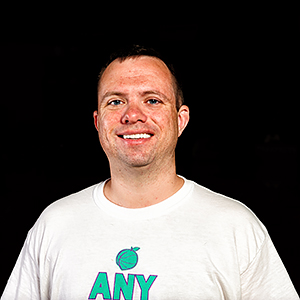 Jonathan Hemingway is the Assistant Director of Scouting for the JumpOffPlus.com National Scouting Report, is on the Naismith Trophy Board of Selectors and owns CoachHemi.com, the go-to source for coaches for X's and O's. He is the floor director of #TeamEBA camps, a site director for #TeamPSB tournaments and can be reached at jonathanhemingway@peachstatebasketball.com.