Posted
2 years 7 months ago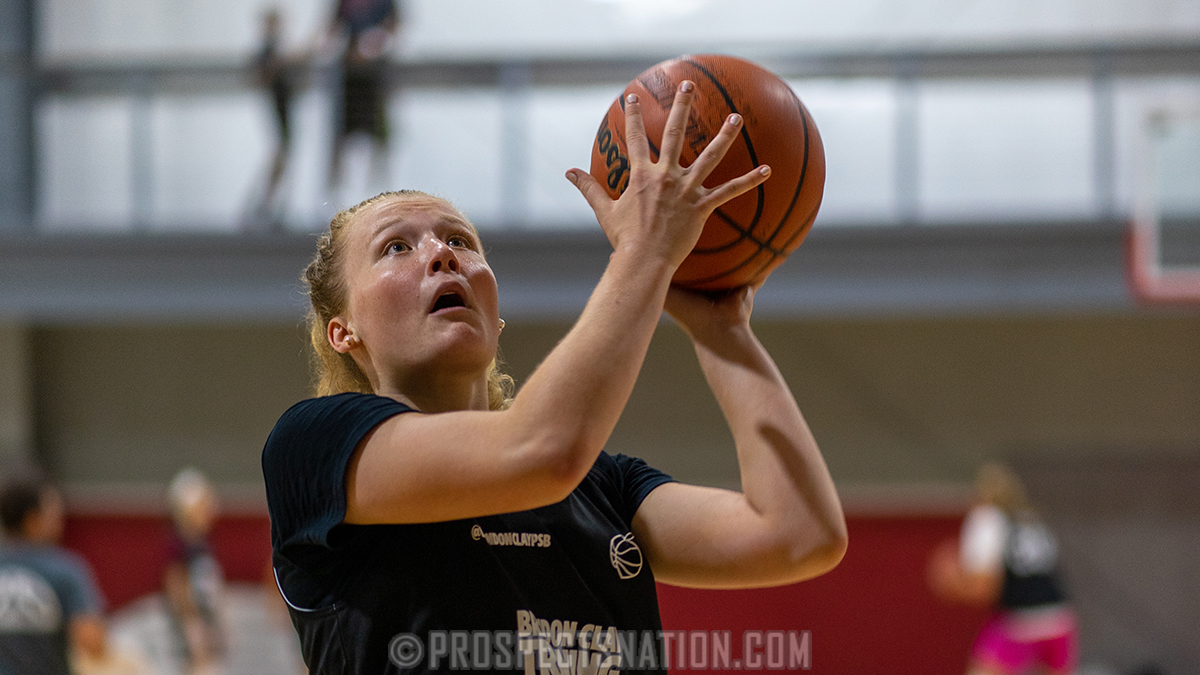 Mary Wilson is a great example of a player making the most of every opportunity and her stock has risen even with the challenges of 2020. *Photo by Tony Lugardo.
INDIANAPOLIS, Indiana – The BrandonClayScouting.com National Training Academy has become the nation's premier proving ground to train with and compete against elite competition. With 85 campers representing the best that the Midwest has to offer, this edition was no different. Our favorite part of the showcase is working with campers during our Spotlight Session Workout. Here are the takeaways from the star-studded final session in June:
Brown worked with our staff back in the fall. Her attention to detail coupled with her polished skill set has the future Northwestern Wildcat in a good place heading into her senior year. Brown's length and ability to shoot the ball from deep makes it easy to label her as a shooter. However, the beauty of Brown's game is found in the details of her willingness to attack the lane off the bounce then understand the scouting report on the other end of the floor.
Crockett has arguably as much range as any prospect who was inside The Factory training with our staff in this setting. She has elite level length in the frontcourt giving her the ability to play multiple positions depending on the style and pace of play. Crockett is a legit threat on the offensive end to catch and shoot at a 40 plus percent clip which is hard to come by.
Newman has the size and athleticism to be a major factor at the college level. She has improved her conditioning since our fall evaluation taking her game to new heights as a result. Newman has a chance to be one of the ten premier incoming freshman in the rising senior class this time next summer. As Newman continues to put in time on her craft shooting the basketball, expect the future Arizona State Sun Devil to see her production continue to increase.

Paynter is an interesting prospect in that she is producing during a pandemic in multiple settings like a legitimate bigtime guard. The left-hand dominant guard is playing her way right into the Elite 150 discussion in 2021 and has 15 Division One offers since May 15th. She can shoot the three, score it off the bounce or find the open kick to corner for a teammate's 3-pointer.
Petticord is such a creative scoring option. What she lacks in physical size, she more than makes up for in scoring ability. When she got it rolling in this elite setting, Petticord was hitting jumpers then getting to the basket to finish. As she gets used to playing alongside other high powered scorers, Petticord's vision will allow her to keep blossoming as a passer too. She has the tools to be a bigtime bucket getter.
Smith's game is silky smooth. She doesn't waste any motion or time getting to her spots off the bounce. The future Purdue Boilermaker has the skill to be a high level floor spacer off of the catch and shoot. Adding that into her game elevates Smith, who is already an Elite 100 prospect nationally, into a new category production wise.
Vantimmeren is a perfect example of a prospect dedicated to improvement. She came in last fall looking to add consistent range to her outside shot. Just shy of a year later, Vantimmeren has done just that showing improved mechanics throughout the training here. She has committed to Boston College and will bring them a frontcourt piece capable of impacting the game in the lane with her rebounding in addition to her offensive tools.
Simply put, Wilson belongs in this company. She's best known for her 40-plus-percent 3-point shooting with Danny Riego's Gym Rats EYBL squad. Much like the aforementioned Brown, it's easy to overlook the details by labeling Wilson as a shooter. She is capable of making the right read defensively throughout a ball game in addition to understanding exactly what the coach is asking for then serving as an extension of the staff in game.

Brandon Clay serves as the Director of Scouting for ProspectsNation.com and owns The BrandonClayScouting.com Evaluation Report, which is read by more than 200 colleges and universities nationwide. He also serves as the Executive Skills Director for the Brandon Clay Scouting Academy Series.