First Look: PN Eval Academy
Posted
10 months 2 weeks ago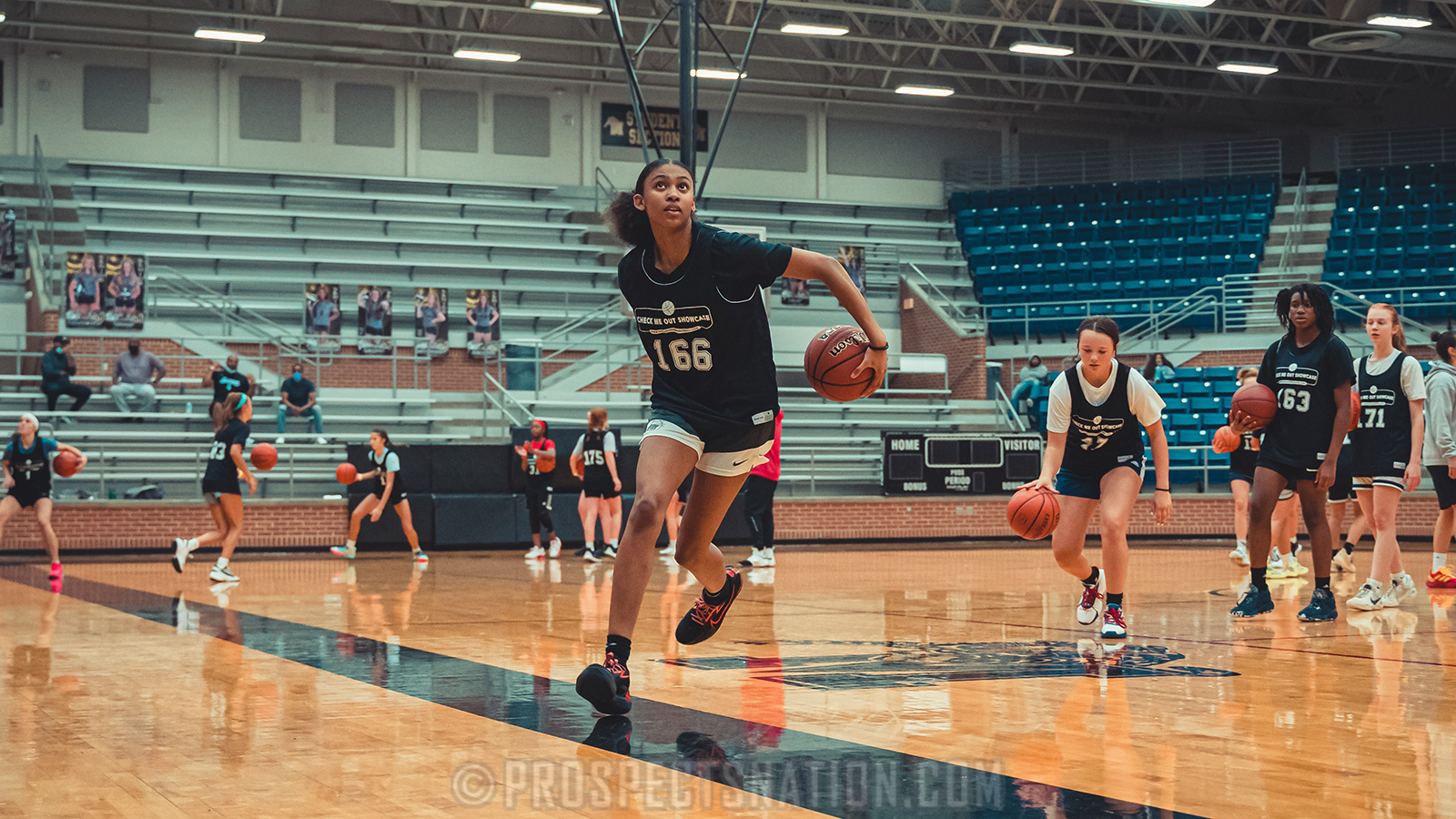 Jayda Johnson of Branford, Connecticut, works on finishing at the National Evaluation Academy. *Photo by Anthony Lugardo.
MANSFIELD, Texas – The 2021 ProspectsNation.com National Evaluation Academy tipped off Friday night with players representing eight states from coast-to-coast. Here's a look at the action from the opening day.
2022 Checklist

Carly Hicks of Oregon understands the vibe. She was able to walk right in and get to work. There was no detail too big or small for Hicks to make happen here.

Miranda Lomax of Washington is a gamer. She knows how to play, is good enough to be a positive factor on both ends of the hardwood and has the moxie to make things happen.

Makenna Walker of Texas is just getting back into action after a broken thumb sidelined her to end the summer. She's such a competitor at the guard position.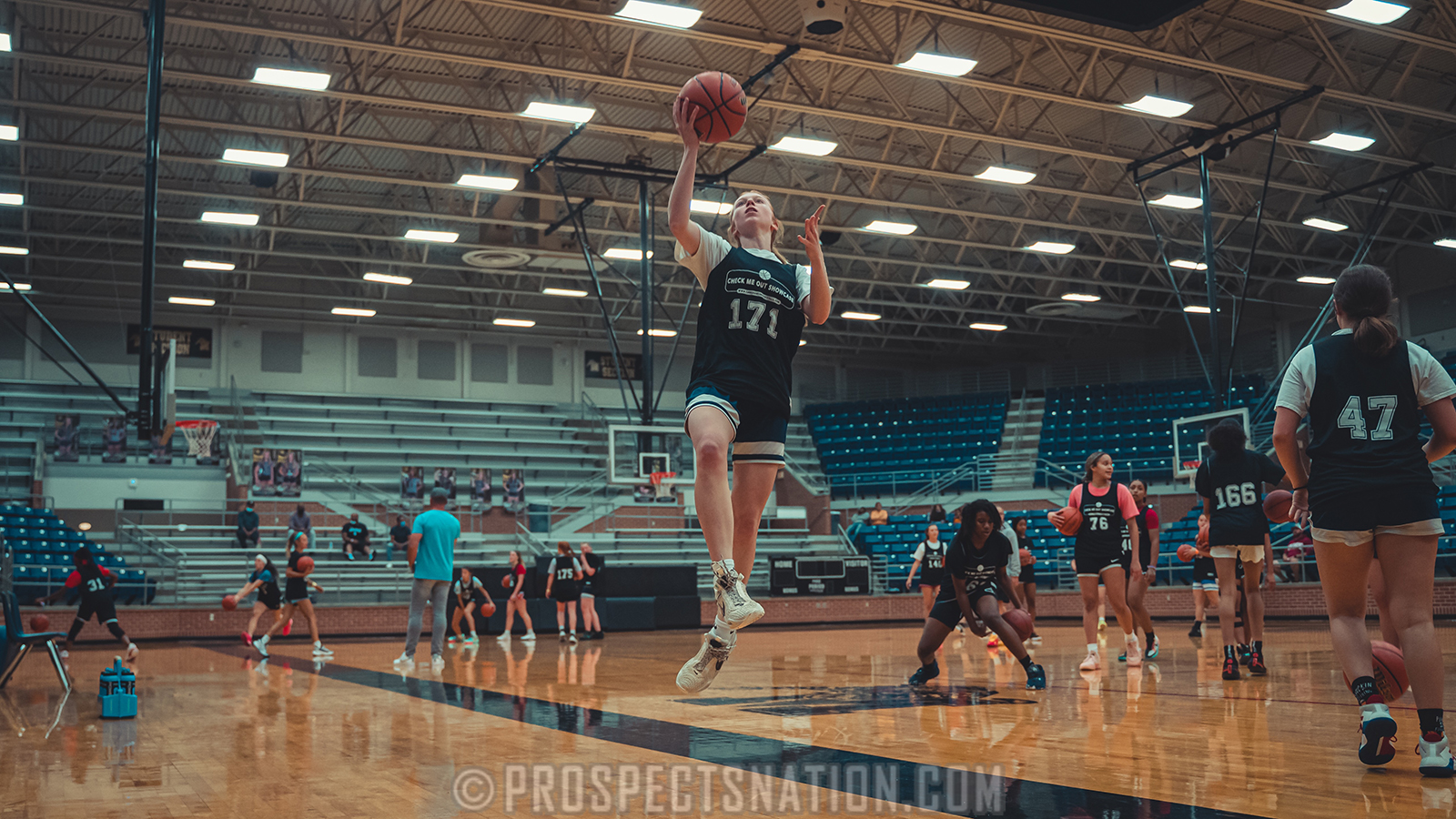 2023 Checklist

Peyton Freiermuth of Texas visited Texas Arlington in the afternoon then showed up ready to compete at a high level to end her night. Freiermuth is tough off the bounce getting downhill.
Jayda Johnson of Connecticut is going to be a major name for our staff in October. She will also train with us in Boston in three weeks. Johnson's club coach, Thomas Davis, was in the building all the way from New York.
2024 Checklist

Madison McKinnon of Texas has been such a pleasant find for our staff over the past twelve months. She was more vocal here than we've seen in previous evals.

Abigail Long of Mission Hills, Kansas, is a scoring threat as soon as she crosses mid-court. She has a deadly jumper and isn't afraid to use it. Her ball skill is the perfect complement to such a deadly weapon.
Harper Peterson (Rocklin, Calif.), Team Kidd -- 2024

Harper Peterson of California brought a blue collar work ethic to go along with her elite level skill set. She plays the game the right way already with the ability to flat out make shots.
Kendra Hicks (Portland, Oregon), Tree of Hope -- 2024

Kendra Hicks of Oregon has fantastic size and hands. As she keeps progressing, Hicks is a player capable of drawing double teams in the post. That's hard to come by.
Calyssa Sevier (Lytle, Texas), SA Finest -- 2024
Calyssa Sevier of Texas has been on our radar since a workout back in early August. She's got an in-game craftiness that caught our attention here during competition.
Amara Edozie (Waxahachie, Texas), Texas Flight Elite -- 2024
Amara Edozie of Waxahachie, Texas, found her voice, which isn't always easy or comfortable in a camp setting. Her floor leadership was telling on her confidence and a definite boost to the players rest of the players she was with.
Kamryn Griffin of San Antonio, Texas, is no stranger to this camp circuit and her vocal leadership was a fantastic addition to the big guard's already strong game. This power guard has incredible upside and the 2024 is just getting started.
Kaylee Johnson (Broken Bow, Texas), Broken Bow HS -- 2024
Kaylee Johnson of Broken Bow, Texas, came to camp ready to work. The 2024 guard didn't take a single rep off the entirety of the workout and that focus should lead to a strong sophomore season.
Madison McKinnon of Fredericksburg, Texas, is showing a big leap in her confidence. She was definitely doing her thing attacking off the dribble and getting down hill.
2025 Checklist
Spirit Sheriff (Grand Prairie, Texas), South Grand Prairie -- 2025
We plan to keep tabs on Spirit Sheriff of Texas' game. Sheriff has a solid foundation to build from that was on display here. Her competitive style stood out.
2026 Checklist

Ellie Stanley of Texas is becoming a consistent fixture inside of our Academies. Her pace and play is always leveling up. This go around, it was Stanley's ball handling that seems to have progressed.
Jordan Pete (San Antonio, Texas), SA Finest -- 2026
Jordan Pete was smooth with the ball in her hands. The 2026 guard has yet to play high school basketball but you can already see the trajectory her game is on.
Yasmeen Schmidt (San Antonio, Texas), SA Hoops Elite -- 2026
Yasmeen Schmidt of San Antonio, Texas, did a great job of being aggressive without forcing action. She made defenders pay for short closeouts and hands down.
2027 Checklist
Trinity Boone of Oklahoma gets a little sharper each time we see her play. Keep an eye on her growth as we enter the fall and winter months.
Emily Roman (Cedar Park, Texas), Phoenix Select -- 2027

Emily Roman of Texas was noticeably bigger than our last eval here in the spring. It's good to see Roman growing and maturing. As a result, she was finishing even more consistently in skill stations than back in Austin.
Jade Williams (Allen, Texas), SYA -- 2027
Jade Williams of Allen, Texas, is just getting started in her young career stood out using her left better than a lot of players several years her senior. She showed a terrific platform to build on.
Aniya Taylor (San Diego, Texas), Corpus Christi Thunder -- 2027
Aniya Taylor of San Diego, Texas, is another 2027 that did her thing on Friday night. The 5-2 guard showed a skill that's right on schedule headlined by lightening quick handles.
Casey Chavez (San Antonio, Texas), Player First -- 2027
Casey Chavez of San Antonio, Texas, is comfortable creating. The 2027 guard played strong and showed some nice touch on her finishes.
Emily Roman (Cedar Park, Texas), Phoenix Select -- 2027
Emily Roman of Cedar Park, Texas, is just a 2027 and showed she has really build a strong foundation as a real triple threat on offense. As she gets more experience she'll play faster and really put those tools to work.
2028 Checklist
Payton Caudle (Famrington, Arkansas), Arkansas Banshees -- 2028
Payton Caudle of Arkansas officially has next. Her club coach, Lee Shannon, raved about her potential at the Brandon Clay Elite 32 event in late-July. He wasn't wrong at all on this one.

Brandon Clay serves as the Director of Scouting for ProspectsNation.com and owns The BrandonClayScouting.com Evaluation Report, which is read by more than 200 colleges and universities nationwide. He also serves as the Executive Skills Director for the Brandon Clay Scouting Academy Series.

Chris Hansen is managing editor of ProspectsNation.com and serves on the McDonald's All-American and Naismith Trophy selection committees. He was a co-founder of and the national director of scouting for ESPN HoopGurlz from 2005 until 2012 and is the director of the Check Me Out Showcase and ELITE is EARNED events. He can be reached at chris@eliteisearned.com.