BCS National Training Academy - Indy
Posted
3 years 3 months ago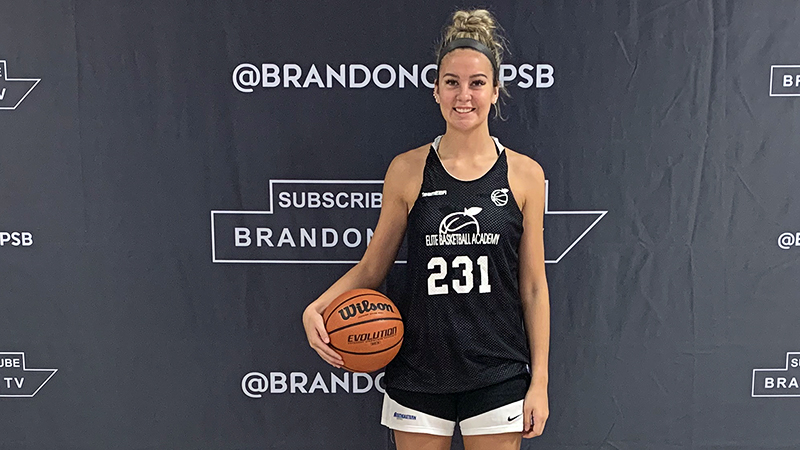 Syndey Parrish, a 2020 Oregon commit, was in the gym for the BCS Academies in Atlanta and Indianapolis. *Photo by PSB.
INDIANAPOLIS – The BrandonClayScouting.com National Training Academy Series has become the place for prospects looking to get elite competition and media coverage going into the school season. With an alumni list that includes current WNBA standouts Lexie Brown, Kaela Davis, Diamond DeShields, Asia Durr and Jackie Young, the series has served as a gateway for the nation's premier prospects to shine. Our latest look back is on the upperclass attendees:
Capria Brown – 2020 – Schlarman Academy (IL) – Dayton commit
Brown is at her best when she slows her game down giving her body time to execute what she sees. She might not possess a single elite speciality but her ability to do multiple things well was on full display here. She belongs in the discussion as one of the premier guards in the region.
Jillian Brown – 2021 – East Grand Rapids HS (MI)
Brown came in with a laser like focus. She's very business like and I really enjoyed working with her as a result. A talented sharp shooter, she was able to take quick tips instructionally and apply them right away to her game. Brown shot the ball well on Sunday that we actually ran two pindown screen sets during gameplay where Sydney Parrish (Oregon verbal) was the screener for her. Brown calmly sank both 3-pointers.
Tyranny Brown – 2021 – Heritage Christian (IN)
Brown's activity and energy had my full attention here. She was locked in from the opening drill with an eye on improving throughout the event. She's the type of kid you need to tie things together in the backcourt. Brown's a different type of energy provider but Marcus Smart and Pat Beverley come to mind in that way.
SeanKelly Darks – 2020 – Walnut Hills HS (OH) – NC A&T commit
Darks is one of the hardest working kids I've been around. She is talented as is but adding a consistent jumpshot would set her apart from the other 10-12 guards around her grouping right now. Darks has the intel, athletic ability and size to be a high level producer in the MEAC. Shooting in the mid 30's from beyond the arc could help her win a myriad of league honors in the process.
Claudia Gallegos – 2021 – Neaqua Valley HS (IL)
Gallegos was impressive here blending size and potential into a post player who is making positive strides. She still has to keep going offensively with her consistency finishing in traffic but the physical tools exist. Gallegos was coachable here inside of the drills showing promise that she'll be able to keep growing her game.
Khera Goss – 2020 – Ben Davis (IN) – Toledo commit
Goss combo of athletic ability and her motor make her a really tough matchup for opposing defenders. She's still growing as an offensive threat but was much more comfortable in just two days here with her shot especially in-game. She was shooting to make shots as opposed to shooting to chase the rebound. If Goss can add the 17 footer to her current array of tools, good luck trying to keep her from filling the statsheet on both ends of the floor.
Annaliese Griffin – 2021 – Plainfield Central HS (IL)
Griffin has the size, length to create some tough matchups on the offensive end. If she shows herself to be a consistent 3-point shooter, then her value jumps as a result of being a true floor spacer. Can she show enough speed footwork wise to allow her to defend multiple positions in the frontcourt?
Grace Hall – 2021 – Homewood Flossmoor HS (IL)
Hall is a cool customer. Not much seems to rattle her at all. In that regard, she reminds me in style of Darrione Rogers who was also in attendance for this training academy. Hall has the length and skill to play 2-4 potentially depending on the matchup, system. She does a little of everything maybe not having a singular elite skill but a myriad of productivity.
Erin Houpt – 2021 – Danville HS (IL)
Houpt is a steady hand in the backcourt who can play either guard spot in today's game. She's a solid jump shooter with her feet set. I liked Houpt ability to take coaching / instruction and implement that into her game quickly. That skill should be paramount for her development at the next level.
Meg Newman – 2021 – North Central (IN)
Newman has a chance to be really talented at the forward spot. She has the size, athletic ability to be a major factor at the college level. Can she become a consistent shooter off the catch and shoot over the next 12 months?
Sydney Parrish – 2020 – Hamilton Southeastern (IN) – Oregon commit
Parrish might be the best set shooter in the class. Her ability to make shots off the move / bounce in the 12-15 foot range could potentially be a separator longterm in her game. She has the skill set and footwork to take her overall game up another notch on both ends of the floor before she finishes her freshman year in Eugene. Parrish is one to keep an eye on.
Darrione Rogers – 2020 – Lake Park HS (IL) – DePaul commit
Rogers is the definition of a smooth operator especially with the ball in her hands. She's rarely sped up, plays with her own pace and has the ability to make shots out beyond the 3-point line. Rogers will have a chance to be DePaul's most dynamic playmaker since the Keisha Hampton era.
Jayla Smith – 2021 – Lawrence North HS (IN)
Smith's versatility was a bright spot in her game here. She does a little of everything offensively on the wing attacking the rim and shooting the open jumper too. Improving her strength and shot consistency is the next step in her game on that end. Defensively, Smith possesses the length and athleticism to be an elite on-ball option.
Keegan Sullivan – 2020 – St. Joseph's HS (IN) – Rockhurst commit
Sullivan is a tough matchup in the backcourt. She has the basketball skill to play the 1-4 offensively. That said, she has the potential to be a really high level wing player playing alongside guards who can get her the ball in space. Sullivan can grab the ball off the window and take it coast to coast as well.
Ally Vantimmeren – 2021 – Jenison HS (MI)
Vantimmeren has a chance to provide a versatile frontcourt option at the next level. She's showing the skill to stretch the floor with her jumper and can post on the inside as well. Vantimmeren has shown the IQ to be a really effective option as well.
Mary Wilson – 2021 – Center Grove HS (IN)
Wilson is a fantastic option in the frontcourt. Depending on the style and matchup, she potentially could play the 2-4. Wilson's activity and ability to make the open 3-pointer caught my attention here. She didn't back down from anyone in a gym full of highend prospects. Wilson was coachable and dialed in to improvement.

Brandon Clay serves as the WNBA Director of Scouting for ProspectsNation.com and owns The JumpOffPlus.com International Report, which is picked up by more than 150 colleges and universities nationwide. He serves as the Executive Camp Director for the Elite Basketball Academy Camps. He serves on the Naismith Trophy Men's / Women's College Player of the Year Academy and is chairman of the HS Boys / Girls Board of Selectors and is on the McDonald's All-American Selection Committee. He also is the publisher of BrandonClayStyle.com.