2013 Year In Review - Part 3
Posted
9 years 5 months ago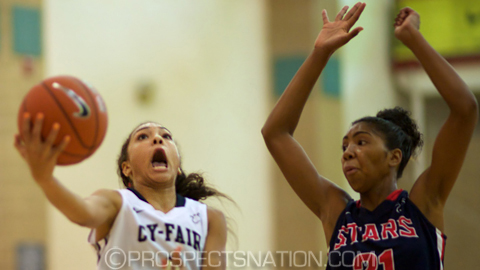 The 2013 Nike Nationals Championship was a game worthy of the hype of the event. *Photo by Chris Hansen.
Tweet
The third installment of our Year in Review series is loaded with verbal commitments, event recaps, USA Basketball stories, and more. Here is a look at all that happened in the world of women's basketball recruiting during the months of June, July and August of 2013.
Best Of June
Platinum Reax: Brielle Blair to Virginia Tech
Villanova Get's Alex Louin and more headlines from an active June
Paris Kea Emerges as one of the top prospects in the class of 2014
Platinum: Mackenzie Engram Picks Georgia
July Gems
This mid-July Week in Review featured Florida, George Mason and Iowa State, among others, in a busy dead period.
Battle of the Boro Championship Between Tennessee Flight and Cal Sparks (Video)
Nike Nationals had a new feel with a handful of news teams on the swoosh circuit. One of those teams, the Cal Stars, started their club season with a major injury and rallied to make the championship in their first year as a Nike program. The only think in the way of a storybook ending was a fantastic Cy-Fair Shock team who was up for the challenge.
Platinum: Cal Stars Poised For Deep Run At Nike
Platinum: Cy-Fair Earns A Banner
August Headlines
A Player's Program Emerges – Ohio State's Verbals
Georgia Tech Adds A Top 10 Prospect
Calhoun To Duke

Day One At Fab 5 Camp Follow @KeilMoorePSB

Moore is the Director of Scouting for the JumpOffPlus.com National Scouting Report and international scouting report. He has been a member if the women's basketball community for more than six years as a trainer and evaluator. He can be reached at keil@prospectsnation.com.