Reax: Flaherty To Michigan
Posted
8 years 4 months ago
*Photo by Ty Freeman.
Tweet
Katelynn Flaherty of Point Pleasant Beach, N.J., is one of the craftiest point guards in the country and couples her ability to create offense off the bounce with a very accurate touch using the perimeter jumper. With her verbal commitment, No. 23 ranked player overall and No. 7 ranked point guard in the country has the ability to be a mainstay at the point guard position for Michigan coach Kim Barnes-Arico and her staff.
Flaherty has been a riser in the national rankings over the past calendar year, showing well at national tournaments such as Boo Wiilliams Nike Invitational in April, as well as Battle of the Boro and the AAU Gold Showcase this July. She also finished her junior season making a name for herself averaging over 30 points a game and helping her Point Pleasant Beach High School team win a state championship.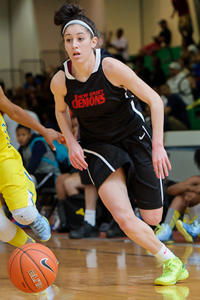 '14 ELITE 100 guard Katelynn Flaherty.
*Photo by Ty Freeman.
For Barnes-Arico, the commitment gives her a point guard for the future as she works to lay a foundation at Michigan in only her second year in Ann Arbor. Michigan made Flaherty a priority and the 2014 prospect believed in their vision for her, saying that the combination of the academic reputation of Michigan and the belief that the coaching staff had in her and her game were two of the factors that helped her make her college decision.
Michigan seem's to be a great fit for Flaherty as it is a program in need of star power on the roster and she was looking for the opportunity to make a big impact on a program on the verge. The perfect storm of the academics, the coaching staff and the conference gave Flaherty and her family the impression that it was the "best of both worlds" for her.
"I felt very comfortable with the staff and the rest of the Michigan community," Flaherty said. "I also wanted to step into a school and be able to play and to contribute right away and help build a program to be a top contender."
With Michigan still actively recruiting ELITE 100 prospects such as Tyesha Taylor of Temple, Texas, Kristen Simon of Los Angeles, Calif., and Cayla McMorris of Brooklyn Park., Minn, Flaherty will give the Wolverines' the foundation to build off of as they will try and use this recruiting momentum to help complete this recruiting class.
Flaherty's addition to Michigan's 2014 class gives them an elite four-star recruit to add to a pair of three-star prospects in forward Jillian Dunston of Silver Spring, Md., and wing Maria Backman of Bronx, N.Y. It also gives Barnes-Arico and her staff a potential impact recruit who plans to help add to the culture of the program.
"I want to be able to bring leadership, enthusiasm, and a positive and intense work ethic to this program," Flaherty added.
Regardless of what happens with the rest of Michigan's 2014 recruiting class their ability to add an elite prospect the caliber of Flaherty gives the program tremendous momentum moving forward. Just two years into her tenure at Michigan and Barnes-Arico and her staff have the ball rolling in the Big Ten. Follow @KeilMoorePSB

Moore is the Director of Scouting for the JumpOffPlus.com National Scouting Report and international scouting report. He has been a member if the women's basketball community for more than six years as a trainer and evaluator. He can be reached at keil@prospectsnation.com.