Posted
9 years 2 weeks ago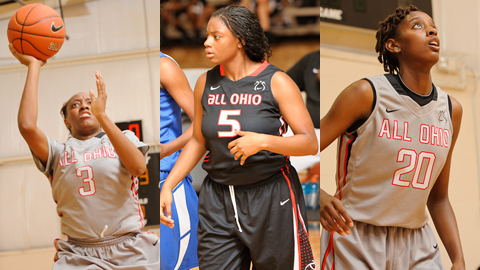 Kelsey Mitchell, Chelsea Mitchell and Alexa Hart are the newest Buckeyes.
Tweet
When former Ohio State coach Jim Foster left his post at the BigTen school, the State of Ohio was the center of the class of 2014 recruiting landscape. The Buckeye State had eight players ranked in the top 60 players in the country and the job of the next head coach would immediately be to capitalize on the local talent in an attempt to revitalize one of the marquee programs in women's basketball.
Fast forward to the first day outside of the NCAA summer evaluation period and the new coach at Ohio State, Kevin McGuff, scores three in-state prospects that should help change the direction of the program immediately. The No. 1 prospect in the 2014 ELITE 100, Kelsey Mitchell of Cincinnati, Ohio, No. 15 Alexa Hart of Columbus, Ohio, and Chelsea Mitchell of Cincinnati, Ohio, have all given a verbal pledge to play for McGuff in the new era of Ohio State basketball.
Kelsey Mitchell's addition to the Ohio State program gives them the most electric talent in the 2014 class and an immediate impact offensively. Mitchell is a one of a kind type offensive talent and her ability to score the ball in bunches makes her truly special. Chelsea Mitchell, Kelsey's twin sister, has vastly improved her game throughout her high school career. She has become a better perimeter shooter and shows the potential to be a lockdown defender as her college career progresses.
Adding the Mitchell's alone would be a great day for any program in the country, but McGuff and his staff were able to score Hart, a 6-foot-4 post as well. Hart is the best defensive post player in the class. She is an athletic big with tremendous reach giving her the ability to block shots as a primary or help defender.
With these three, the ball is definitely rolling in Columbus. The Mitchell sisters and Hart give the Big Ten program the kind of recruiting momentum every school in the country would love to have going into the fall. Look for Ohio State to stay local and focus its efforts on the new trio's All Ohio summer teammates -- Makayla Waterman and Kathryn Westbeld, both from Kettering, Ohio. Waterman and Westbeld have been high school and summer ball teammates for most of their prep careers and may decide to go to college together. Canadian combo guard Kia Nurse of Hamilton, Ontario is another prospect that McGuff and his staff may focus in on. Follow @KeilMoorePSB

Moore is the Director of Scouting for the JumpOffPlus.com National Scouting Report and international scouting report. He has been a member if the women's basketball community for more than six years as a trainer and evaluator. He can be reached at keil@prospectsnation.com.