Reax: No. 12 O'Neil To Tech
Posted
10 years 1 month ago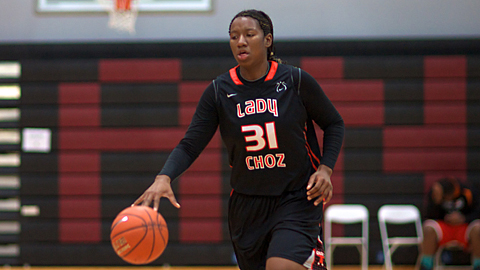 ELITE 100 forward Zaire O'Neil had a terrific summer with the Gauchos. *Photo by Chris Hansen.
Tweet
ELITE 100 forward Zaire O'Neil of Newark, N.J., committed to Georgia Tech on Friday. O'Neal picked the ACC program over schools such as Baylor, Georgia and Ohio State.
Zaire O'Neil is Tech's second
verbal in the 2014 class.
*Photo by Chris Hansen.
O'Neil, the No. 12 prospect in the class of 2014, will give the Jackets a strong minded, strong framed addition to their frontline with the ability to score the ball in various areas of the floor. This summer O'Neil proved to be one of the most productive forwards in the country as she was able to make her presence felt in the rebounding column as well as the scoring column. The 6-foot left-handed prospect is good attacking the rim off the bounce or scoring with her back to the basket.
O'Neil is a great fit for Georgia Tech coach Machelle Joseph and her program. Joseph prides herself on building teams that play tough, physical defense and end possessions with a dedication to rebounding the basketball. When O'Neil arrives in Atlanta she will be ready on day one to buy in to that concept and fit in with what Joseph preaches.
If O'Neil can continue to add to her offensive game and develop the ability to consistently knockdown the 15-foot jump shot, her ability to create match-up problems with her combination of size and athleticism could allow her to be very successful throughout her time in Atlanta. Last season Georgia Tech was able to score their first ever McDonald's All American in class of 2013 guard Kaela Davis. O'Neil has the potential to be their second, giving coach Joseph and her program a lot to build around for the future.
O'Neil joins 6-4 post Erin Garner of Trenton, N.J., as Georgia Tech's verbal commitments in the class of 2014. The Yellow Jackets will look to add two or three more prospects with their additional scholarships in the 2014 class. ELITE 100 prospects such as forward Myisha Hines-Allen of Montclair, N.J., and Imani Tilford of White Plains, N.Y., Mackenzie Calvert of Steele, Texas, and Cayla McMorris of Brooklyn Park, Minn., are still in the mix, while Super 64 camper Dekeiya Cohen, a four-star prospect from Charlston, S.C., is also a player the Jackets are highly interested in. Follow @KeilMoorePSB

Moore is the Director of Scouting for the JumpOffPlus.com National Scouting Report and international scouting report. He has been a member if the women's basketball community for more than six years as a trainer and evaluator. He can be reached at keil@prospectsnation.com.