USA U23 Trials Offers Early Glimpse
Posted
6 years 3 months ago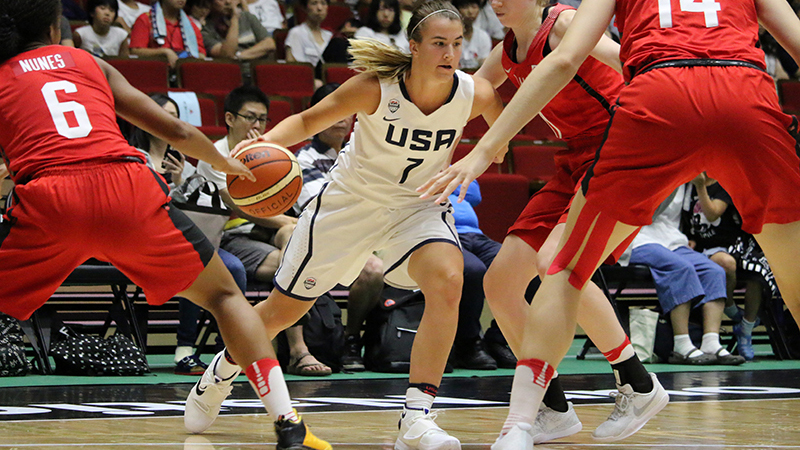 Sabrina Ionescu carves up the Canadian defense for the USA Basketball U23 national team. *Photo courtesy of USA Basketball.
COLORADO SPRINGS, Colo. – With 33 of the nation's top college prospects competing for a spot at the USA Basketball 23-and-under trials, the matchups were telling.
This elite setting provides our staff with a jumpstart on potential candidates for the Naismith Trophy Player of the Year voting.
Here are the first of our takeaways from the gameplay of the guards in the building:
Tyra Buss | Sr. | PG | Indiana
Buss has become everything for Teri Moren's roster in Bloomington that she was at Mount Carmel in 2014. Buss is a consistent scoring threat who just gets things done on the floor. Her slender frame made it a little difficult to create space off of the dribble in this eval but Buss is a gamer. She's poised for a bigtime senior season after averaging 18.6 points, 4.9 assists as a junior.
Sabrina Ionescu | So. | PG | Oregon
In just one season, Ionescu has quickly established herself as one of the most versatile guards in the college game. With a campaign under her belt that produced 13.9 points, 6.7 rebounds and 5.6 assists per contest, she'll be on my early Naismith Trophy watch list. Ionescu is one of the best passers that I've seen in my 16 years covering the sport. She was outstanding even in this setting littered with players mainly two years her senior.
Kelsey Mitchell | Sr. | PG / SG | Ohio State
After years away from the USAB scene, Mitchell returned with a dynamic bounce in her step. She's a confident scorer from the perimeter making her presence felt on multiple occasions late-game by attacking the rim to finish in traffic. Coming off of a 2016-17 season where she averaged 23.4 points per, Mitchell is an early candidate for Naismith Trophy College Player of the Year award. Her pro game looks a lot like Kyrie Irving in Cleveland where she can potentially play alongside another playmaking guard.
Teniya Page | Jr. | PG | Penn State
Page suffered an unfortunate ankle dislocation on Thursday morning. I would suspect that she'll miss at least the non-conference part of the 2017-18 campaign. Page was playing the game at a high level here with an offensive patience that she had not shown in previous evals dating back to high school. Ranked as the No. 18 prospect in her class coming out of Marian Catholic, Page has taken on the go-to scoring role in State College averaging 19.4 points last season.

Brandon Clay serves as the WNBA Director of Scouting for ProspectsNation.com and owns The JumpOffPlus.com International Report, which is picked up by more than 150 colleges and universities nationwide. He serves as the Executive Camp Director for the Elite Basketball Academy Camps. He serves on the Naismith Trophy Men's / Women's College Player of the Year Academy and is chairman of the HS Boys / Girls Board of Selectors and is on the McDonald's All-American Selection Committee. He also is the publisher of PSBPopCulture.com.