Training Academy Spotlight Dallas I
Posted
1 year 10 months ago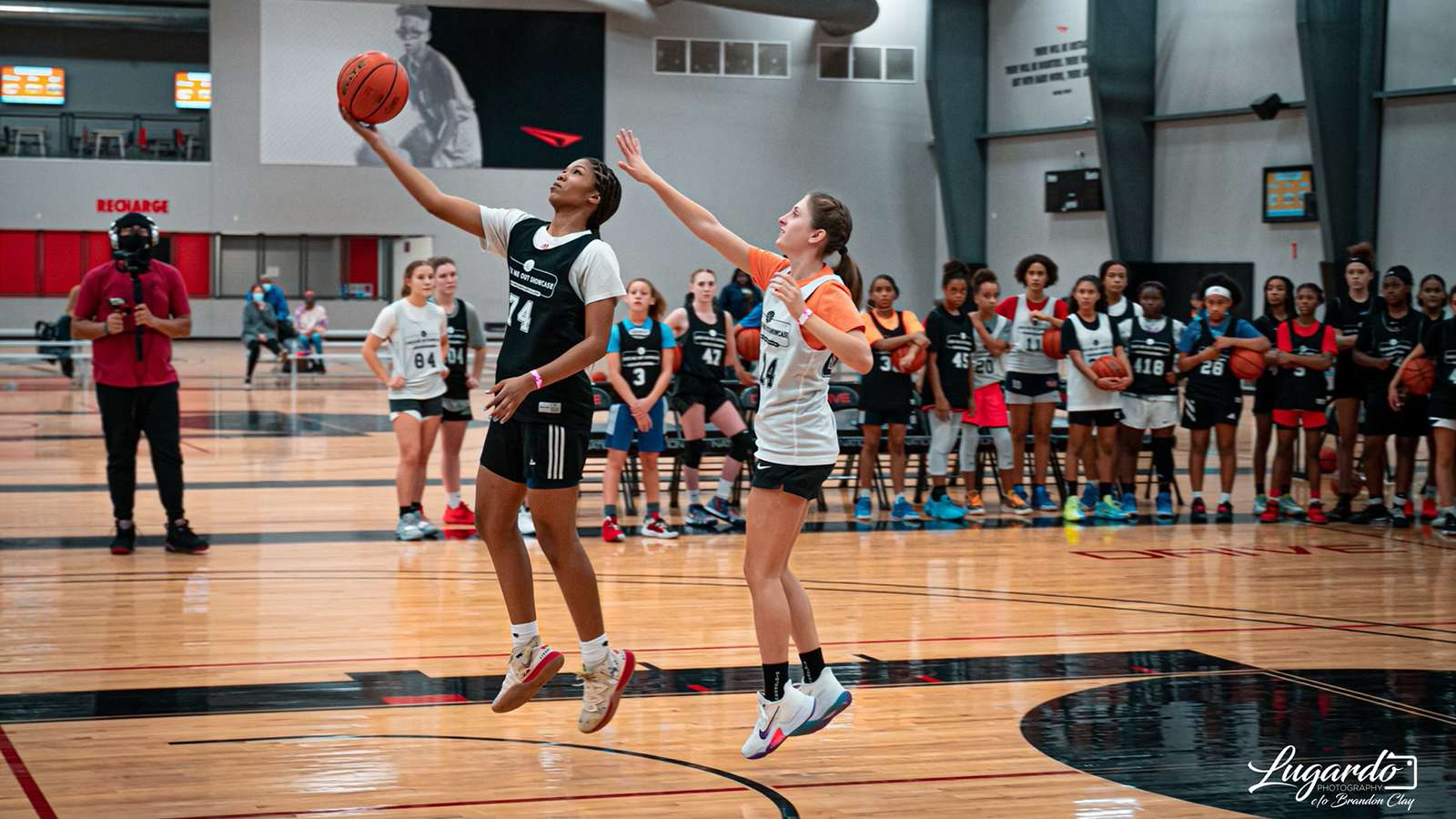 Monica Williams extends past Kyra Stewart at the ProspectsNation.com National Training Academy in Dallas, Texas. *Photo by Anthony Lugardo.
DALLAS, Texas - The ProspectsNation.com National Training Academy is an alliance between Chris Hansen Basketball and Brandon Clay Training to bring a unique training atmosphere to gymnasiums across the country. Our favorite part of the Academy is working with campers during our Spotlight Session Workout. Here are the takeaways from the session:
Feldman is the latest Academy camper to hail from California. She's a talented, crafty backcourt option who potentially could spend time at either guard spot. Feldman has the tools to be a noteworthy on ball defender as well with the offensive skill to hit the catch and shoot 3-point chances that are presented to her. Her basketball IQ is a plus based on what she showed in this setting as well.
This was our third chance since early June to work with Forestier. She has emerging skills and was more than comfortable here shooting the ball than our previous two stops. Next up in her progression will be learning when and where to pick her spots inside of the course of game action. As Forestier keeps playing alongside high level scoring threats in events like these, her game will keep growing as a result.
Galvan is a solid option on the perimeter who has multiple evaluations on file with our staff already. She showed an ability to be a factor in multiple areas of the game here in Dallas. Right now, Galvan has a slender build at the guard spot that should continue to fill out at the college level with weights. Look for her to keep flourishing as she fills out and is able to stretch her shooting range as a result.
This was our first chance to work with Kinslow as a whole staff since her commitment to UT-Arlington earlier in the month. Though she was battling illness, Kinslow still made it a point to come and get shots up with our staff. She has one of the most consistent work ethics that we've seen in that regard coming time and time again to be as ready as possible for the next level.
Slymen has the size that schools are coveting in the frontcourt at the swing positions these days. She is showing increased shooting range to go along with her size at the position. Factoring in her desire to grow and improve gives Slymen a track to the next level that resembles the aforementioned Kinslow. In fact, Slymen is a bit ahead of her trajectory 12 months ago in terms of offensive aggressiveness right now.
Hailing from Washington, Smith has become one of the most well seasoned veterans to ever attend our Academy series. She's capable of making any and every read offensively with shooting range comfortably out to 24 feet. Over the past 12 months, Smith has grown her skill set to become a guard who is productive on or off the ball in settings with some of the nation's premier players like Maryum Dauda (Baylor commit) around her.
The improvement in Stewart's game from the beginning of the summer until this evaluation is night and day. She's been with our staff on five occasions from California now since June. Stewart is shooting the outside 3-pointer from the slot or the corner with real confidence and attacking the lane to score going in either direction. Her commitment to improving even during a pandemic is impressive and can't be overstated.

Walker's game has grown leaps and bounds since our Austin Academy in June. She has the combination of skill and confidence needed to be a consistent threat from the outside. Walker also showed the IQ and ability to be a good position defender too. Her competitive nature and drive have Walker's game in a good place right now. She's a college level option in the backcourt.

Williams flew in from Indiana to be a part of the Academy. She's becoming such a talented scorer off of the dribble. Williams already has the bounce and frame to take contact then still complete the play. As her jumper continues to evolve, expect guarding Williams to become a more difficult task as time goes along. All the tools are there for the silky smooth guard to become a consistent option on both ends of the hardwood.

Brandon Clay serves as the Director of Scouting for ProspectsNation.com and owns The BrandonClayScouting.com Evaluation Report, which is read by more than 200 colleges and universities nationwide. He also serves as the Executive Skills Director for the Brandon Clay Scouting Academy Series.