Posted
2 years 11 months ago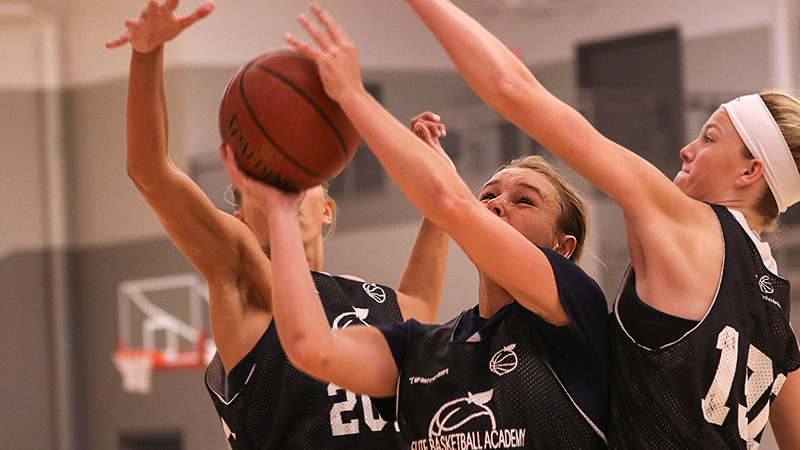 APPLETON, Wisconsin – The BrandonClayScouting.com National Training Academy has become the nation's premier proving ground to train with and compete against elite competition. With 85 campers representing the best that the Badger State has to offer, this edition was no different. Our favorite part of the showcase is working with campers during our Spotlight Session Workout. Here are the takeaways from the third session on Thursday night:
It's hard to find guards as steady as Frentzel was here for two days. She's got a solid build and a style of play that lends itself to basketball in this day in age where "positionless' wing players are high in demand. Frentzel's on floor specialty is her ability to do a multitude of things on both ends. At the end of the day, Frentzel knows how to play this game.
Krahn is one of those prospects who just gets it. She knows what it takes to be good, productive and goes out to get it down. In that regard, Krahn has a fantastic vibe about her already carrying herself in drill work like a college level prospect. She can handle, shoot and attack all with good footwork. Our staff all remarked that Krahn could be told something once and immediately understand what the objective is. Keep an eye on her physical strength development.
Krueger is such a steady prospect at the guard spot. She was a shot maker here who also showed herself as a more than capable jack of all trades option at the next level. Krueger's willingness to do the little things on the floor make her a real positive impact player. If she can show herself to be a consistent jump shooter keeping defenses honest in the process then she's an even more productive threat.
Lambe is an emerging post player with legitimate next level length on the interior. For Lambe to keep progressing her overall production, adding strength is the foundation that will make that progressing become reality. In this evaluation, Lambe showed the touch to be a consistent face up jump shooter out to the free throw line early in her career. If she'll keep adding to that package, her value increases as a result.
Loman has good size at the guard spot with the skill set to take any drill we threw her way and get the hang of it pretty quickly. She competed in both sessions of the Academy and was locked in the way you'd expect a next level guard to be in this setting. Loman can keep defenses honest with her jumper as well as attack off the bounce. Her competitive nature jumped out in drills.
Mahone came in with a fantastic attitude and energy in every drill to match. She has great size at the forward position to go with good feet that allow her to pick up on new footwork quickly. Given the way the game is going, Mahone projects as a player capable of guarding either forward position and could potentially spend limited minutes in a Draymond Green / Andre Iguodala small ball post role as well. If Mahone keeps developing her jumper, the future gets even brighter.
Ouimette is a smooth yet crafty guard. Her ability to make positive things happen with her skill set and length put our staff in the mind of Jillian Brown (Northwestern verbal). Like Brown, Ouimette is a highly skilled, consistent threat from long range at the guard spot with the length and size to play either the 1 or 2. Ouimette showed in this setting that as she matures in her on floor confidence to lead, serving as a contributor for an NCAA Tournament contender is not far fetched in the least.
Pampuch came into this session ready to train and grow her game. She did just that Even more impressive than her well rounded skill set, Pampuch came across in this Academy setting as a great kid. Next level, she projects as a shooting specialist capable of being impactful in multiple roles on the floor in large part because she'll always be aware of what's being asked. That's a definitive and vastly underrated skill.
Petersen's length and ranginess at the forward spot make her a unique prospect going into her school campaign. Her frame will continue to fill out with time and maturity. As that happens, Petersen projects as one to keep a close watch on inside the Badger State. She can shoot the trail 3, attack off the bounce and is going to be in the discussion as one of the more talented players in the region at this rate.
Ziebell has the makings of an elite shooter. For an incoming freshman, she has the skill set of a battle tested veteran offensively. Defensively, keep an eye on Ziebell's progress. She has all of the tools needed to be a quality option on that end of the hardwood as well. Right now, there are only a handful of young prospects who has the shooting prowess that Ziebell showed here in this Academy.

Brandon Clay serves as the Director of Scouting for ProspectsNation.com and owns The BrandonClayScouting.com Evaluation Report, which is read by more than 200 colleges and universities nationwide. He also serves as the Executive Skills Director for the Brandon Clay Scouting Academy Series.