Posted
10 months 4 days ago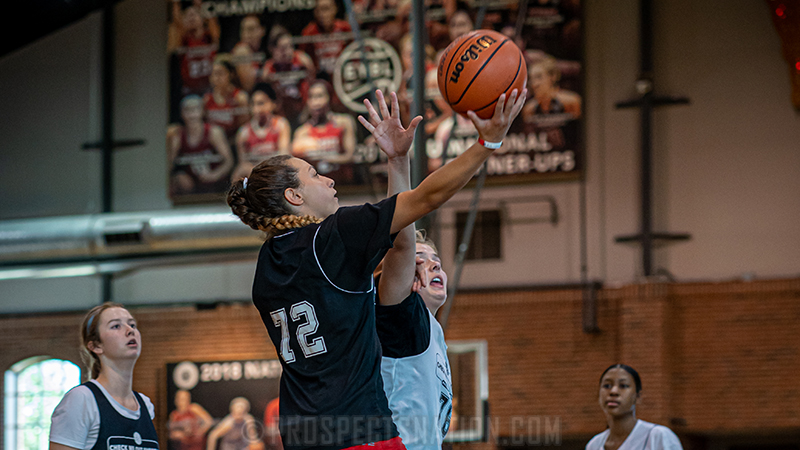 Jada Clarkson of Whitehall, Montana elevates for a bucket at the CMO Midwest Showcase in Ames, Iowa. *Photo by Anthony Lugardo.
AMES, Iowa – The Brandon Clay Training and Elite Is Earned alliance was back in action this past weekend in the Midwest. Over 70 of the nation's premier prospects traveled from near and far to train inside the All Iowa Attack Fieldhouse. Here's a look back from one of the Spotlight Training Sessions:
Just an eighth grader, Bowman is leading the youth movement in a state always full of talent. She has the skill set and the length to be effective playing multiple positions on the wing. She's good off the bounce with a jumper that forces defenses to play her honestly. That's a tough ask for most defenders regardless of age but especially for those who haven't walked a high school hallway on a daily basis.
Jada Clarkson (Whitehall, Montana), G.O. Hoops – 2023
Having tracked Clarkson's recruiting process for the past several months, the foundation is obviously there for long term success. The opportunity to spend multiple days on the floor with her was a nice chance to get a closer look at what she does well. Clarkson is dialed in to teaching and executes well after being shown a drill. Inside of gameplay, she has the strength and speed to be a consistent threat on the ball at the next level. Continuing to add to her outside consistency will only help.
Johnson has the size that most hybrid forwards in today's game possess. As she continues to add to her shooting range, Johnson has a steady game on the inside rebounding and defending that allows her to provide a versatility next level players have. Add those qualities to her work ethic that was on display here and Johnson is a forward who will be firmly on our radar for the next 12 months.
Seemingly weekend in and weekend out, Kinslow comes in energetic ready to make an impact with her play. With stops in Phoenix and Indianapolis already under her belt this month alone, she was back yet again looking to sharpen her skill set. Kinslow does a little of everything on both ends of the floor. Most importantly, she might be the most diligent worker our staff has been around this entire year.
This was our first chance to work with Kyle on her game. She didn't disappoint. Kyle has legitimate range on her shot, size at the guard position and a worker's mentality. Her size is intriguing especially as an off the ball option who can space the floor with her shot. Kyle has the ability to showcase the skill to be the high 30's, low 40's percentage 3-point shooter that colleges nationwide covet.
Miller came in focused from the opening drill. Her attention to detail as a middle schooler sets the stage for Miller to be a kid in our pipeline for years to come. She can apply pressure to defenders by making shots with her feet set or attacking downhill off the catch and go. In that regard, Miller has the skill set needed so as her body keeps filling out she'll be able to complete the plays that she is seeing right now.
One of the youngest campers in the building, Ollivierre's intellect on the floor is far beyond her years. She even served as the demonstrator during one of the shooting drills making more than her fair share from 17 feet out. Ollivierre's demeanor at such an early age bodes well for her longterm progress. As she gets more comfortable attacking and passing with either hand, the game will keep getting easier for her.
As hard as it is to find sharpshooters from beyond the arc, Sanders was a pleasant surprise in that regard in this setting. She showed range out to 24-25 feet during our skill work with her mechanics and release not wavering much if at all on most of the shots from that distance. That skill alone makes Sanders a prospect to keep an eye on. Couple that her adding even more to the ability to attack off the bounce and she looks to be one of the state's top options classwide.
Our staff is accustomed to working with Taylor during the Elite Is Earned Seattle stop each year. This year, Taylor made the trip to Ames to come train with us. She showed an improved overall game including the ability to make the open jumper in gameplay. Taylor's game was crisp on both ends of the with her next step in the progression being to keep upping her physical strength.

Brandon Clay serves as the Director of Scouting for ProspectsNation.com and owns The BrandonClayScouting.com Evaluation Report, which is read by more than 200 colleges and universities nationwide. He also serves as the Executive Skills Director for the Brandon Clay Scouting Academy Series.