Posted
1 year 3 months ago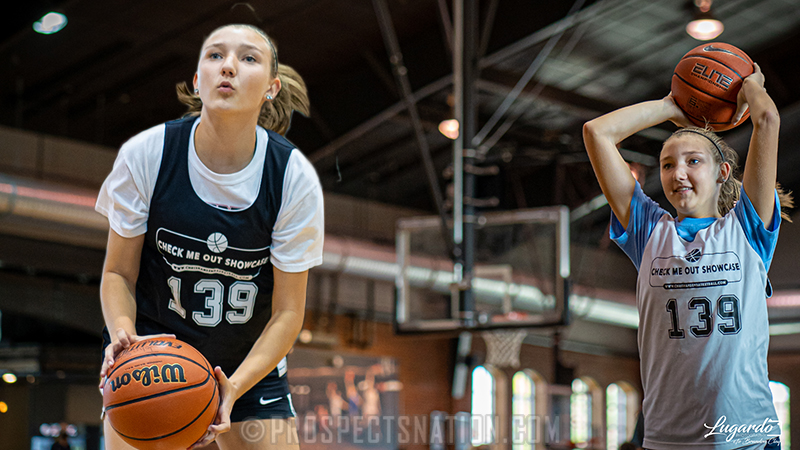 Emily Monson made the trip from Murfreesboro, Tennessee, to train and compete in Iowa. *Photo by Anthony Lugardo.
AMES, Iowa – The Brandon Clay Training and Elite Is Earned alliance was back in action this past weekend in the Midwest. Over 70 of the nation's premier prospects traveled from near and far to train inside the All Iowa Attack Fieldhouse. Here's a look back from one of the Spotlight Training Sessions:
Aaliyah Crump (Shakopee, Minnesota), North Tartan – 2025
Crump has next in the North Star State. She has the length to be a legitimate big guard already and as she fills out, will only continue to get better in that way. Crump has a smooth release on her outside shot showing range out beyond the 3-point line as a middle schooler. She can attack off the bounce too showing a world of upside as her game grows along with her frame over the next 12 months.
It's tough to find young guards who can put the ball in the basket shooting it the way Holman did here. She was competitive on both ends of the floor and was even willing to work on her weak hand passing. A lot of Holman's progression over the next 12 months will be centered around her physical development as she adds the strength to play through contact.
Hope is a big guard who has a chance as an incoming freshman to make noise over the next four years. She's talented enough to use her size as a lead guard or potentially play off of the ball as well. Continuing to build on her outside shot with consistent footwork squared to the basket will only make Hope a more deadly threat from beyond the arc. The physical tools are there.
Lexi Karge (Mankato, Minnesota), MN Stars Nilson – 2022
Karge has the size in the frontcourt that teams look for. She showed here the willingness to keep working on her range facing the basket as the importance of floor spacers in the new age game keeps improving on an annual basis. Karge's work ethic here was noteworthy as she made real progress during the Academy.
Lawson's energy level and vocalness jumped off the page here. She was active in every drill whether it was offensive or defensive based. When waiting in line, Lawson kept that same energy. She was a fantastic addition to this elite setting. Add in her blossoming skill set to make open shots on offense and Lawson appears to be a prospect who will be on our radar for years to come.
Tayah Leenderts (Rosemount, Minnesota), Minnesota Stars – 2022
This was our first opportunity to lace 'em up and train with Leenderts. She has a nice blend of size and mobility. In today's game, Leenderts is a prospect capable of stretching the floor with her shot in the frontcourt. She's versatile to play multiple positions on both ends and bright enough to read what she's seeing in terms on sets, coverages. Once that happens, Leenderts can get to the open spot offensively to create easy shots for herself.
Meulemans game has shown marked improvement even since our June evaluation. She's standing right at a legit 6-feet making her a big guard capable of making the slot or corner 3. In a demo against a 1-3-1, the point guard made a ball fake away to come back to Meulemans in the corner who calmly sank the open 3-pointer in front of the whole Academy. As her frame keeps filling out, expect Meulemans to become even more assertive attacking the rim than she has already become.
This was our first time training with Millbrandt. She showed that she has the tools to emerge as a prospect who can make plays on both ends of the floor. Like most new faces to our training academies, Millbrandt's progression will depend largely on her ability to use her off hand in game play. She has shown the talent to be a next level guard with size who can make an open shot. That's a combination that schools look for.
Monson's game literally progresses with each evaluation. Concept wise, she is in a special place to be a sophomore in high school. She gets it. Monson is learning to show the confidence in her outside shot that the consistent shooters in the upper echelon levels due. Monson's so dialed in to her improvement right now that she took part in a school obligation on Friday night then flew into Iowa on Saturday in time to work on her game with us.
Schultz has the type of size on the perimeter that colleges love to add to rosters. She's a capable scorer, creator off the bounce who is a potential specialist from beyond the arc. Schultz worked on elevating her follow through to get a clean, tall finish on every shot. Keep an eye on her as a prospect capable of serving as an elite shot maker in the class regionally.
Mackenzie Schweim (Mankato, Minnesota), MN Stars – 2022
Schweim showed right away that she can make an open shot. She's got the build to allow her to keep getting stronger through her shoulders which should only enhance her shooting range long term. Schweim is a bucket getter in that she can create off the bounce and make the open shot. Much like the aforementioned Meulemans, Schweim has the skill over the next six months to become even more consistent creating shots against elite talent.

Brandon Clay serves as the Director of Scouting for ProspectsNation.com and owns The BrandonClayScouting.com Evaluation Report, which is read by more than 200 colleges and universities nationwide. He also serves as the Executive Skills Director for the Brandon Clay Scouting Academy Series.