Rundown: UCLA, Penn State Score
Posted
2 years 5 months ago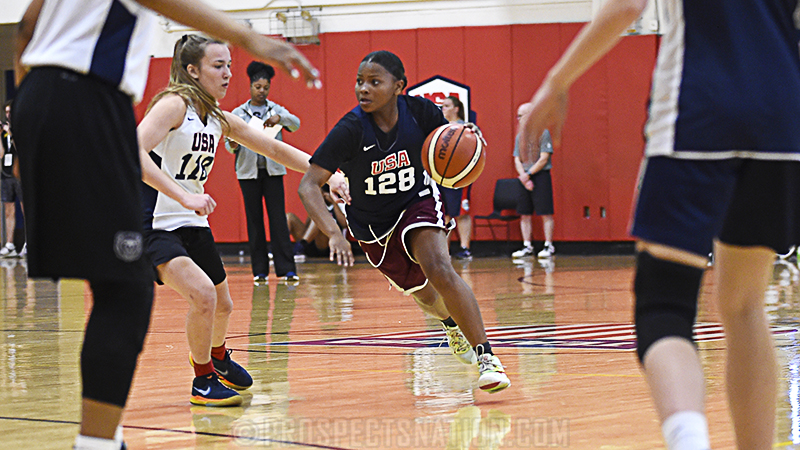 Londynn Jones of Riverside, Calif., competes at the USA Basketball national team trials in May 2019. *Photo by Chris Hansen.
UCLA Scores Two PG's
Point guard depth won't be a issue for the UCLA Bruins in the future. The program got two commitments in the same week from 2022 prospect Londynn Jones of Riverside, California and 2023 prospect Jada Williams of Blue Springs, Missouri.
Jones is a 5-foot-3-inch speedster on the floor who complements her wheels with deep range. She's battle tested with experience in 2019 with the USA Basketball U16 national team. She showed her range in those six FIBA Americas games that summer connecting on a team best 47-percent of her 38 attempts from beyond the international arc.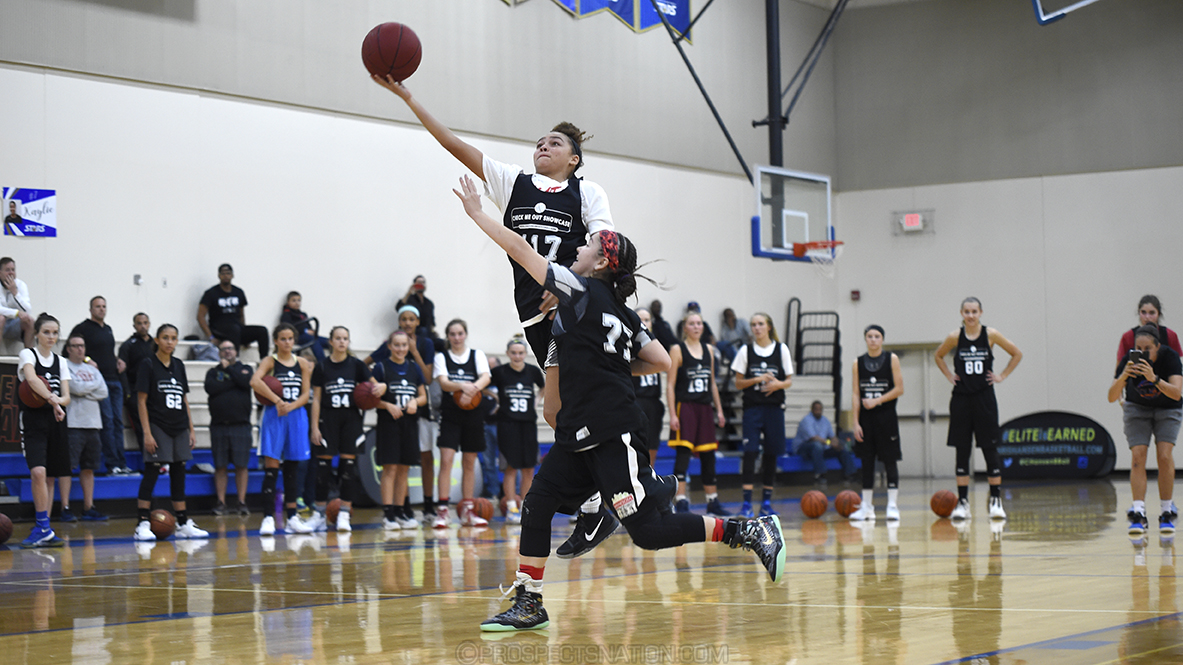 Jada Williams at the Check Me Out Showcase in
Minneapolis, Minn. *Photo by Chris Hansen.Williams is a 5-6 guard who has a different style than Jones. She's good with the ball in her hands breaking her defender down with change of direction and pace moves. She's more likely to get to 15 feet and pull up and to launch from deep.
Both Jones and Williams have competed in front of our staff on the club circuit as well as at the Check Me Out Showcase camp series and are players that truly enjoy seeking out competition.
These two will come in on the heels of 2021 signee and early enrollee Dominique Darius of Rochelle, New York. The 5-10 lockdown defender is yet another type of lead guard that should give the Bruins tremendous options as well as experience by the time Jones and Williams arrive.
Penn State Adds Paris
Penn State continues to add to their impressive recruiting efforts over the past 12 months. This time, it was adding Class of 2022 guard Paulina Paris to the backcourt. Our staff trained with Paris last weekend in New Jersey coming away impressed with her skill level and shot making ability. She'll have a chance to team up with Brandon Clay Training alum Alli Campbell for multiple seasons. Campbell just transferred in to Happy Valley from Notre Dame and the two represent what appears to be the dawn of a new era for the Nittany Lions.
Keira Hanson to UVM
Keira Hanson of Bellevue, Washington, is taking her game cross-country with her commitment to the University of Vermont. The 5-foot-8 junior point guard is one of the top lead guard prospects in the Pacific Northwest. The Issaquah High School product can create for teammates and elevates with ease to score at the mid-range. The heady point guard is terrific addition for the American East program.
Brandon Clay Recruiting Program Rundown

Class of 2023 forward Mary Ashley Groot of Columbia, South Carolina, earned an invite to the USA Basketball 16-and-under Trials in May. Coming off of a state championship with her school team, Groot is playing at a high level right now and has the attention of schools nationwide.
Class of 2024 forward Cameron Rust of Rhode Island, has an offer from Maryland. Rust has established herself as an elite recruit in the class with a unique blend of strength, agility and versatility. The Brandon Clay Training staff trained with Rust last weekend in New Jersey.
Class of 2025 guard Hailee Swain of Atlanta, Ga., has an offer from Ole Miss. Swain has shown the skill and poise to be considered of the country's premier backcourt options. She just caught the attention of our ProspectsNation.com staff with her performance at the Elite is Earned Academy in Arizona two weekends ago.

Brandon Clay serves as the Director of Scouting for ProspectsNation.com and owns The BrandonClayScouting.com Evaluation Report, which is read by more than 200 colleges and universities nationwide. He also serves as the Executive Skills Director for the Brandon Clay Scouting Academy Series.

Chris Hansen is managing editor of ProspectsNation.com and serves on the McDonald's All-American and Naismith Trophy selection committees. He was a co-founder of and the national director of scouting for ESPN HoopGurlz from 2005 until 2012 and is the director of the Check Me Out Showcase and ELITE is EARNED events. He can be reached at chris@prospectsnation.com.