Posted
1 year 4 months ago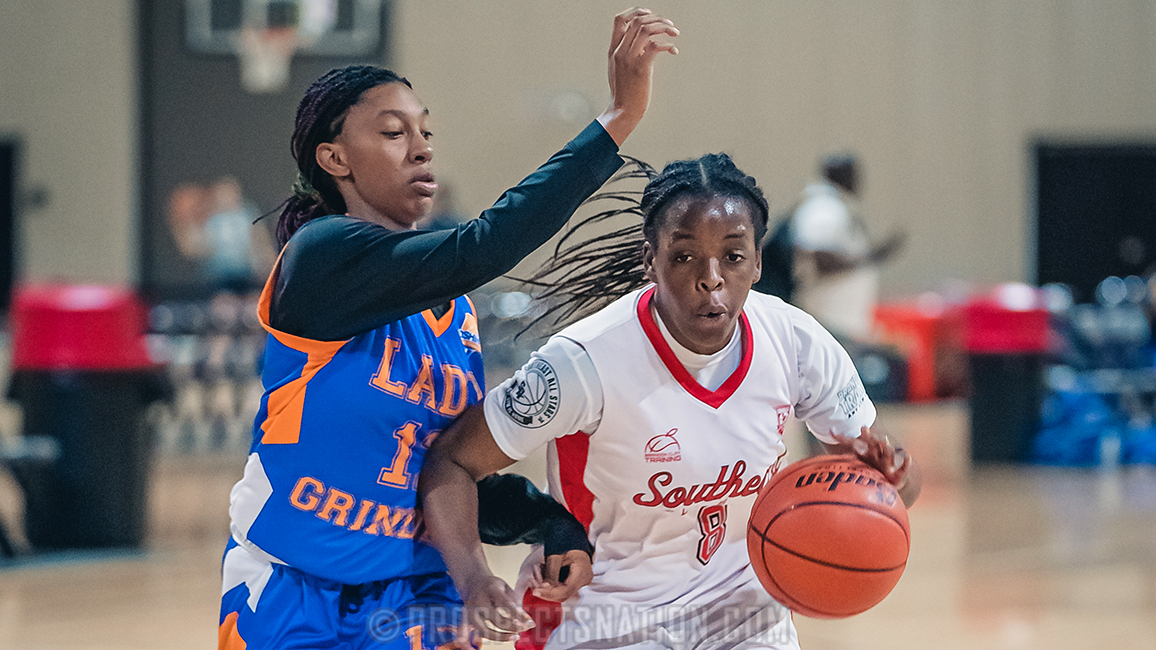 Gabbie Grooms is a smooth operator for the Southeast All Stars. *Photo by Anthony Lugardo.
EMERSON, Georgia – The Brandon Clay Power 48 event saw teams from across the country convene at arguable the best venue for college viewing, LakePoint Sports.
Maya Watts (Hopewell Junction, New York), Hoopers NY – 2023
Watts is a player holding multiple offers already. The 6-1 forward has a grit about her game that makes her impact felt. She's physical and was good in ball screen action for the Hoopers. She's a high academic option as well giving her a lot of options.
Collins is a smooth operator at the point and also played plenty of possession off the ball. On Sunday she flipped a switch and went into scorer mode, knocking down long range jumpers and forcing defense to shade her way more. That aggressive style forced defenders to pay her more attention and opened things up for the rest of her SAS squad.
Melious is a well decorated scorer in her home state. The Georgia Tech commit has deep range, is strong with the rock and knows her game really well. Dealing with doubles, being ready to strike whenever the defense takes a breather are all things we've come to love about her game. Her increased willingness to be an active on-ball defender is a big step forward.
Already ranked in the top five in her class, Kitts seems to be on a mission. Her ability to play multiple positions this weekend was a new revelation we've only seen in camp in the past. She went from the pinch, to baseline runner to running the point for Sean Smith's SAS black squad. Her battle with Player First interior standout Arianna Roberson gave her a rare matchup against someone who is both longer and as quick. Matchups that force counters are always good for development.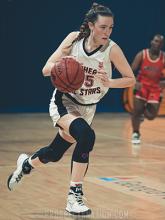 ELITE
150
We've seen Blatchford grow a lot from the first time working with her in 2018. Now standing 5-10, her ball skill, which she developed at an early age, is paying dividends. Seeing her calm presence at the point, ability to get to her spots and length to make plays over the top or in the pocket is a testament to how building skill early pays off down the line.
Huff is a 5-7 point guard who plays with toughness. For a 5-7 point guard she's not afraid to get in the lane and be physical. She's a disruptive defender, can push the break and create off the bounce. She was fun to watch play throughout the weekend.
Grooms is the daughter of a former Georgia Bulldog hooper. The kid is a gamer. She has the confidence to have the ball in her hands in big moments. She can score the ball from long range and created off the dribble both for mid-range and getting to the rim. She pushes in transition and you can see her scanning the court. She has a lot of tools.
Just last week Roberson was listed as a ProspectsNation.com ELITE 150 Watch List player for her class. She more than backed that up this weekend, going head-to-head with multiple talented players, both older and younger than her. She's always used her length and quickness to be an impact player on defense and in this setting seeing her really impose her will offensively is a great indicator of where her game is going as she inches closer to college.
Thompson isn't a new face by any stretch but her game has changed so much since last summer. Surrounded by a wealth of talent on SAS Red, it's great to see her figure out how to be a lead guard with weapons. This transition from a player that instinctively get into the paint to get herself a bucket, which she still does plenty, is a big leap in her game.
Olivia Olson (Port Orange, Florida), DME – 2025
Olson proved to be a savvy player, especially on offense. She's got plenty of length in her 5-foot-9-inch frame. She found ways to score both with the ball in her hands and working off the ball to get open. She changes speeds well and stays on balance. She shot it well which forced defenses to play her tight away on the perimeter.
Jade Grier (Lakeland, Florida), FGB Future – 2026
Grier has a blur on the court in a good way. She plays at a fast pace and puts a lot of pressure on her defender. She pushed transition well, created off the bounce for herself and teammates and was a real factor defensively.
Bowman is a big guard with an elite scoring specialty, a terrific jumper. The 5-10 prospect can play multiple spots on the perimeter and be effective. Off the dribble she uses her hesitation move well to get downhill on defenders and that's where her strength comes into play. This is of course that much easier when defenders have to worry about her catch and shoot ability at all times.
Harpring has a game well beyond her years. She's a threat to score 20-plus at any time and she does it without a lot of fluff. You won't see any triple counter isolation possessions with her. If she gets to a spot she knows she can score from, she does just that. To see a kid this young play this efficient and produce this much against older competition is worthy of the hyperbole building around her game.
AROUND THE RIM
Asya Barnes of Lithia, Florida was a standout by her play as a big point guard. She ran her DME team and looked aggressive in transition.
Kelly Cramer of Ponte Vedra, Florida, is a smooth operator for First Coast Basketball Academy. The 5-9 guard in the 2024 class acted as both a scorer and primary ballhandler for her squad.
Jordanna Schrecker of Staten Island, New York, was the only 2025 on the 17U squad and her confidence as a scorer is showing already.
Another New Yorker, Natalie Fox of Endwell, has the length and mobility to fit the new age front court mold. The 6-3 prospect for the Hoopers NY hit trail and ball reversal threes, making her a great "stretch" option.
Karymn Griffin of San Antonio, Texas, is a 5-11 2024 player who can be a factor in multiple spots on the floor. She has the skill to attack bigger defenders and the size and strength go punish smaller defenders.
Kylee Kitts of Oviedo, Florida, might have had the best post move of the weekend with a nice middle set up for a drop step. The 2025 prospect also is a more than capable shooter from behind the arc, fitting the mold of the new-age front court player.

Hansen is managing editor of ProspectsNation.com and a McDonald's All-American selection committee member. He was the national director of scouting for ESPN HoopGurlz from 2005 until 2012. He can be reached at chris@prospectsnation.com.