Posted
1 year 9 months ago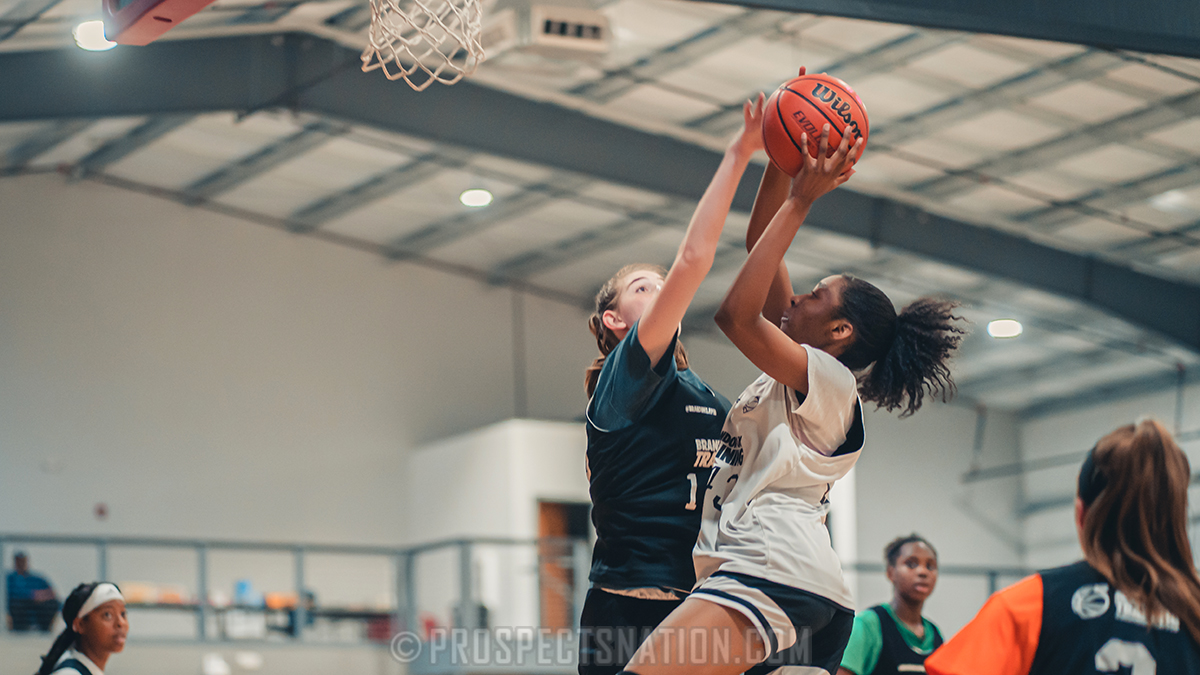 Ellery Minch of Indianapolis, Indiana, is a force on both ends of the floor as she proved at the BCT Indy event. *Photo by Anthony Lugardo.
INDIANAPOLIS, Indiana – The BrandonClayScouting.com National Training Academy has become the nation's premier proving ground to train with and compete against elite competition. With campers representing seven states, this edition was no different. Our favorite part of the showcase is working with campers during our Spotlight Session Workout. Here are the takeaways from the session:
Amaya Collins (Pipe Creek, Indiana), Frankton – 2024
Collins showed a nice high arcing release point on her jumper here. In addition, she also showed a consistent shooting pocket. Like most guards in their first session with us, Collins can continue to build upon the off the move footwork that we covered. As her confidence and technique grows in that area, we fully expect Collins game to come back different during our September session.

The progress that Freeth has made in her outside shot keeps growing with each eval. Her follow through has become consistently tall with Freeth's shot going in on a regular basis as a result. Our staff was hard pressed to think of another example of a prospect whose shot has blossomed in such a short time. Her footwork off the dribble is the next area for Freeth to attack.
Graham was absolutely fantastic in her consistency here. She's a steady shooter who is at her best when she gets her feet set under her shoulders. After a strong freshman school season, Graham came in ready to build on her footwork. She can take the next step by using her feet to create space to get her shot.
Hawkins keeps growing both physically and skill wise. She's expanding her range on her outside shot. Fundamentally, Hawkins has come a long way with her shooting mechanics mainly on her tall follow through. She's getting her left wrist snapped on every shot. Keep an eye on Hawkins ability to attack off either foot without needing to hop into her shot.
Dmysia Knox (Cincinnati, Ohio), James N Gable – 2024
Knox was a pleasant surprise in this initial shooting evaluation. She has the tools physically to be a prospect who scores at all three levels in due time. For that to happen, Knox will have to take what we worked on here and apply it to her footwork going in either direction. Becoming a true midrange threat will only help elevate Knox's scoring ability.
Lampley has an elite level set of tools as a new age big guard. She can stretch the floor with her 3-pointer, hit the midrange and over time will be able to mid post defenders to give them the tough fadeaways that Luka Doncic and LeBron James so often do. As she builds out that skill set, moving crisply without the ball is going to take her already advanced game to new heights.
Lampley's shooting skill at a young age gives our staff reason to believe that the sky is not only the limit but still a long way away from her ceiling. With another year of middle school left to complete, Lampley's current frame and game remind me of the growth Kaela Davis and Diamond DeShields at the same stage in their respective developments. Lampley can continue working on that long, low and crisp first step making it tough for defenses at any age.
Minch came straight into the gym after visiting Cincinnati earlier in the day. Though she has an offer from the Bearcats, Minch went right to work as if she doesn't have a single one to her name. Her shot pocket is nice and high these days with a two handed follow through to match. In that regard, Minch's shot consistency has really improved since we worked the last time in 2020. As she keeps developing where and when to pull her shot.
Pannell was a new face for our staff and came right out the gate ready to get to business. Her work ethic and touch from the outside was noteworthy which bodes well for the future. Right now, Pannell will see gains in her game by continuing to keep her follow through tight through the landing of her shot.

Rhodes reclassifying into the Class of 2025 is a big deal given the progress she's shown even since the beginning of this calendar year. She has the skill and game needed to be a consistent shooter. Her shot keeps getting smoother and smoother every time that we train together. Rhodes was comfortable letting it fly off the catch from 23-24 feet in this elite setting. Creating ground with her first step is the next place for major growth.
Allie Turner (St. Louis, Missouri), John Burroughs – 2024
Turner can really shoot the ball. In a gym full of elite level shot makers, she was more than able to hold her own. Continuing to have the confidence to have that ability ready to display at anytime, anywhere will keep Turner's game progressing in the right direction. She's a rare breed of guard who can have actions run for her away from the ball to then catch and shoot.

Brandon Clay serves as the Director of Scouting for ProspectsNation.com and owns The BrandonClayScouting.com Evaluation Report, which is read by more than 200 colleges and universities nationwide. He also serves as the Executive Skills Director for the Brandon Clay Scouting Academy Series.