Posted
3 years 1 week ago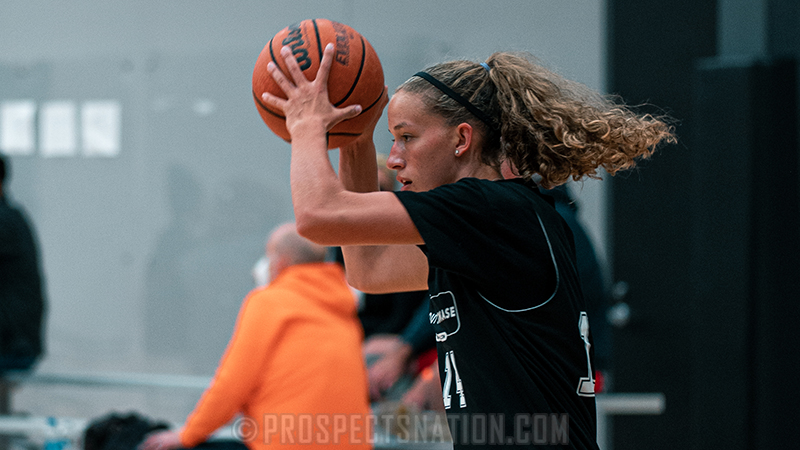 Ashlynn Shade is a player who built a national reputation in 2020, despite only being a rising sophomore. *Photo by Anthony Lugardo.
DALLAS, Texas – The inagural ProspectsNation.com Friday Night Lights Academy is poised to become the nation's premier single night to train with and compete elite competition. Here are the takeaways from the session:
Talaysia Cooper (Turberville, S.C.), Team Curry -- 2022
Cooper has the playmaking ability to be one of the country's top backcourt options regardless of class. For Cooper, the next piece to her game is developing the outside shot that all of the greats add to their bag in due time. She's got elite level talent defensively as well.
LaChapell has put herself in the national discussion as far as wing players go with her all around play the past 12 months. She's got ideal length and can legitimately serve as a big off guard or at the 3 spot for an NCAA Tournament caliber program next level.

Caroline Lau (Westport, Connecticut), Exodus NYC -- 2022
Lau's steady hand at the point was a major reason Exodus NYC's success this summer. She showed that same smooth vibe here in this setting. Lau's ability to facilitate and stick the open jumper make her one to watch.
Marotte is going to have a chance to do good things once she arrives at Washington next season. Much like LaChapell, Marotte has the length and versatility to play either wing position for the Huskies. A high level athlete, Marotte could really take off at the next level.
Pissott is a frontcourt prospect with a combination of size and skill. Her ability to shoot the open jumper out beyond the 3-point line will give the Lady Vols another floor spacer to go along with Sara Puckett in the class ahead of her.
Richardson came right out and showed the talent that makes her such a coveted recruit at the next level. She has the length and bounce in her step that her future Georgia coach Joni Taylor loves in a wing prospect. Expect Richardson to be a swiss army knife type for the Dawgs.
Shade has proven herself to be one of the nation's premier backcourt prospects in the class. Whether we're training in Dallas or Indianapolis, we're always looking for the next thing to add to her game. Her work ethic is a potential separator and reminds me of former Hoosier State Miss Basketball Ali Patberg.
Vansickle brings a loaded toolbox to the game. She is capable of making open shots off of the drive and kick as well as handling the basketball in the halfcourt too. Vansickle has been exposed to basketball at a high level both club and high school wise to this point.
von Oelhoffen has the size, skill and step to her game to be a consistent playmaker with the ball in her hands. In that way, she can create matchup issues with her physical presence on the perimeter. Armed with range out to the 3-point line, von Oelhoffen is a real prospect.
Vick has changed her frame over the past 12 months and as a result, she's moving more fluidly which will be important in the Big XII. In this modern day era, post players like Vick who can score around the basket or facing the rim are hard to come by.
Wagner is the type of kid who is fantastic in these environments. Her curiosity is always searching for answers and the next way to improve her game. The future Baylor bear has great size in the backcourt serving as a point forward of sorts longterm.

Caileigh Walsh (26938)
Walsh is one of the nation's premier frontcourt options. She's capable of being a factor offensively in the pick and pop option, trail slot on the break or on action to feed her in the post. She should be a double – double caliber producer with her size and touch.

Brandon Clay serves as the Director of Scouting for ProspectsNation.com and owns The BrandonClayScouting.com Evaluation Report, which is read by more than 200 colleges and universities nationwide. He also serves as the Executive Skills Director for the Brandon Clay Scouting Academy Series.