EBA Top 40 Spring 2016 Day Two
Posted
1 year 9 months ago
LAWRENCEVILLE, Ga. -- Day two of the EBA Top 40 Camp was just as impressive as the first. The energy and enthusiasm continued into the morning session as players reviewed individual skill breakdowns and moved into full court live action. Here are a few standouts from this morning.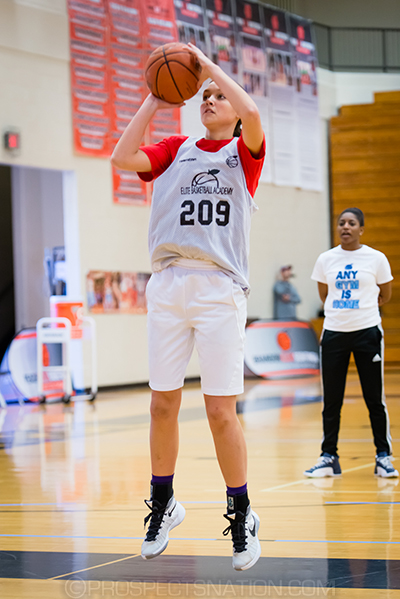 Taylor Kissenger of Minden, Neb.Class of 2017 shooting guard Taylor Kissinger of Minden, Neb., showcased her skills on a variety of levels during camp. Kissinger can attack and get to the rim, use screens to get an open jumper, and consistently drain 3-pointers in transition. She had a span of possessions where she pulled up for back-to-back 3-pointers, and then weaved her way through the defense for an easy pull up in the lane. She has a diverse skillset and can score in bunches.
Katlyn Gilbert, a class of 2018 guard from Indianapolis, Ind., had an impressive showing throughout the camp making plays on both ends of the floor. Her wingspan allows her to create from defensive deflections and transition to the other end for an easy bucket. Gilbert is a powerful perimeter player who uses her size well in the paint, but will also pull from outside and knock down perimeter jumpers.
Speaking of knocking down jumpers, class of 2017 guard Kameron Roach of Hopkins, S.C., was extremely consistent from outside on day two. She had a span of three possessions where she brought the ball down on the break and pulled up before the defender could close out. If you overplay she will make you pay with her first step. She also creates well in the open court too.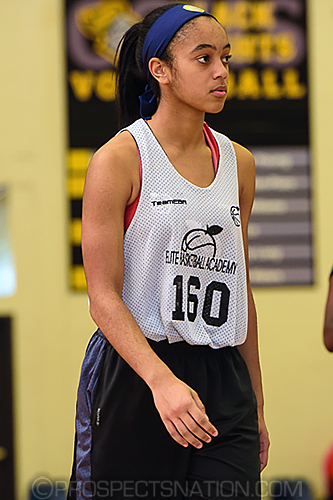 Jenna Brown of Marietta, Ga.Class of 2018 guards Jenna Brown of Marietta, Ga., Sutton West of Johns Creek, Ga., and Sydney Tucker of Frankton, Ind., really impressed the EBA staff over the weekend. Brown had an exceptional showing as she took over during the 5-on-5 games getting steals and staying very active on both sides of the ball. West was effective from behind the arc, but also showed that she could mix it up in the lane as well. Tucker did a lot of small things really well and has greatly improved over the last few months. All of these guards have shown a steady ability to get good looks and make shots.
Shelby Jane Petty of Murfreesboro, Tenn., consistently knocked down shot after shot throughout the scrimmages. The 2019 guard moves well without the ball and positions herself to get open looks as the ball rotates around the perimeter.
AROUND THE RIM
Class of 2018 guard Lizzie Davis of Knoxville, Tenn., is one to keep an eye on. She competes on seemingly every possession.
Lindsey Freeman of Mount Juliet, Tenn., was productive on the offensive end during the gameplay on Sunday. The class of 2020 is establishing herself as a must track prospect in the Elite Basketball Academy pipeline.
Class of 2019 guard Emma Drash of Atlanta, Ga., can shoot the basketball. She played well here the same way she did at the fall version of the camp.
Class of 2018 wing McKenna Ford made the trip from Lewis Center, Ohio to showcase her talent. She is a versatile prospect who plays the game with energy on both ends.
Avree Carpenter of Lakeland, Fla., continues to grow her game with each evaluation. The class of 2017 guard has showcased herself as a combo guard to watch this club season.

Brandon Clay serves as the WNBA Director of Scouting for ProspectsNation.com and owns The JumpOffPlus.com International Report, which is picked up by more than 150 colleges and universities nationwide. He serves as the Executive Camp Director for the Elite Basketball Academy Camps. He serves on the Naismith Trophy Men's / Women's College Player of the Year Academy and is chairman of the HS Boys / Girls Board of Selectors and is on the McDonald's All-American Selection Committee. He also is the publisher of PSBPopCulture.com.

Rebecca joined the team at the end of 2012 and quickly made her presence felt as our in-house contributor for Peach State Media during all events and now as a writer for Prospects Nation. She's been in the community as a columnist since 2008 and also serves on the Naismith Awards selection committee. Rebecca played college ball at both Kentucky and North Carolina.