Breakfast Club - Bay Area Edition
Posted
1 month 1 week ago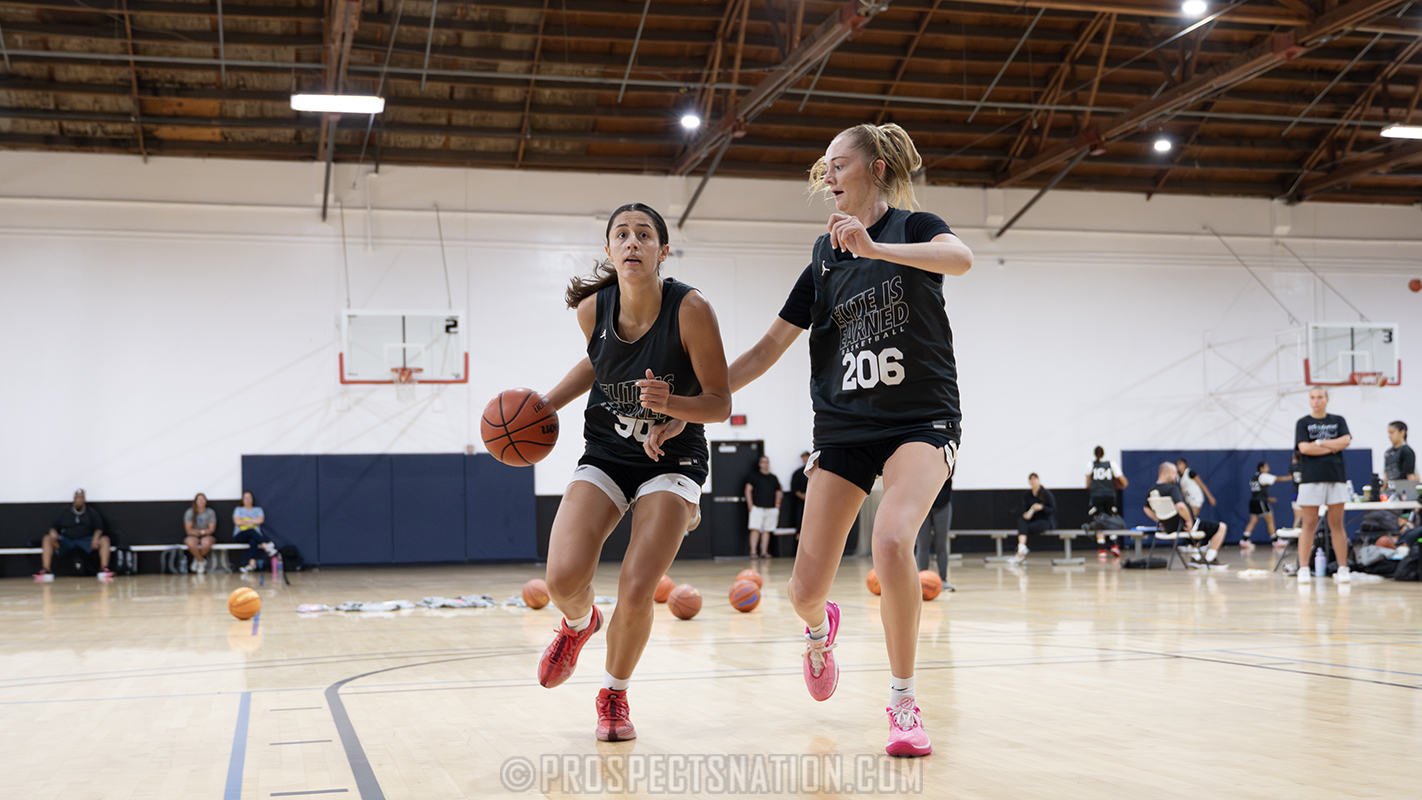 Addie Deal (90) and Harper Peterson (206) challenge each other at the EIE/CMO Bay Area Showcase hosted by ELITE is EARNED. *Photo by Chris Hansen.
MARTINEZ, California – The Fall season is primetime for elite individual events and Elite Is Earned brought its CMO National Camp Series back the San Francisco Bay Area. A special piece of the event in the invite-only Breakfast Club workout on Sunday. This group was as talented as any during the 2023 camp tour.
Deal capped off a terrific summer at her third camp with the EIE team. Her command on the floor is at a new high. Her smooth off the bounce game has only gotten harder to stop as her range and expanded.
Watching Douglas' growth in real time is awesome to see. The potential is quickly evolving into production. There's a calmness about her game now which is allowing her to feel and react to defenses. With her size and ability she'll see all sorts of different ways to try and slow her down and before she plays a high school possession she's already learning against elite competition.
It's hard to put your finger on exactly what makes Cain's game so effective. Her footwork is essential to her success but there's a subtle change of speed in what she does that defenses can't figure her out. Add to that her relentless work on the glass and its no wonder she got the Breakfast Club invite.
There's speed and then there's Davidson's speed. Her ability to play in motion and create high percentage baskets may be unrivaled in the class. She is one of the most efficient primary scorers in the country. She's also arguably the best perimeter defender in the country.
Peterson has the size and length to play inside but the vision, passing and shooting ability to play anywhere on the court. Surrounding her with elite players who understand spacing and movement is dangerous as she can beat you scoring it or passing it. Her game is unique and fun to watch.
Stokes is a terrific option at the point. She's quick and shifty and showed she can use her talent to facilitate and create for others. Passing and finding teammates seems to come naturally to her. She complemented that this weekend with consistent shooting from long range. That dual threat
This senior point guard was electric on the floor. She's got a confidence about her that gives her the ability to create offense whenever she wants. While she's on the smaller side she was nearly impossible to defend away from the basket. Off the bounce she was a problem. We loved how in this setting she was willing to pick up defensively the length of the court and make her opponent work.
Roden, fresh off her Colorado State commitment, had a terrific weekend. She is a big guard who showed great feel for the game. She used her size to score in traffic and showed off her shooting stroke (she shot nearly 40 percent from three this club season) and played lead guard at times. She's a well-rounded player who makes her teammates better.
Jordyn Moss (Menlo Park, California), Woodside Priory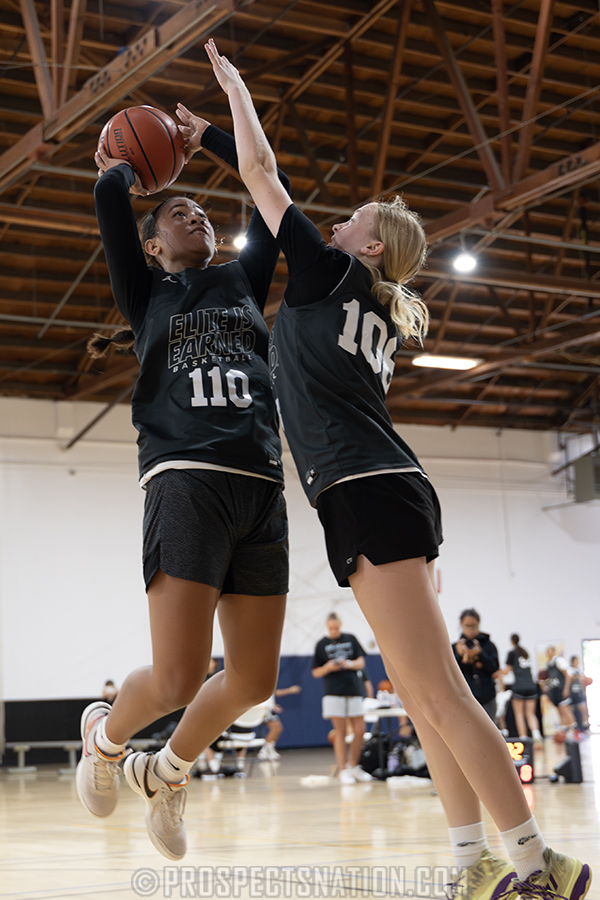 Lita Fakapelea is challenged by Liv
Yergensen. *Photo by Chris Hansen.Moss has a lot of physical gifts to be a dynamic perimeter player. She has a way of creating faster tempo when she's on the floor. Her jumper looked good all weekend with a smooth release. But the 2026 prospect's impact isn't relegated to one side of the floor. Her quickness, length and anticipation all showed up on the defensive end.
Liv Yergensen (El Dorado Hills, California), Oak Ridge
Yergensen is a 2025 that brings versatility and smarts to the floor. She can score it in catch and shoot situations but its movement off the ball as a slasher and straight line drives against long closeouts that makes her a real problem. She showed terrific instincts defensively and played passing lanes really well.
Lita Fakapelea (Menlo Park, California), Pinewood
Fakapelea was impressive in her ability to impact the game regardless of her matchup. She has the strength and physicality to defend forwards and the speed and agility to defend the perimeter. The 2026 was crafty on the offensive end and kept the flow of her groups possession going.
Jaylee Moore (Hanford, California), Caruthers
Moore is a classic post player who has been taught how to get position, maintain it through the catch and use the seal to convert. There's a relentlessness to her game that makes her as effective as players several inches taller. Her joy and passion on the court make her easy to work with and she's just a freshman.

Chris Hansen is managing editor of ProspectsNation.com and serves on the McDonald's All-American and Naismith Trophy selection committees. He was a co-founder of and the national director of scouting for ESPN HoopGurlz from 2005 until 2012 and is the director of the Check Me Out Showcase and ELITE is EARNED events. He can be reached at chris@chrishansenbasketball.com.