2023 ELITE 60 WATCH LIST III
Posted
2 years 9 months ago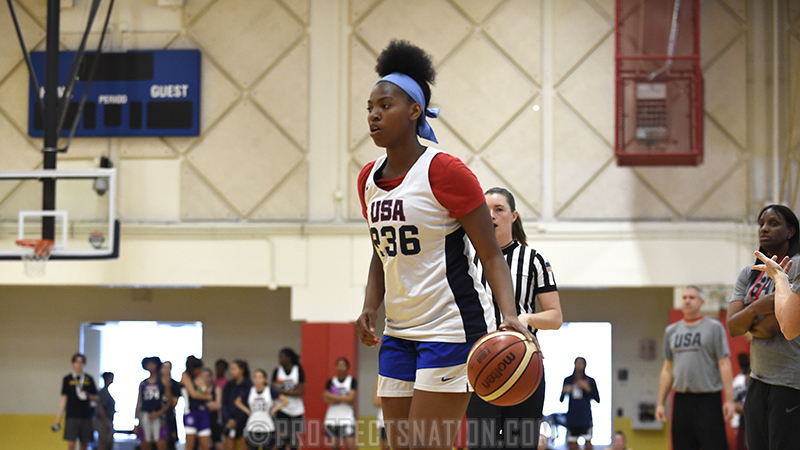 S'Mya Nichols has terrific instincts on the court that allows her to make plays and make teammates better. *Photo by Chris Hansen.
The final day of 2020 saw the third and final installment of the Watch List for the 2023 class until the Spring time when hopefully more players will be able to safely compete and show their work. The ELITE 60 Watch List now has 30 players.
The third group of 10 includes some fantastic point guards like Malia Samuels of Seattle, Washington, Reniya Kelly of Hoover, Alabama. The perimeter player-laden group has versatility in skill and style with scoring combo guard Nicole Melious of Staten Island, New York, on one side and power point forward S'Mya Nichols of Overland Park, Kansas.
Samantha Wagner of Irving, Texas, is the sole player having verbally committed form this group. The 6-foot-1 wing committed some time ago, deciding on Big 12 power Baylor.
We expect several of these players to earn even higher ratings than the 4-star level awarded to date. But given the limited number of matchups over the last nine months that separation will take a little more time.
The four-star grade is a projection that expects productivity at the Power 5 Level. Many at this level will find success at the mid-major level as well, where a bigger role leads to a bigger impact. The four-and-a-half-star tier projects a Power-5 starter during her career with significant impact on the program. The highest tier, a 5-star rating, designates an impact player for a regular NCAA tournament team and probably development as a professional.
Check out the 10 names added to the 2023 ELITE 60 Watch List: