Youngsters Shine In Rhode Island
Posted
2 years 10 months ago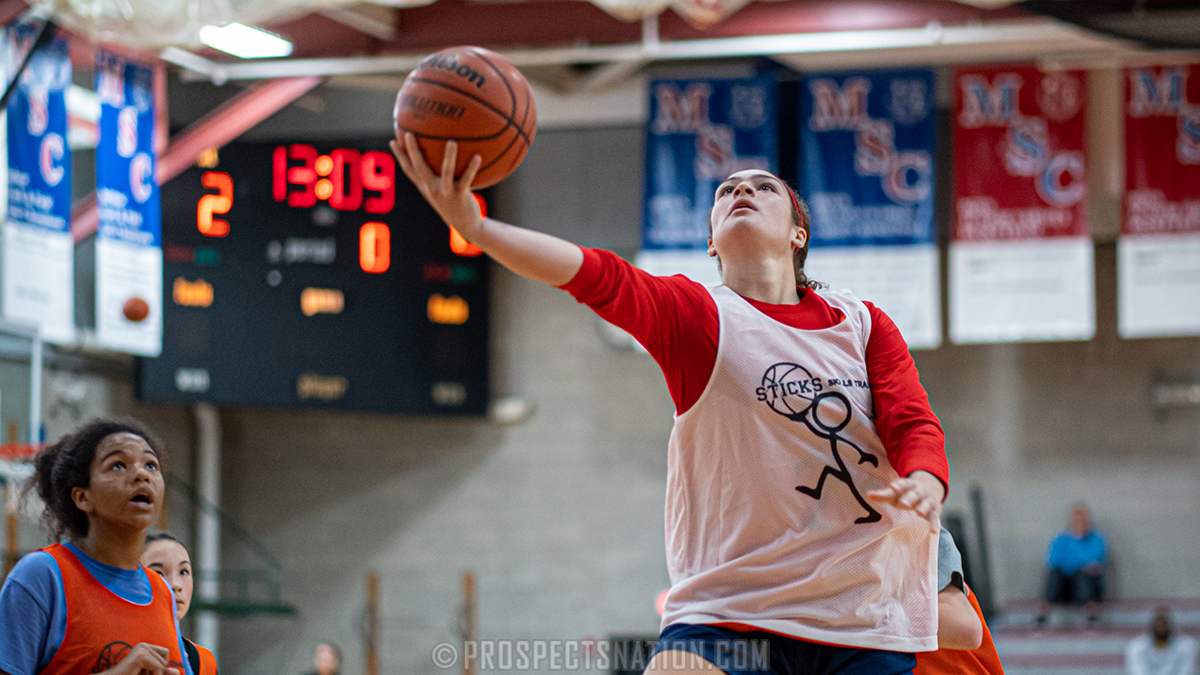 Cameron Rust of Wakefield, Rhode Island, has next in New England. *Photo by Anthony Lugardo.
WOONSOCKET, Rhode Island - The BrandonClayScouting.com National Training Academy partnered with Sean Sticks Smith to bring a unique training atmosphere to the Northeast region. Our favorite part of the Academy is working with campers during our Spotlight Session Workout. Here are the takeaways from the session:
Andrews has a nice combination of size and skill as an incoming freshman. In that way, she is very much a new age option with her potential and versatility. Like most young prospects, Andrews can continue to work on the consistency of her jump shot mechanics but the foundation is there for her to be a tough weapon for coaches to deploy on both ends of the floor.

Since training with our staff in February, Bilodeau is making strides and progress at the rate we'd have imagined. She's been working weekly on her game with the aforementioned Smith, who serves as our National Director of Player Development. Her skill set looks like she's been focused on high level reps. Bilodeau's footwork and jump shot look good. A lot of the next 12 months will be tied to her continuing to do what she's doing.
Kaelyn Carroll (Dedham, Mass.), Bay State Jaguars – 2025
This was our first chance to work with Carroll. Given her willingness to work and desire to improve, you can bet that it won't be the last. She reminds of former Auburn standout and current Georgia Tech recruiting coordinator, Blanche Alverson, at the same stage in her development. Carroll has the confidence to take the open 3-pointer already. For her, finishing her follow through with a 2-hand extension is key to becoming a volleyball line level shooter.

Florio is a fantastic option in the backcourt. Despite her size, she was able to compete against the premier young prospects in the region. Florio's skill set is smooth for a point guard her age and gives her a real chance to be a college level prospect over the long term. She can stick the open 3-pointer and will have to keep working on when and where to take those shots.
Kocis was a problem on the floor when she traveled to Atlanta to train with us in February. She's improved noticeably since then. Kocis was hitting 25-footers inside of a drill during the Academy. That skill is hard to find in elite upper class prospects so to see a middle schooler doing it is uncommon. Kocis already possesses the work ethic it takes to be good long term in this game if she'll stay on this path.
After her performances at the Middle School All American Academy in February and again here, Lanier has quickly risen to the top of our must track guards in the region. She has the skill to compete with and against the high school aged prospects in the Academy coupled with the moxy to be a leader in the middle school session. Lanier can make all the plays needed to be successful. Becoming more vocal is her next area to level up.
Stella Lockhart (Montclair, NJ), NJ Slamz – 2026


Lockhart was a brand new face for us who has the aptitude to pickup quickly on the topics being thrown her way. She's a bright prospect with good size and feet. Lockhart showed nice touch on her outside shot to go with her penchant for rebounding especially loose basketballs in her area. Keep an eye on her development over the next 12 months in the area of shooting the ball. If she can keep progressing, she's a tough matchup.
Kyla Sheedy-Goff (Stoughton, Mass.), Beaver Country Day – 2024
This was our first opportunity to train with Sheedy-Goff. Her size and ability to be coached jumped right out at us all. She might have blossomed more over the weekend than any other prospect in attendance. Most young back to basket post players have received limit game setting interaction that is post feed centric. Sheedy-Goff's willingness to try and assimilate that instruction into her game right away was a major plus.

Rust has been on our radar all of 2020. She has a fantastic foundation physically to build upon as time goes on. Rust should be a prospect who is capable of consistently making plays around the rim with her power then stretch the floor on the next possession with her outside shot when the defense gives her room. Rust's impact will rely in large part on her willingness to blend her physicality with her emerging skill.
Simmons has the build to be a really tough matchup on the wing for opposing defenders. She already has the mindset to attack downhill off the bounce when she has a chance making a catch and rip to the rim here that reminded us of Kentavious Caldwell-Pope against Duncan Robinson in the NBA Finals. As Simmons becomes more and more comfortable using her weak hand to make those same type of plays, her game goes up a level as a result.
In our first evaluation of Wigneswaren, she showed that she is a potentially dynamic option at the guard spot. She showed skill and poise as we worked on her skill set here. She's a kid who could be a floor spacer as well in the right system. As Wigneswaren keeps developing her game by attending more elite level academies like these, we expect her game to keep growing as a result.

Brandon Clay serves as the Director of Scouting for ProspectsNation.com and owns The BrandonClayScouting.com Evaluation Report, which is read by more than 200 colleges and universities nationwide. He also serves as the Executive Skills Director for the Brandon Clay Scouting Academy Series.