Posted
8 years 10 months ago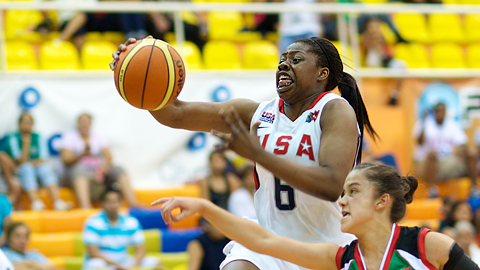 ELITE 60 junior guard Arike Ogunbowale. *Photo by Haley Weit.
Tweet
This week was cut week and two ELITE 60 2015 prospects both narrowed down school lists. Both Arike Ogunbowale of Milwaukee, Wisc., and Dejanae Boykin of Springdale, Md., both made cuts to their lists that left 11 and 14 finalists, respectively.
A class of 2015 guard, Ogunbowale is the No. 7 ranked player in the class and the No. 2 ranked guard in the class. Ogunbowale is a power guard with the ability to use her size and athleticism to take advantage of smaller guards, all while she continues to improve as a perimeter shooter. Wherever Ogunbowale decides to go to college her ability to score the ball in various parts of the floor will add a strong dynamic to any lineup. This week Ogunbowale cut her list down to an alphabetical list that includes, Connecticut, DePaul, Duke, Louisville, Marquette, Michigan, Notre Dame, Ohio State, Stanford, UCLA, and Wisconsin.
Boykin is the No. 8 player in the ELITE 60. Boykin has been a fixture towards the top of this class throughout her time on the national scene. She is the kind of impact recruit who can help shape or solidify the roster of the program she decides to attend. She has the frame and athleticism to play multiple positions at the next level and has continued to improve her skill set over time. Boykin's list of 14 schools includes Connecticut, Duke, George Washington, Kentucky, Louisville, Maryland, Miami, North Carolina, Ohio State, Penn State, Tennessee, Virginia, Wake Forest, and West Virginia.
Late Signing Week Additions
We had a couple of late additions to signing classes on Wednesday. Here is a quick look at who decided to go where.
Read More About Kia Nurse Committing to UConn here.
Thompson to Ole Miss: Class of 2014 guard Toree Thompson of Broken Arrow, Okla., was originally committed to Washington before decomitting in late October and ultimately signing with Ole Miss during signing week. Thompson is an athletic lead guard that will fill an immediate void on the Ole Miss roster.
Stapleton to Michigan: Like Thompson, Terra Stapleton also decommitted from a school. In this case it was Minnesota, and she ultimately found a home staying in the Big Ten and signing with Michigan. Stapleton is a big body in the post who should be able to give the Wolverines depth in their frontcourt. Follow @KeilMoorePSB

Moore is the Director of Scouting for the JumpOffPlus.com National Scouting Report and international scouting report. He has been a member if the women's basketball community for more than six years as a trainer and evaluator. He can be reached at keil@prospectsnation.com.