Reax: Nurse To Connecticut
Posted
8 years 7 months ago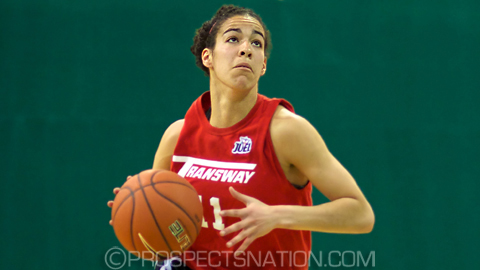 Kia Nurse through a bit of a curveball, calling off her final two visits and committing to Connecticut. *Photo by Chris Hansen.
Tweet
Kia Nurse, the top foreign prospect in the 2014 ProspectsNation.com International ELITE 25, which will be released in 2014, is on her way to Connecticut next year.
See the committed international: 2014 International Commits.
See the top 25 international players in the 2013 class: INT'L PNELITE 25.
Nurse, the 6-foot combo guard from Hamilton, Ontario, was a member of the Canadian national team this summer and highly regarded as the best prospect to come out of Canada in recent memory.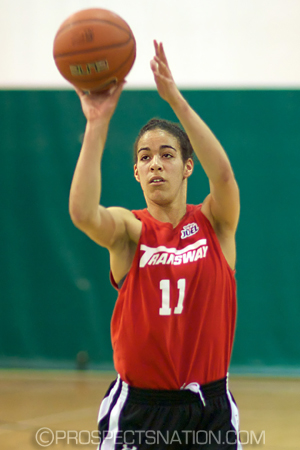 Five-star guard Kia Nurse.
*Photo by Chris Hansen.
With the addition of Nurse, Connecticut adds a quality athlete with an ultra competitive drive to her game. Nurse's game will translate well in coach Geno Auriemma's style of play. She doesn't need to dominate the ball in order to be effective in the halfcourt. Her quickness and basketball instincts will allow her to adapt to the offense early in her career and be a key contributor throughout her time in Storrs.
Connecticut now has four perimeter players in its 2014 class. Nurse will join Sadie Edwards of Meriden, Conn., Courtney Ekmark of Phoenix, Ariz., and Gabby Williams of Las Vegas, Nev., in Storrs next summer. With this level of perimeter talent headed to the American Athletic Conference school next year, look for Auriemma and his staff to focus their efforts on forwards and posts for the class of 2015. With two strong caveats being No. 1 overall prospect Asia Durr of Douglasville, Ga., and No. 8 Arike Ogunbowale of Milwaukee, Wisc. Two forwards that have been linked to the program early in 2015 recruiting are Katie Lou Samuelson of Huntington Beach, Calif., and Napheesa Collier of St. Louis, Mo.
Look for Connecticut to make a jump in our recruiting class rankings as they scored one of the two remaining uncommitted five-star prospects in the class of 2014. With No. 2 Aj'a Wilson still undecided and considering Connecticut as one of her options, the Huskies seem to be in position to potentially dethrone UCLA as the top class in the country if Wilson falls into place. Follow @KeilMoorePSB

Moore is the Director of Scouting for the JumpOffPlus.com National Scouting Report and international scouting report. He has been a member if the women's basketball community for more than six years as a trainer and evaluator. He can be reached at keil@prospectsnation.com.