Tip-Off Round Two, Too Deep
Posted
5 years 9 months ago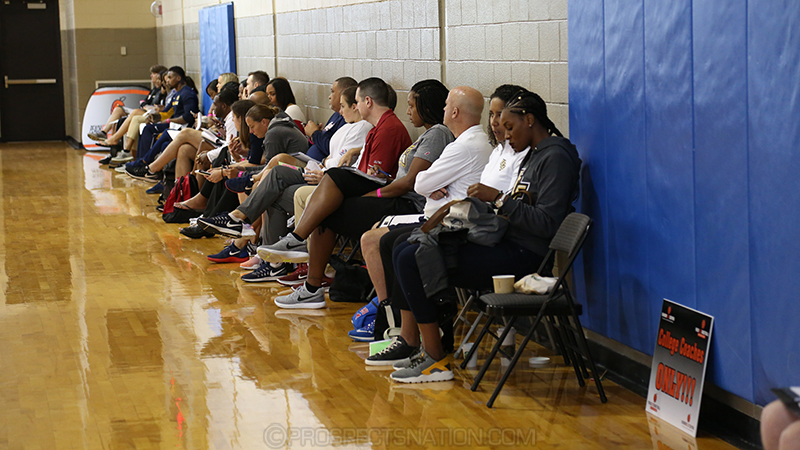 The PSB Tip-Off Classic brought talent and the coaches looking for it together for a great weekend of basketball. Photo by Larry Rheinhart.
LAWRENCEVILLE, Georgia – The second session of the Peach State Basketball Tip-Off Classic saw 160 teams play in front of 100 colleges throught the three-day weekend. The event was a great opportunity for programs to set the tone for the summer with the second April evaluation weekend.
PSB Family Program of the Day
Blue Star Florida
State: Florida
Coaches: Joel Vega, Marimer Varona, Louis Lubin, Shrell Chamberlain, Kelvin Hamm, Shenique Gilbert
#PSBTipOffClassic

'18 Brittney Smith of @BlueStar_FL is poised to blow up.

New Iowa State offer.@JLHemingwayPSB & I are watching closely pic.twitter.com/mHzRbp6MX9

— Brandon Clay (@BrandonClayPSB) April 28, 2017
Blue Star Florida got on the map in a big way this spring. They brought six teams to #PSBTipOffClassic. Each team boasts prospects that will be recruited to play basketball at the next level. The 2018 team, coached by Louis Lubin, is already being tracked by dozens of schools in the Southeast and beyond. Post player Britney Smith headlines this group. She picked up an offer from Iowa State coming out of the evaluation weekends. Point guard Jayla Adams of Daytona Beach, Florida, once a Stetson commit, is continuing to show her play-making skills. Forwards Jasmine Smith of Orlando, Florida, and Akila Smith of Ocoee, Florida, are athletic and capable of affecting the game on both ends. The production of Yoke Tessant of Ormond Beach, Florida, cannot go unnoticed. She is shooting the ball well while playing solid defense.
#PSBTipOffClassic@BlueStar_FL Vega came back & beat Douglasville Lady Tigers for the @KeilMoorePSB bracket championship. @HumorousVega pic.twitter.com/Sq0ebjUcRF

— PSB Events (@PeachStateBBall) April 30, 2017
Coach Chamberlain's 2019 group created a buzz along coaches' row already. Fujika Nimmo of Davenport, Florida, made such an impression with Georgia Tech that she gave an early commitment to play for coach Machelle Joseph. Point guard Morgan Beacham of Winter Garden, Florida, could be one of the hottest names in the State of Florida coming out of the month of April. Frontline players such as Anijah Grant of Kissimmee, Florida, and Sara Placide of Ocoee, Florida, present great size for an already athletic team. Wing-forward Tanyia Gordon of Riverview, Florida, made waves with her athleticism and versatility during April.
#PSBTipOffClassic @BrandonClayPSB mentioned '19 Morgan Beacham earlier talking about her ability to score the basketball. @BlueStar_FL pic.twitter.com/p9Ae38qK7o

— PSB Events (@PeachStateBBall) April 22, 2017
Coach Vega's group brings great depth in the class of 2019. Christina Kline of Ocoee, Florida, carried over her stellar play from the #CoachHemiShowcase in March to the April evaluation weekend. Her free throws sealed a championship for her team. Amy Vasquez of Lake Mary, Florida, had a game high 23 points on the tournament's opening day. Coach Hamm and the 2020 prospects had a great showing in their team's exhibition game. Tra'shauna Agnew of West Palm Beach, Florida, and Tahira McBride of Sebastian River, Florida, made great impressions on Friday morning.
The Blue Star program showed the depth of their talent from 2018 prospects to 2021 prospects. They will be back at PSB Events in July at the #PSBNationals and #PSBPower48.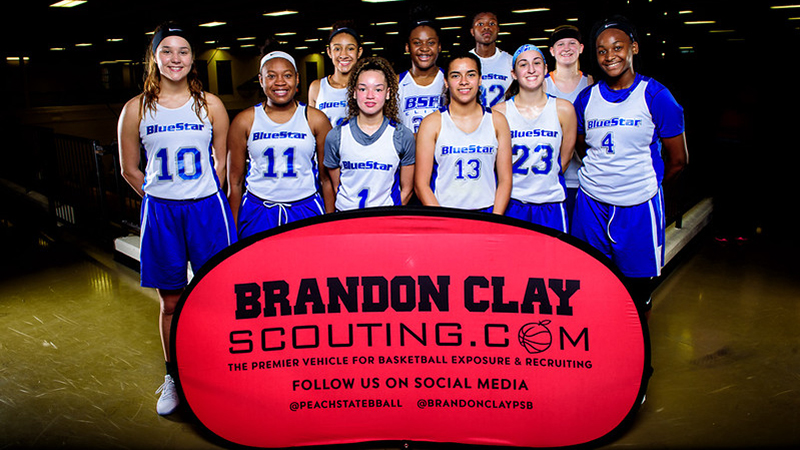 Featured Performers
Femi Funeus (Plantation, Florida), Hollywood Suns Team James – 2018
Funeus had college coaches from Florida and beyond sitting on every minute of her games during the last April evaluation weekend. The 6-foot-2 post has unique versatility. She can finish through contact with her back to the basket or she can take the ball end to end in transition. She showed a very nice euro-step through traffic to finish at the basket. Her size, strength and footwork will keep coaches busy trying to track her down from South Florida.
Yamia Johnson (Saluda, South Carolina), Carolina United – 2018
Size and versatility are two characteristics that coaches always pursue during the live periods. Standing 6-1, Johnson has both attributes at the forward position. She demonstrated her ability to rebound and defend effectively along the frontline. However, it is her face-up skill that is most intriguing. She can stretch bigger defenders out past the arc with her shooting ability. And when she is crowded too close, Johnson can put the ball on the deck and finish off the move. Expect Johnson's summer to be busy with visits to college campuses.
Janay Sanders (Charlotte, North Carolina), NC Spartans – 2018
Sanders is one of the best new names to emerge following the evaluation weekends. She makes plays on both ends of the court with her athleticism. She can streak through the passing lanes and turn defense into offense. Her offensive game is not that far behind either. Sanders proved to be a tough cover for perimeter defenders as she darted to the hole for floaters and lay-ins. If her jump shot finds consistency, she could find herself being one of the best under the radar prospects in the Southeast region.
Khyla Wade (Selmer, Tennessee), TN Team Pride – 2020
While most coaches are still trying to piece together priority recruits in the junior class, there were a handful of underclassman that earned the attention of next level recruiters. Wade presented herself as a skilled forward with a frame that is ready made for the next level. She worked the hi-lo game in the half court well. She scored with her back to the basket while also proving that she is a threat to hit 3-pointers when open. At 6-2 she is a paint presence with footwork that allows her to play inside and out.
AROUND THE RIM
Class of 2019 wing Jasmine Quarterman of Orlando, Florida, is picking up recruiting attention following the spring evaluation weekends. She showed why with her play with DME. Her athleticism and play-making with the ball in her hands is intriguing.
Class of 2018 post Erika Wiseley of Mount Pleasant, South Carolina, is a prospect of interest. At 6-2 she can alter shots defensively and rebound effectively in the lane. Her passing ability while facing the basket gives her team flexibility to play her inside or out.
Destiny Haymer of Lexington, Mississippi, displayed fantastic ball handling skills for the Mississippi Ballers. Her quickness and shiftiness are rare qualities to find at the position.
Class of 2019 forward Nila Blackford of Louisville, Kentucky, cemented a positive reputation while playing for Scott Johnson and the West Virginia Thunder. Her ability to affect the game inside of 15 feet makes her a consistent producer. She also proved she can hit the open 3-point jumper.
The Surry Storm always bring talent to PSB tournaments. Class of 2018 forward Mikaela Johnson OF Mount Airy, North Carolina, showed very nice versatility. The 6-1 prospect scored in the paint and initiated the offense as a lead handler for her team.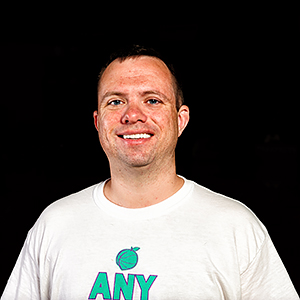 Jonathan Hemingway is the Assistant Director of Scouting for the JumpOffPlus.com National Scouting Report, is on the Naismith Trophy Board of Selectors and owns CoachHemi.com, the go-to source for coaches for X's and O's. He is the floor director of #TeamEBA camps, a site director for #TeamPSB tournaments and can be reached at jonathanhemingway@peachstatebasketball.com.