Posted
1 month 1 week ago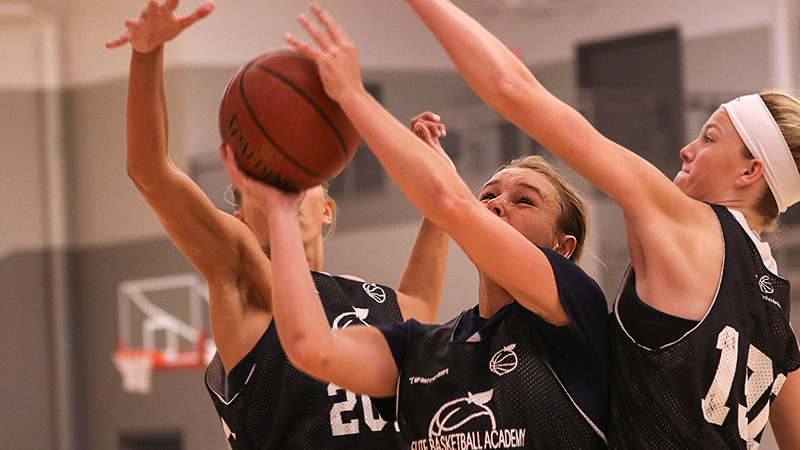 Standing out in a crowd is someitng Julianna Ouimette is starting to do consistently. *Photo by Anthony Lugardo.
PLEASANT PRAIRIE, Wisconsin - The Take The Title event was loaded with over 70 of the region's premier teams including several familiar faces currently enrolled in our Brandon Clay Recruiting members and Brandon Clay Training participants. Here's a look back at some of the players and programs on hand who caught our eye:
Class of 2022 point guard Nora Ahram of All In Athletics is a bigtime quarterback at the position. She leads with both her pace and poise throughout the game. We worked on floor with Ahram during the Illinois Training Academy last summer seeing the same skill set there.
Class of 2022 forward Savannah White of FBC Real Minnesota was a major factor at our Iowa Training Academy last fall. Her size, skill and versatility is tough to defend. For White, continuing to show that she can finish through and with contact is the next step given what we saw here.
Much like Ahram, Class of 2023 guard Alyssa Hughes of M14 Hoops is showing the same type of in-game moxie that put Ahram firmly on our board 12 months ago. In a tough matchup against Wisconsin Flight, Hughes was absolutely fantastic as a leader and shot maker. Her progress from the Illinois Academy was on full display.
In Class of 2023 guard Annalise Pietrzyk, M14 Hoops has an ultra gritty wing player who showed last summer on the hardwood with us Illinois that she can make a long range bomb at any moment. That ability showed again here with her club team here in Wisconsin.
Class of 2023 guard Julianna Ouimette of Wisconsin Flight is capable of making a play on either end of the floor. Playing on a roster loaded with quality perimeter play, Ouimette was able to make her presence felt with her ability to create deflections and steals. She is showing the type of all around play we saw last summer at our Wisconsin Academy.
Keep an eye on Class of 2024 guard Kallie Peppler of Wisconsin Flight. In two evals over the past 21 days, she's shown both the length and anticipation to be a versatile wing option over the next three years. Our staff is looking forward to working with her at the Wisconsin Academy.
AROUND THE RIM
Jerald Davis Chicago Hoops Express program is a staple of grassroots basketball in the region. They had multiple teams on hand playing with the pace and intensity that we've come to expect from CHE over the past two decades.
Iowa Prep was a new name for our staff. They had several teams with a common theme of moving the basketball into finding quality shots from the outside. We look forward to hosting them again to chart their progress.
Speaking of Iowa, Chris Davis from Beyond Ball always seems to be in the gym working. His program is growing with each summer. Several of the players attended our Iowa Academy last September showing their skill in this eval. We anticipate even more in attendance this fall.
All In Athletics has a fantastic underclass team that resembles some of the groups that have brought them national acclaim in the past. They have shot makers and energy kids alike in that group.

Brandon Clay serves as the Director of Scouting for ProspectsNation.com and owns The BrandonClayScouting.com Evaluation Report, which is read by more than 200 colleges and universities nationwide. He also serves as the Executive Skills Director for the Brandon Clay Scouting Academy Series.