Summer Invitational '15 -- Day One
Posted
8 years 2 months ago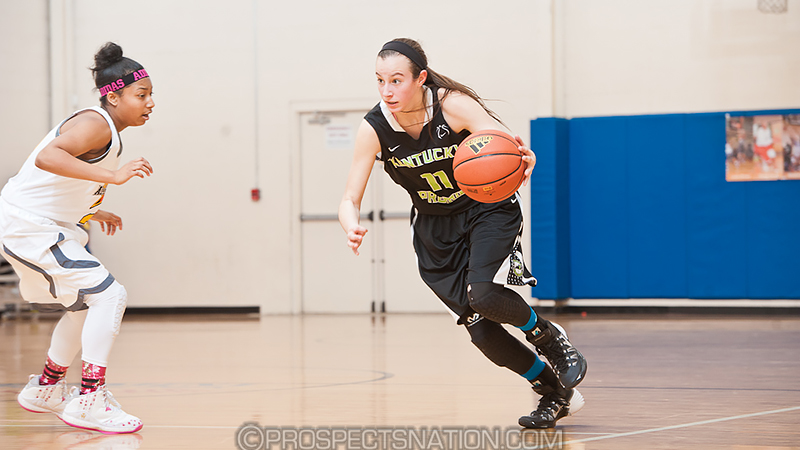 Seygan Robins of Harrodsburgh, Ky., is a 2018 guard who started strong at Summer Invitational for KY Premier. *Photo by Ty Freeman.
MARIETTA, Ga., - The second evaluation period in July started with over 130 teams from across the nation competing at the PSB Summer Invitational. College coaches from over 100 schools and universities nationwide crammed into the gym to watch the day's opening game. Elite competition and opportunities for exposure headlined day one.
ELITE Prospects Shine
Class of 2018 post Valencia Myers of Solon, Ohio, showed improved confidence and strength in All Ohio Black's opening game versus CFE EYBL. The 6-foot-3 center is known for her defense and rebounding, but today she showed the ability to work the high-low passing game effectively.
Coach Danny Riego and the Indy Lady Gym Rats Silver received late game heroics from class of 2017 point guard Dana Evans of Gary, Ind., to win their opening game. Her floater at the buzzer gave the Gym Rats a win over the New Mexico Heat.
Class of 2016 post Kylee Shook of Colorado Springs, Colo., impressed for the New Mexico Heat in its lone game of the day. The 6-5 Louisville commit, currently ranked No. 43 in the ELITE 100, showed an array of skills that will translate well to the next level. Her rare combination of skill, length and versatility are tough to match.
Class of 2016 point guard Alecia Sutton of St. Ann, Mo., continues to tear up the competition. The Texas commit is ranked as the No. 15 prospect, nationally. Her ability to create space and find the open player landed her on the Naismith Player of the Year Watch-List.
ELITE Team Play
Coach Scott Johnson's West Virginia Thunder walked away with two impressive victories on exhibition day. The Thunder defeated Cal Swish Black EYBL 51-37 and then knocked off Epiphanny Prince Elite 62-49 later in the afternoon. Few teams can boast of a roster as well balanced as Johnson's with No. 55 point guard Taryn McCutcheon of Washington, W.Va., leading the way.
The Northwest Blazers returned to the Summer Invitational to defend their championship from last year. Coach Steve Klees' Orange squad got off to a good start by defeating Kentucky Premier EYBL in their exhibition match-up. Class of 2016 Boise State commit Riley Lupfer helped pace play with solid shooting and ball handling.
On The Rise
Class of 2017 point guard Destiny Perkins of Richmond, Ind., is a fiery ball handler with a solid skill set. She is becoming a key contributor for coach J.B. Bethea and All Ohio off the bench.
Class of 2017 point guard Kai Crutchfield of Raleigh, N.C., is a slashing playmaker. Her size and strength are great assets for the Carolina Flames.
Madison Washington of Las Vegas, Nev., is terrific in the mid-range. The 6-2 class of 2016 forward showed footwork to be a consistent scorer for GBL Team Candace Parker Elite.
Keep point guard Seygan Robins of Harrodsburg, Ky., on the radar in the class of 2018. The 5-9 left-handed floor general brings consistent energy and leadership for coach Trent Milby and Kentucky Premier.

Jonathan Hemingway is the Assistant Director of Scouting for the JumpOffPlus.com National Scouting Report, is on the Naismith Trophy Board of Selectors and owns CoachHemi.com, the go-to source for coaches for X's and O's. He is the floor director of #TeamEBA camps, a site director for #TeamPSB tournaments and can be reached at jonathanhemingway@peachstatebasketball.com.