Summer Invitational '14 -- Day Two
Posted
8 years 8 months ago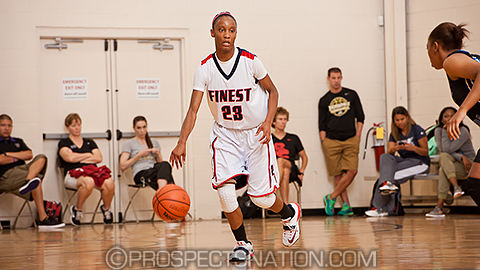 Kianna Johnson is a big part of the San Antonio Finest program's success now and will be in the future. *Photo by Ty Freeman.
Tweet
MARIETTA, Ga., - The second day of the Summer Invitational featured action in semifinal match-ups. Teams squared off for a chance to make it to the championship game of their respective brackets. With over 100 college coaches in attendance at All Tournament Players Park, individual players received the maximum amount of exposure that is wanted during the evaluation period this month. Here is a look at the notable performers on this day.

Alexis Morris (Beaumont, Texas), DFW T-Jack Elite – 2017
Morris showed she has the poise and ability to be a game changer. The 5-foot-6 point guard played a key role in the win over West Coast Premier EYBL. Her slashing style of play keeps defenses on their heels as she attacks the basket and gets to the rim or makes an assist to one of her teammates. Morris has a presence on the floor that her teammates respect.
The class of 2017 floor general has good command of the game on both ends of the floor. She also showed the ability to make shots from beyond the arc. The No. 7 ranked player in her class can score at a high rate and will be a quality addition to any team at the next level.
FEATURE PROGRAM
San Antonio's Finest
Consistency is a hard quality to locate in the world of basketball at times. However, that is what Ray Caldwell is doing with his program by bringing three quality teams that are all competitive and filled with college prospects. His "Blue" team features the No. 10 prospect in the ELITE 60, Amber Ramirez of San Antonio, Texas, and No. 34 Chelsea Dungee of Okmulgee, Okla., who is an Oklahoma commit. Complementing them are class of 2017 point guard Kianna Williams of San Antonio, Texas, and class of 2015 forward Caroline Hogue of Little Rock, Ark. Williams is an ELITE 25 prospect while Hogue gave her verbal commitment to Nebraska-Omaha last year. Although Caldwell's team lost in overtime in their semifinal match-up with the Northwest Blazers, this group stands among this tournament's elite.
The true example of consistency with this program shows with the multiple teams and prospects that Caldwell is developing. His "White" team features class of 2016 players such as point guard Mica Schneider of Boerne, Texas, wing Liz Cathcart of Spring Branch, Texas, and forward Maldalena Saldana of Austin, Texas. In addition, his "Diamond" squad further develops young talent with class of 2018 prospects point guard Desiree Caldwell of San Antonio, Texas, and post Nalyssa Smith of Converse, Texas. Look for San Antonio's Finest to be competitive for years to come with all of this young talent in the pipeline.
AROUND THE RIM
♦ Rachel Briere of Tampa, Fla., had a big day yesterday for the Tampa Thunder as she drained four 3-pointers in a close loss to All Ohio Black. The 5-11 forward is a productive player on the floor who takes charges and makes many of the hustle players needed to be successful.
♦ The No. 54 player in the ELITE 100, Aliyah Jeune of West Ampton, N.J., has an elite skill set and a prototype frame for a wing player. She can get a shot nearly anytime she wants.
♦ Mikayla Ferenz of Walla Walla, Wash., impressed our ProspectsNation.com staff with her size and skill set. The class of 2015 guard stands at 5-11 and has the ability to hit jumpers.
♦ Central Florida Elite came away with a big win over Heroes Elite to advance to the championship game of the @JLHemingwayPSB bracket. No. 3 Te'a Cooper of Powder Springs, Ga., controlled the tempo well for her team and made big plays when needed.
♦ DFW T-Jack advanced to the championship game of the @BrandonClayPSB bracket. Class of 2016 post Cierra Johnson of Duncanville, Texas, is a big reason why. Standing 6-4 and ranked No. 36 in the ELITE 60, she has the size that many power conference schools desire at the center position.
♦ Marshall commit Shayna Gore of Logan, W.Va., plays the game with a lot of passion. She handles the ball well in traffic and can create scoring opportunities around the basket. Her ability to shoot the ball from the perimeter allows her to be versatile at either guard position.
♦ LaNay Rodney of Peekskill, N.Y., had an impressive game in the overtime win over a strong Ohio Lady Jayhawks team. The 2016 guard hit key baskets late in the game to keep it close. In the final minute of the game, Rodney hit a basket and a pair of free throws that sent the game into overtime. As fate would have it, she hit the game winner and finished with 34 points.
♦ Jill Townsend of Okanogan, Wash., gives the NW Blazers Black versatility at the guard position. She is a player who can put the ball on the floor and finish strong with contact. She also shots the ball well from the perimeter. Follow @JLHemingwayPSB

Hemingway is the Assistant Director of Scouting for the JumpOffPlus.com National Scouting Report. He can be reached at jonathanhemingway@peachstatebasketball.com.
Follow @StephenPeckPSB

Peck is the owner of Dream In Motion Athletics and is a national evaluator for the JumpOffPlus.com National Scouting Report. He also serves as a on-floor skills coach at the Elite Basketball Academy events. He can be reached at StephenPeck@peachstatebasketball.com.