Spring Showdown: Committed Prospects
Posted
1 year 8 months ago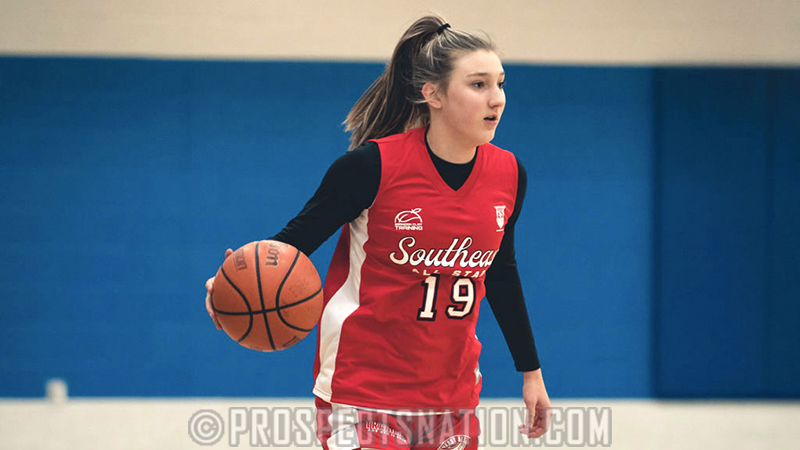 Emily Monson of Murfreesboro, Tennessee, is a Purdue commit on the Southeast All Stars 2023 squad. *Photo by Anthony Lugardo.
SUWANEE, Georgia – The Brandon Clay Spring Showdown has been an annual staple as teams gear up for the upcoming club season for over 15 years. With teams from as far away as New York, the 2022 edition was no different. Here's a look at multiple 2023 prospects who came in with their college choices already decided but still shined bright on the big stage:
L'Amoreaux has the skill, grit and toughness to play against anyone she comes across. That's high praise in a tournament that featured classmate Diana Collins. In the championship game on Sunday, L'Amoreaux showed that Fordham landed an early pledge from a potential Elite 150 prospect nationally. She was hitting shots from all over the floor both off the bounce and off the catch.
The other half of an extremely potent Hoopers NY backcourt, Melious has been on our radar for years now. She's playing at an elite level and will look to do that for Georgia Tech when she arrives next summer. Melious has made elite conditioning a priority this winter. It's paying off in a major way with her ability to keep tough downhill drivers in front of her while displaying range out to 25 feet plus. She's an elite marksman in the class nationally.
Suiting up for the Southeast All Stars, Monson came into the weekend already committed to Purdue. An Elite 150 Watch List member, Monson made the biggest shot of the weekend hitting a 22-foot 3-pointer to win the title game in overtime. She has the size, length and bounce to be a consistent rebounder. As she prepares for her senior season en route to playing in West LaFayette, Monson can become a more consistent position defender. Relying on correct positioning as opposed to athleticism will be a key on that end of the hardwood.

Brandon Clay serves as the Director of Scouting for ProspectsNation.com and owns The BrandonClayScouting.com Evaluation Report, which is read by more than 200 colleges and universities nationwide. He also serves as the Executive Skills Director for the Brandon Clay Scouting Academy Series.