Spring Showdown In Atlanta Second Look
Posted
2 months 3 weeks ago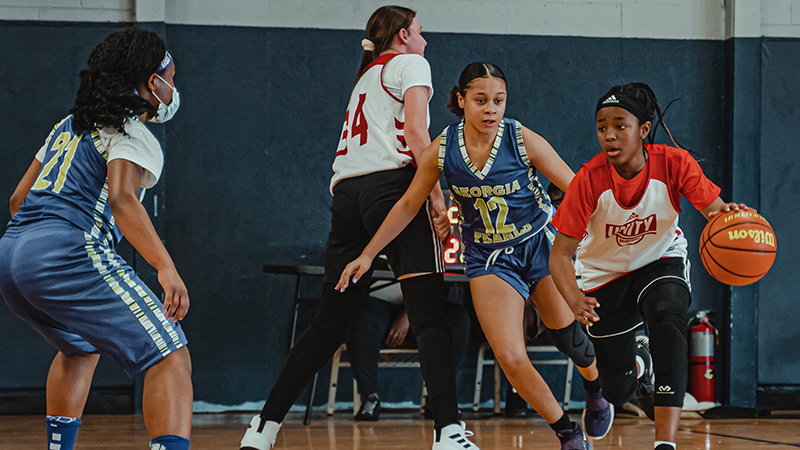 Trinity Boone of Edmond, Oklahoma, works off the ball screen at the 2021 BCS Spring Showdown. *Photo by Anthony Lugardo.
Atlanta, Georgia – The BCS Spring Showdown marked a new beginning for travel basketball in the Southeast. As basketball inches back to normalcy around the country, dozens of travel teams from across the region met at International Sports Arena to compete and prepare for the upcoming travel season. Here is a look at which individual performers stood out on this weekend.
2022 Checklist
Adle continues to grow with her confidence and athleticism. She is a ball mover in the half court doing a great job of facilitating the action for her teammates. She even showed some juice to scoot past defenders while turning the corner off a ball screen as well.
Little continues to be one of the better athletes at the guard position that we evaluate. She is fast in the open court and can split defenders to get to the bucket. If she can find consistency on a perimeter jumper, she will see her recruiting stock move upward accordingly.
Chloe Johnson (Montgomery, Alabama) – Alabama Twisters - 2022
Johnson is a perfect complimentary player to play alongside of Aniya Hubbard. She is a sharpshooter with size and grit. She does a good job of handling the ball in spots when she needs to while also providing timely defensive plays.
Sophia Reyes (Woodstock, Georgia) - Atlanta Cagers - 2022
Reyes possesses the size (6-2) and the mobility needed to affect the game in a variety of ways. She is capable of scoring and rebounding on the interior. Her ability to face the basket and defend the high post give her value beyond the average interior post player.
Snyder showed off her shooting talent once again this weekend. Her quick trigger and confidence make her a threat to get in the scorebook early and often. She gave her commitment to Jonathon Barbaree at Anderson College earlier this year. These talents should translate very well to his system in the South Atlantic Conference.
2023 Checklist
Morgan is one of the top prospects in Middle Georgia. Her nose for scoring the ball and hustling on both ends of the court stood out this weekend. She continues to grow from the initial evaluation that we gathered from the BCS Training Academy last spring.
Emma Leonard (Ola, Georgia) – OMG TGE – 2023
Leonard is the next promising prospect to emerge from the OMG TGE program. The 6-foot frontline forward impacts the game with her scoring and rebounding. She shows flashes of being able to affect the game from the high post area as well.
Ansleigh Sherrill (Statesville, North Carolina) – Winston Salem Stealers – 2023
Sherrill had a very solid weekend at the Spring Showdown. She plays her position as a complimentary wing who can hit open shots and play off playmakers in the half court. She caught our eye with her aggressiveness in the open court.
Blatchford emerged on our radar early in her development at several of our academies. She was a fundamental guard that displayed much potential. She is turning that potential into production this spring. She is physically bigger and is executing high level plays.
2024 Checklist
Thompson is maturing and mastering the fundamentals of the game at a rapid rate. As we predicted after first seeing her at the BCS Training Academy more than a year ago, she is turning into one of the top prospects in the city. Her ability to create plays and connect on long range jumpers put her in an elite conversation already.
Yasmine Allen (Forest Park, Georgia) – Georgia Pearls – 2024
Allen is a wing-forward that is emerging as an intriguing prospect with Darlene Norris' program. She has the size to impact on the defensive glass. At the same time, she has footwork and mobility to switch and defend on the perimeter. Add in her ball skill and soft touch on floaters in the lane and Allen is worth tracking.
Paris Fillingame (Lawrenceville, Georgia) – FBC Hoopstarz – 2024
Fillingame put herself on the map with a good shooting night for coach Paisley Brown. The 5-4 guard plays the game with poise and is ready to hit her shot when the ball is rotated to her on the perimeter. We expect to hear more from her in upcoming months.
Middle School Checklist
We evaluated Boone in academy settings before seeing with her club team in a tournament setting. Her fundamental skill set translated seamlessly as she led her team as the primary handler. Her passing and vision are unique for a kid her age. She understands how to set the table for her teammates at a high level.
Dasia Scott (St. Louis, Missouri) – Unity 2027 – 2027
Scott is a promising post player that ended her tournament on a 20-point high note in a win over the AOT Lady Rebels. She was the beneficiary of many of Boone's assists in the half court. However, it is her ability to get an angle to score and hold it that is very notable.
Paris Rosser (Thomson, Georgia) – AOT Lady Rebels – 2026
Rosser is a quick point guard who can change the game with her defense. Her quick feet and hands often lead to steals and instant offense in transition. She scored 11 points in the Sunday afternoon game. The combination of ball handling and defense should make her one of the top emerging guards out of Middle Georgia in coming years.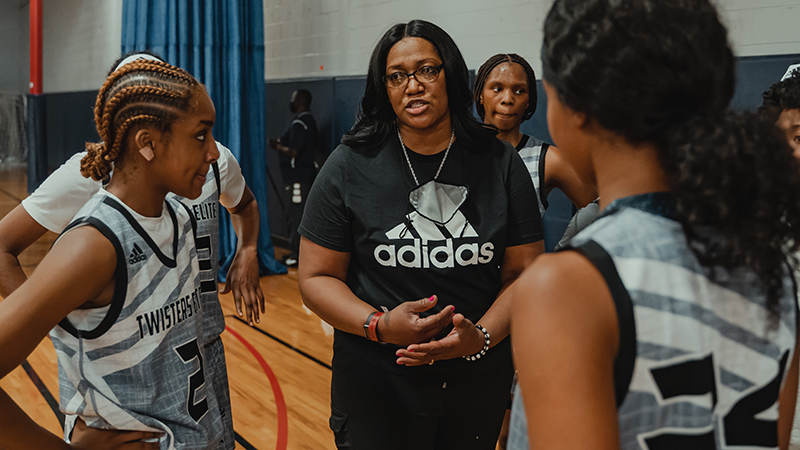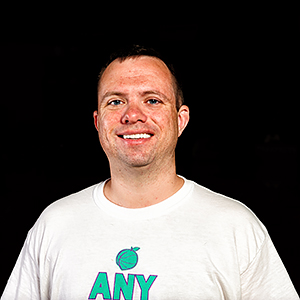 Jonathan Hemingway is the Assistant Director of Scouting for the JumpOffPlus.com National Scouting Report, is on the Naismith Trophy Board of Selectors and owns CoachHemi.com, the go-to source for coaches for X's and O's. He is the floor director of #TeamEBA camps, a site director for #TeamPSB tournaments and can be reached at jonathanhemingway@peachstatebasketball.com.