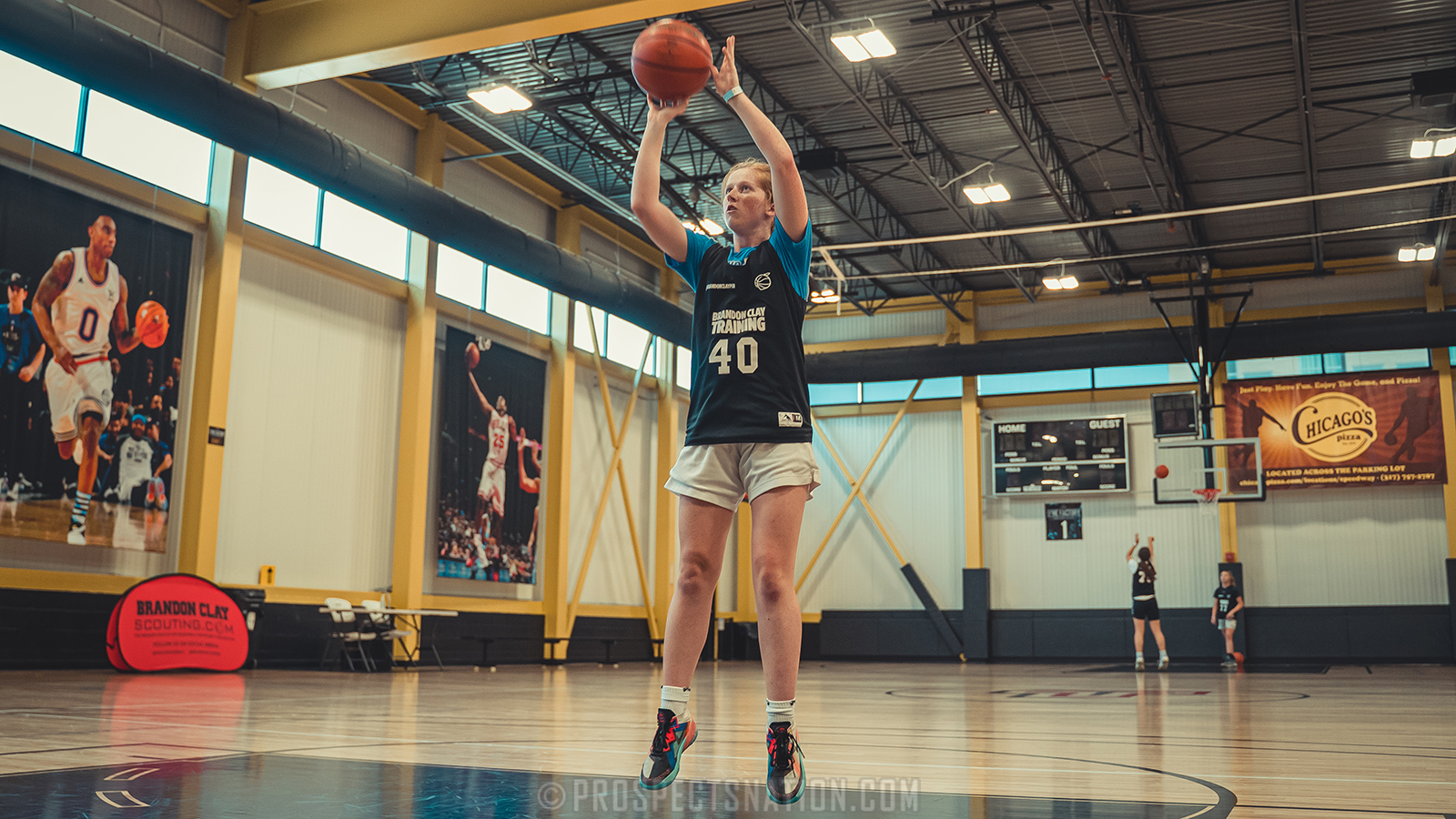 Adison Howard of Crossville, Tennessee, works on her jumper at the Brandon Clay Training Spotlight Session. *Photo by Anthony Lugardo.

INDIANAPOLIS – The Midwest is a hotbed for female basketball talent. The Brandon Clay Training Academy was back in the region to work with some of the elite prospects. Here is a look back at some of the standouts during the initial Spotlight Session:
A'Tylia Green (Henderson, Kentucky), North Cumberland – 2026
This was our first small group training session with Green. She has the upside and skill foundation to be a real threat on the offensive end in due time. Green can continue to build her shot base by using the inside foot plant on a consistent basis. As a potential shot and/or play maker, adding that consistency will go a long way in Green being ready to impact at the high school level in 12-18 months.
Howard has grown so much physically since we first got in the gym together years ago. Just a freshman in high school, she appears to have a lot of room left to grow still both physically and skill wise. Howard's willingness to put extra work in has been on display for years. As a result, she is more productive each time we train. The next step is getting used to attacking off the 1-2 into her jumper.

Sterling is filling out nicely from our first Training Academy in Atlanta in the first part of 2020. She has the height and size to serve as a legitimate off guard at the college level with a jumper to match. If anything, Sterling can keep working on times to find her shot. Off the bounce, leading with the basketball in front of her on a change of direction will only aid her development.
Troy is really putting in the time and effort on her game. It showed up here as she looked more comfortable than she did 18 months ago in our first eval. Now a high school freshman, Troy has the ball skill needed to be effective on the perimeter in a varsity game. When she holds her follow through tall with both hands, it is an effective weapon to keep defenses honest.
Jill Vidoni (Evansville, Illinois), North High – 2024
Vidoni's willingness to work on her ball handling and outside shooting in this eval didn't go unnoticed. She can shoot the ball out to 15 feet right now without budging on her form. We see her as a prospect who can stretch that to 18 feet plus before this Academy weekend in 2022. Vidoni has the size and presence in the frontcourt to be effective in the lane as well.
Mylie Wilkison (Greensburg, Indiana), Greensburg Community – 2025
Wilkison's speed was on full display here. She's a rare prospect where she can actually dial back her speed a notch to increase her effectiveness on the offensive end shooting the ball. Wilkison is a speed demon in that regard off the bounce to the rim. She shoots it well already with the upside to take it to another level based on how her shot progresses. Raising her shooting pocket is key.
Riyah Wilson (South Bend, Indiana), Washington – 2025
Wilson has the wiggle with the ball in her hands to be an effective scorer. She is skilled and crafty controlling the rock. Getting hip to hip in ball screen or dribble handoff action will be a key to consistent shot creation against high level defenders for Wilson. On her outside shot, not pushing the release is an emphasis for the next 9-12 months.

Brandon Clay serves as the Director of Scouting for ProspectsNation.com and owns The BrandonClayScouting.com Evaluation Report, which is read by more than 200 colleges and universities nationwide. He also serves as the Executive Skills Director for the Brandon Clay Scouting Academy Series.