Posted
3 years 2 months ago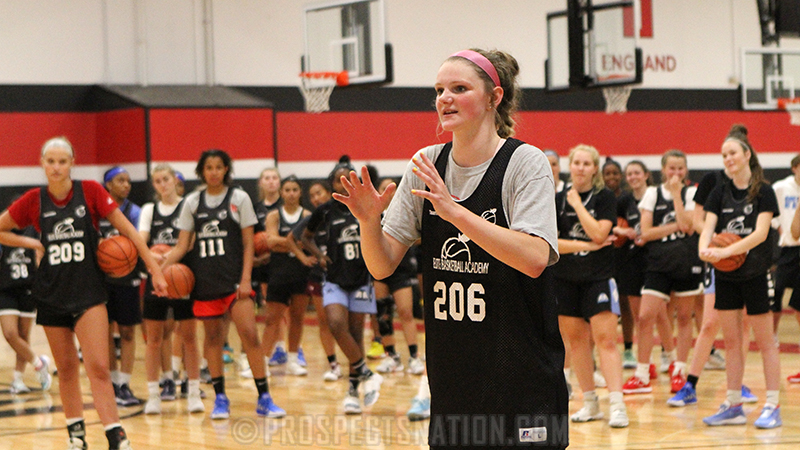 Nebraska commit Kendall Moriarty works out at the BCS Training Academy stop in Illinois. *Photo by Kim Shaw/Simplicity Photography.
AURORA, Illinois – The BrandonClayScouting.com National Training Academy has become arguably the nation's premier proving ground to train with our staff during the first summer without live college coach evaluations in decades. My favorite part of the showcase is working with campers during our Spotlight Session Workout. Here's my takeaway from the session:
Lenee Beaumont (Lisle, IL) – Benet High School – 2023
This was our staff's first chance to work with Beaumont on the floor. She's got a cool demeanor and appears to have national recruitment potential playing for a talented M14 Hoops program. Beaumont has all the tools in her box to score the basketball at a consistent clip in high school and on the club circuit. When Beaumont's feet are in a box under her shoulders, she doesn't miss much at all.
Becca Carani (Hampshire, IL) – Burlington Central High School – 2022
Carani's work ethic and attention to detail here caught my attention in the first half hour. She's an off guard capable of making shots and being a solid defender on the other end of the floor. In that regard, Carani has a blue collar type of approach to the game that is paying off for her. Getting the defender off her feet with a shot fake into a one dribble pullup is a move that she can add to her bag until we train again this fall.
Lindsey Hahn (La Grange, IL) – Lyons Township High – 2021
Hahn can really shoot the basketball with her feet set. In that ball, she has a real two guard specialist type of feel to her game. She plays the game with an intensity and focus while still enjoying the work going on in the gym. Continuing to get stronger physically will only help Hahn produce even more against stronger opponents.
Alyssa Hughes (Saint Charles, IL) – Saint Charles North – 2023
Hughes is a sharp shooting guard who showed some wiggle off of the bounce as well. She can get downhill to make plays too finishing a couple of nice opportunities at the basket in our transition work. Like Hahn, working on her physical strength is the next step for growth in Hughes game based on this eval.
Morgan Laudick (Wonder Lake, IL) – Marian Central Catholic – 2021
Laudick has good size in the new age hybrid forward spot. A high academic prospect, Laudick understands how to play the game and what she's seeing. Continuing to develop the ability to shoot the corner and trail 3-pointers at 35 to 38 percent in game will be a huge difference maker for her compared to the host of other kids playing that swing forward role this day in age.
Moriarty is a versatile big wing who shot the ball well here. She has the size, length and overall skill set to be effective at multiple positions. During the Academy, we talked about her becoming more vocal in terms of calling out what she's seeing whether it's opposing team matchups, a set call from the sideline or a coverage / mismatch read on the floor.
Annalise Pietrzyk (Joliet, IL) – Providence Catholic – 2023
Pietrzyk is a well-rounded guard skill set wise who made an impact with her ability to do a little of everything. She's a willing defender, capable shot maker and a high energy player on the perimeter. For Pietrzyk, continuing to add to her outside shooting consistency will evelate her game another level.
Ronan has fantastic size and intellect to go along with her academic prowess off the hardwood. She's a rare find in this day in age of post play. Ronan is more than willing to post up, rebound and defend on the interior. She used her 6-foot-2 frame to impact the game on both ends of the floor. Ronan is still developing her offensive skill set but the tools are there. She's been on the phone with multiple high academic schools since the Academy ended.
Christian Sanders (Detroit, MI) – Renaissance High – 2024
Sanders has the athleticism and the bounce to be a consistent threat in the backcourt. She was really committed to building her footwork offensively in this setting showing attentiveness with the skill to make corrections on the fly. In a setting such as this, that says a lot about what our staff can expect from her going forward, Sanders has a solid base to build from for a prospect who hasn't stepped foot inside of a high school yet.
Taylor Wallace (Ypsilanti, MI) – Arbor Preparatory High School – 2024
Wallace is a shifty option with the ball in her hands. She came to the Academy with a smile coupled with a locked in mentality. Her ability to make plays with her on-ball defense is just as important as her growth shooting the ball was. Footwork for her is key over the next couple of months until we reconvene in September. Wallace has the ability to play the game as a legitimate two-way contributing option.

Brandon Clay serves as the Director of Scouting for ProspectsNation.com and owns The BrandonClayScouting.com Evaluation Report, which is read by more than 200 colleges and universities nationwide. He also serves as the Executive Skills Director for the Brandon Clay Scouting Academy Series.