ShesBallin Showcase -- Upperclass
Posted
7 years 6 months ago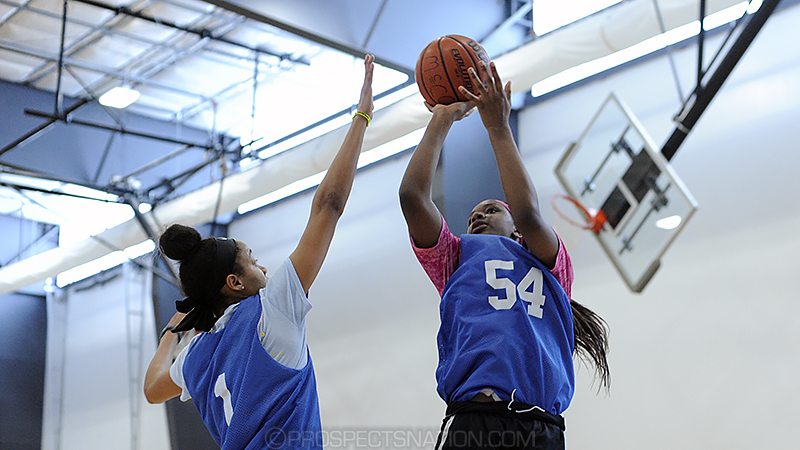 Elizabeth Scott of Tomball, Texas, shoots over Alexis Popham at the 2016 ShesBallin Showcase. *Photo by Chris Hansen.
UNIVERSAL CITY, Texas – In its fifth year, the ShesBallin Showcase brough 170-plus athletes to the Alamo City All Stars facility to compete in three hours of various one-on-one, three-on-three and five-player open run to showcase their talent. The high school session showed there is talent for years coming out of the San Antonio area as well as the entire state.

Lexi Gordon of Fort Worth, Texas.
*Photo by Chris Hansen.The recent Connecticut commit has a calmness about her game and the expectations that have come with her national ranking and her high profile verbal haven't changed that. She's an elite shot maker and in a setting like this, with defenses unable to scout, her ability to punish the defense for mistakes, like sloppy closeouts or going under ball screens, demonstrated why she is one of the best in the country. The sports cliché of the game slowing down for players seems to be dead on with Gordon.
This 5-foot-5 guard is in the running for most improved from a year ago. Her ability to shoot stood out a year ago but her ability to win in one-on-one situations impressed this year. She isn't the tallest point guard but her added strength, shifty handle and confidence proved to be enough to get to the rim at ease.
There aren't may players in the country that possess Smith's combination of length, athleticism and skill. What we're seeing in 2016 is a more consistent use of those tools. Last summer it was clear she was trying to grow her perimeter skills and she is showing progress there as well as scoring on the blocks. Her range has improved, she is changing speeds on the drive and if she can consistently assess mismatches and not fall in love with the 3-ball she stands to be one of the most versatile players in her class.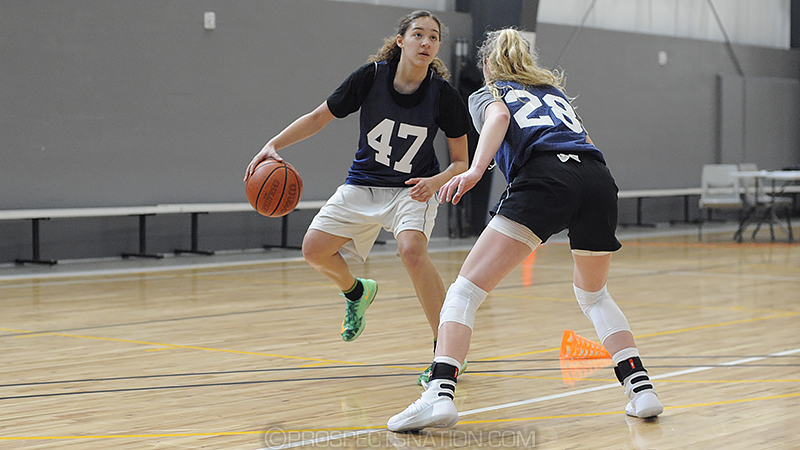 Kyra White is coming into her own in 2016.
*Photo by Chris Hansen.The past two years we've seen the 5-9 combo guard as having a world of talent but it appears the 2016 club season is going to be her break out time. The kid her teammates call "Slow-Mo" for the smooth way she plays the game, is showing the ability to control the game with the ball in her hands. As her feel for the game has progressed, so too has her shooting ability. Adding a consistent perimeter jumper is going to make her tough to guard with her ability to cover so much ground off the dribble.
Much like White, Scott is a kid that stood out last spring on talent alone. The 6-0 forward is coming into her own. Moving up from the younger group a year ago to the high school group, her poise on the floor was impressive. Her game translated well in that she finishes well in the paint, is fluid enough to attack from the face-up and carries herself as if she's a veteran.
AROUND THE RIM
Sophia Ramos is a 2018 combo guard had a good afternoon. She's a pass-first guard who sees the floor incredibly well.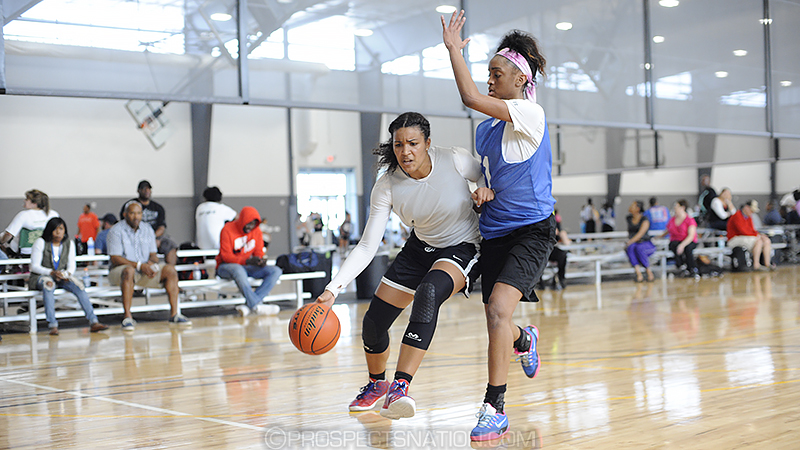 Makayla Mabry attacks the lane at the ShesBallin
Showcase. *Photo by Chris Hansen.Another kid who is no stranger to the showcase camp scene, Makayla Mabry, showed renewed confidence despite not playing high school ball this winter. The 6-2 forward was as physical in the paint as we've seen her in the paint.
Terrysha Banner is a point guard from California that has been to multiple Check Me Out Showcases. Here she showed the same tenacity we've come to expect but she's gotten much stronger, allowing her to play through contact more consistently.
Vanessa Oyola is a change of pace guard with a quick and high release on her jumper. She's more crafty than quick but made plays throughout the session.
Avionne Alexander is playing with a lot more confidence this spring. She is playing stronger with the ball and making more plays because of it.

Chris Hansen is managing editor of ProspectsNation.com and serves on the McDonald's All-American and Naismith Trophy selection committees. He was the national director of scouting for ESPN HoopGurlz from 2005 until 2012 and is the director of the Check Me Out Showcase. He can be reached at chris@prospectsnation.com.