She's Ballin Extravaganza Part III
Posted
4 years 9 months ago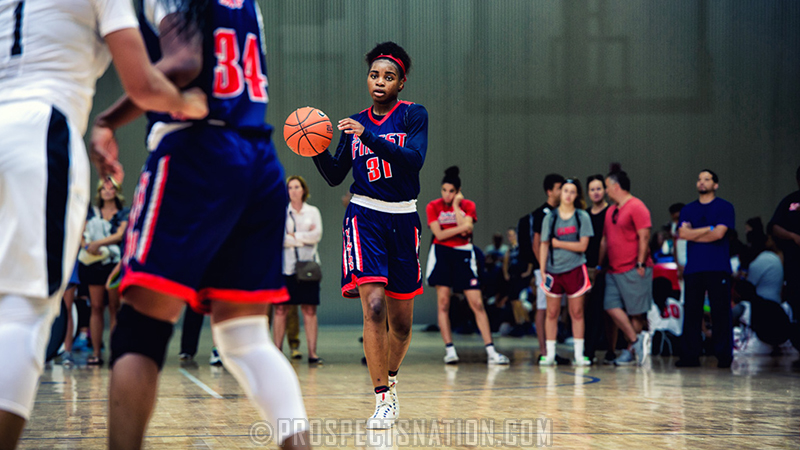 Nyah Green is a five-star prospect in the 2019 class who has committed to Louisville. *Photo by Ty Freeman.
SAN ANTONIO – The ShesBallin.com Extravaganza has become one of the nation's premier non NCAA-live events on an annual basis. With over 100 travel teams registered including all three of the Lone Star State's EYBL sponsored programs, the 2018 edition was no exception. Here's a look at several stock risers who caught my attention during the showcase:
Ranked as the No. 1 player in the Class of 2019, Green showcased her skill set here. She hit a tough pull-up jumper off the left hand bounce. The future Louisville Cardinal has good size, skill and is making progress with her overall game. The hitch Green had in her jumper last summer is smoothing out. With that progress has come more confidence for Green to shoot without an extra dribble needed for separation.
#EBASuper64 Individual
June 2-3
ATL#PSBRealDeal NCAA Showcase
July 8-9
San Antonio@ShesBallin Saturday Stock Up

Raeven Boswell
Sasha Goforth
Shay Holle
Sammie Wagner
Kyra White

JOIN US https://t.co/Jow0Z53ZU3

INSTAGRAM https://t.co/jSr8AvCdZB @kookookyra_ pic.twitter.com/T01iVE51HX

— Brandon Clay (@BrandonClayPSB) April 8, 2018
A member of the Class of 2023, Samantha Wagner of San Antonio, Texas, still has another year of middle school to go. She made waves during the #EBAFab5 Middle School Showcase in February with her length and energy and has been a regular at the Check Me Out Showcases since 2016. The same applied as Wagner suited up for San Antonio's Finest during this event. We look forward to seeing her again on July 8-9 at the #PSBRealDeal San Antonio followed by #PSBSummerInvite in Atlanta on July 23-24.
Sasha Goforth of Fayetteville, Ark., is one of the more versatile wings that we've seen to date in the Class of 2020. Playing with Cy-Fair EYBL, her ability to make positive plays on both ends caught our attention.
AROUND THE RIM
Shay Holle of Austin, Texas is one to keep an eye on. The Class of 2020 forward made plays for Texas Elite Prime using her length and versatility. Like Boswell, Holle will be on center stage at a ProspectsNation.com covered event in Atlanta during late-July.
Class of 2022 guard Raeven Boswell of Hudson Bend, Texas has the future looking bright for AD Elite. She was impressive at the #EBAFab5 Middle School Showcase in February and again here in San Antonio. We'll see her again in the Alamo City on July 8-9 at the #PSBRealDeal followed by a trip to Atlanta with AD Elite in late-July as well.
Brandon Clay serves as the WNBA Director of Scouting for ProspectsNation.com and owns The JumpOffPlus.com International Report, which is picked up by more than 150 colleges and universities nationwide. He serves as the Executive Camp Director for the Elite Basketball Academy Camps. He serves on the Naismith Trophy Men's / Women's College Player of the Year Academy and is chairman of the HS Boys / Girls Board of Selectors and is on the McDonald's All-American Selection Committee. He also is the publisher of PSBPopCulture.com.