Seattle Spotlight Soph-Frosh
Posted
2 months 1 day ago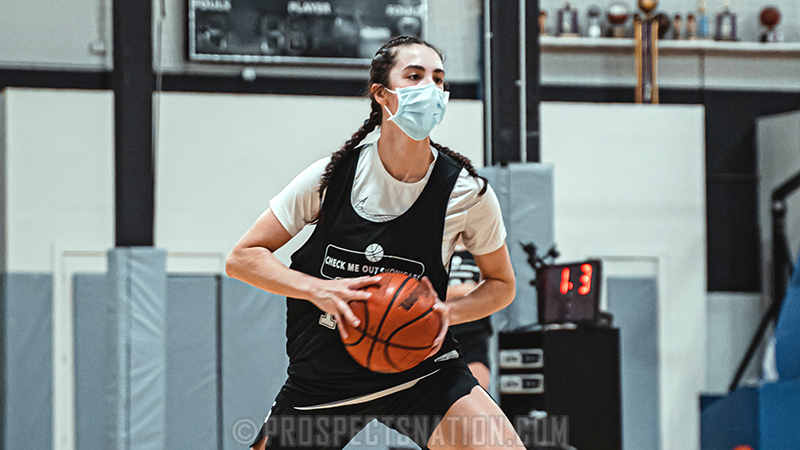 Jenna Villa has elevated her status to a must-know player from the Northwest in 2023. *Photo by Anthony Lugardo.
SEATTLE – The CheckMeOut Showcase is the premier individual showcase throughout the year in the Pacific Northwest. With elite level talent coming from as far away as Arizona and Minnesota to take part, there was no doubt that the event director Chris Hansen had the place to be for new faces and established names alike this weekend. Brandon Clay Spotlight Shooting Sessions held before hand are designed to give prospects a chance to work on their shooting technique specifically prior to the start of the event:
Neal is a smooth left-handed dominant guard who paid Right now, her followthrough release point is a little below her eye level. That will be a place where she can keep improving but the future is bright.
Hasan has solid size at the guard position with a nice shooting stroke to match. She has the ability to become a consistent shot maker in game from the perimeter. As Hasan continues to improve her ball handling in the halfcourt set, her game will keep blossoming.
Olivia Paul (Gig Harbor, WA), Gig Harbor HS - 2024
Paul is a slight-framed yet ultra hard working combo type at the guard spot. She was dialed in from the first drill to the last even making multiple shots in a row as the demonstrator in one of our transition teaching moments. Paul has a smooth looking jumper with a nice high release point.
Myana Calloway (Renton, Wash.), Hazen High School - 2023
Calloway came in ready to get to work. Her smooth pace didn't go unnoticed. She has the skill package and outside shot to make opposing defenders work. In that regard, adding physical strength and a nice change of speed component to her game will only make Calloway tougher to defend.
Haltom brings a combination of length and skill to the big wing slot making her a fantastic jump shooter. She showed a willingness to work on her off the bounce skill package which will take her game to the next level. Haltom is a kid who will understand the scouting report and where to be at all times.
Carter has all the makings of a dynamic combo guard type capable of scoring the ball or making plays for others. Skill wise, her solid work here makes our staff believe that she can continue to grow as a jump shooter as well. Developing that piece takes her game up a whole level.
Villa has been on our staff's radar for five years now. Standing right at a legit 6-foot-2, Villa is emerging as an Elite60 Watch List member. The EliteIsEarned Boost member has a textbook looking jump shot, skill package combination while still showing room to get stronger physically.
Hammerquist ability to take in the high level instruction on the fly was A1. As she keeps developing her game over the next couple years, keeping herself in elite settings like this one will do nothing but enhance her growth. Hammerquist caught our staff's eye with her work ethic here.
Smith is a really steady hand at the guard spot who comes in ready to work. As a result, our staff loved her overall vibe especially during the Spotlight session. We view her as a prospect who can keep making progress as a high percentage shot maker.

Brandon Clay serves as the Director of Scouting for ProspectsNation.com and owns The BrandonClayScouting.com Evaluation Report, which is read by more than 200 colleges and universities nationwide. He also serves as the Executive Skills Director for the Brandon Clay Scouting Academy Series.