Scott Picks Duke After Visit
Posted
5 years 2 weeks ago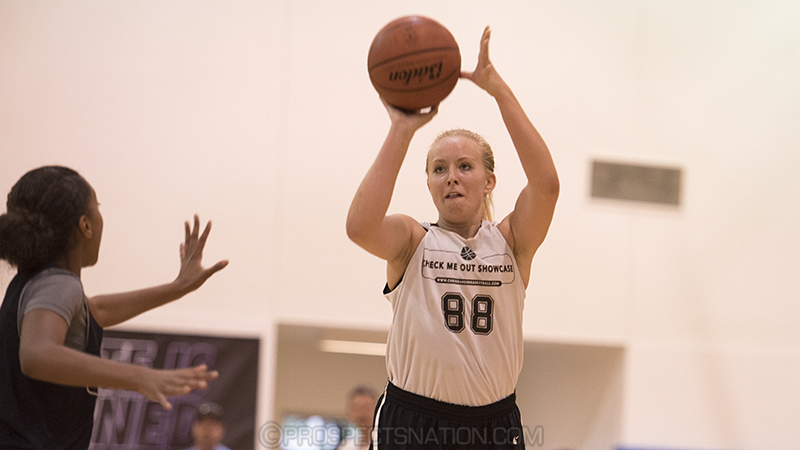 Arieal Scott has one of the most lethal jumpers in the country and a passion for the game that is contagious to teammates. *Photo by Glenn Nelson.
Arieal Scott of Oakwood, Illinois became the eighth player ranked in the top 50 of the 2018 ELITE 100 to give her verbal commitment on Sunday. The sharpshooter, who is ranked 45th in the class, chose Duke following her visit to the school this weekend. The 5-foot-10 guard picked Blue Devils over finalists Illinois, Michigan, Missouri, UCLA and Wisconsin.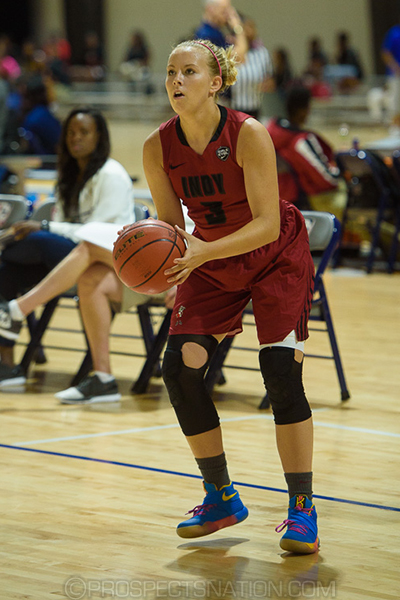 Ariel Scott lines up a jumper at the
2016 PSB Summer Invitational.
*Photo by Ty Freeman."The reason I picked Duke was because I felt it was the right place for and because I truly feel Coach P (McCallie) and her staff truly care about me and truly see me succeeding there," Scott said. "Relationships are very big with me and Coach P and hit it off and instantly I felt a connection between us.
Scott also values the academic profile of Duke. She wants to try her hand in coaching when her playing days are over but also has an interest in accounting.
She is a bit of an accountant on the court too, realizing that three is better than two. Scott was second on her Indy Gym Rats team in scoring at the Nike Nationals tournament, averaging 13.3 points per game and hitting 25 threes in six games at that event. She was red hot for a three-game stretch, shooting 17 of 31 from behind the arc.
Scott is the first commitment for Duke in the 2018 class and she comes in on the heels of a big four-player recruiting class for the ACC program in 2017. Duke expects to sign No. 15 Jade Williams, a 6-4 post, No. 36 Jayda Adams, a 5-11 guard, No. 40 Mikayla Boykin, a 5-9 point guard and No. 137 Madison Treece, a 6-3 post, when the early signing period opens on Thursday.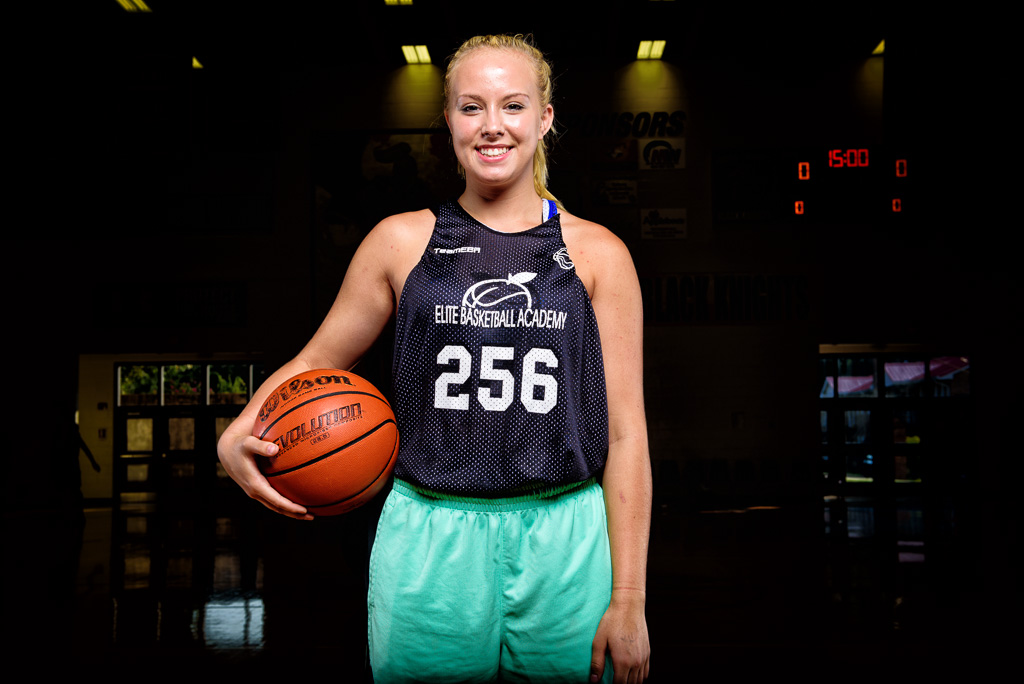 Arieal Scott at the 2016 Elite Basketball Academy All-
American Camp. *Photo by Ty Freeman.Those pieces all fit together with Scott and could actually all play at the same time and pressure defenses to defend the perimeter tight as Adams and Treece are also accomplished shooters from deep.
With some incoming depth in both the frontcourt and backcourt, the Blue Devils can look to add the best talent at any position with the rest of the 2018 class. Duke is involved with No. 3 Olivia Nelson-Ododa, No. 10 Jenna Brown and No. 36 Izabela Nicoletti Leite. But it's still early on in 2018.
Class of 2017
Class of 2018
"I feel Duke is headed in the right direction with its basketball program as well and within the next couple of years could be a great program," Scott said. "I want to be a part of that."
On Social Media
#CheckMeOutNATION
Arieal Scott (@airballher3) got here early to work on footwork w/ @WCGHoops. WATCH \pic.twitter.com/OSMJ4DIeru

— Jonathan Hemingway (@JLHemingwayPSB) August 21, 2016
#EBAAllAmerican

Two stand outs from earlier today!

Shelby McDaniel (Honolulu, HI)
Arieal Scott (Champaign, IL) pic.twitter.com/DsL7hlrhRa

— ProspectsNation.com (@ProspectsNation) September 4, 2016
#CheckMeOutNATION
Looking for shot makers? #88 Arieal Scott (@airballher3) is one of the best in the nation. pic.twitter.com/WKFlhFSdWx

— Jonathan Hemingway (@JLHemingwayPSB) August 20, 2016

Chris Hansen is managing editor of ProspectsNation.com and serves on the McDonald's All-American and Naismith Trophy selection committees. He was a co-founder of and the national director of scouting for ESPN HoopGurlz from 2005 until 2012 and is the director of the Check Me Out Showcase. He can be reached at chris@prospectsnation.com.