Rundown: Love, Moriarity, Reese, Spear
Posted
3 years 10 months ago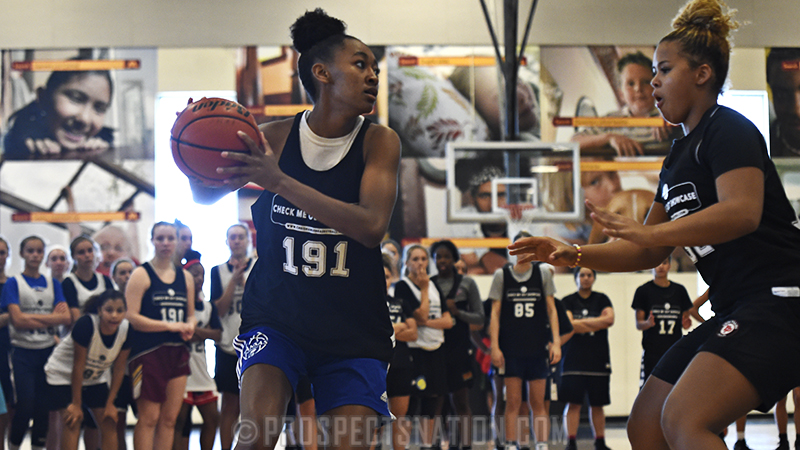 Eylia Love of Olathe, Kansas, competes at the 2018 Check Me Out Showcase in Minneapolis. *Photo by Chris Hansen.
Eylia Love To Georgia Tech
Eylia Love of Olathe, Kansas, gave Georgia Tech her verbal commitment over the weekend. The 6-foot-1 wing has a world of upside. She's a slashing small forward who uses her length really well and extends near rim level to finish. She draws a lot of contact with her style of play and converts from the line.
Love is the third commitment for the Yellow Jackets in 2020, the first class for new coach Nell Fortner and her staff. All three – No. 58 Loyal McQueen of Florence, South Carolina, No. 118 Avyonce Carter of Norcross, Georgia, and No. 146 Love – are all in the ProspectsNation.com ELITE 150.
Jewel Spear To Wake Forest
Wake Forest has a steady leader heading to Winston-Salem in the 2020 class with commitment of Jewel Spear of The Colony, Texas. The 5-8 point guard announced her commitment over the weekend. Spear is a heady point guard who gets her scorers the ball and has found a knack scoring in the mid-range for herself.
Spear, who is ranked 63rd in the class by ProspectsNation.com, is the fourth commitment for the Demon Deacons in 2020. She joins Navaeh Brown of Concord, North Carolina, Demeara Hinds of Lithia Springs, Georgia and Aliah McWhorter of Cincinnati, Ohio.
Angel Reese Chooses Maryland
Angel Reese of Baltimore, Maryland, is the No. 6 prospect in the country and with her commitment to the University of Maryland there are just three players in the top 10 left undecided.
Reese is a dynamic wing-forward. She is a terrific slashing scorer and a highly effective rebounder. She has end-to-end ability in that she can rip a rebound off the rim and take it the other way and finish. She has the length and quickness to defend multiple positions as well.
Reese is the Terps first commitment in 2020. The current roster has just one junior on the roster so Maryland isn't expected to be very active outside of this commitment. And if you're only going to get one, getting an elite five-star prospect is the way to go.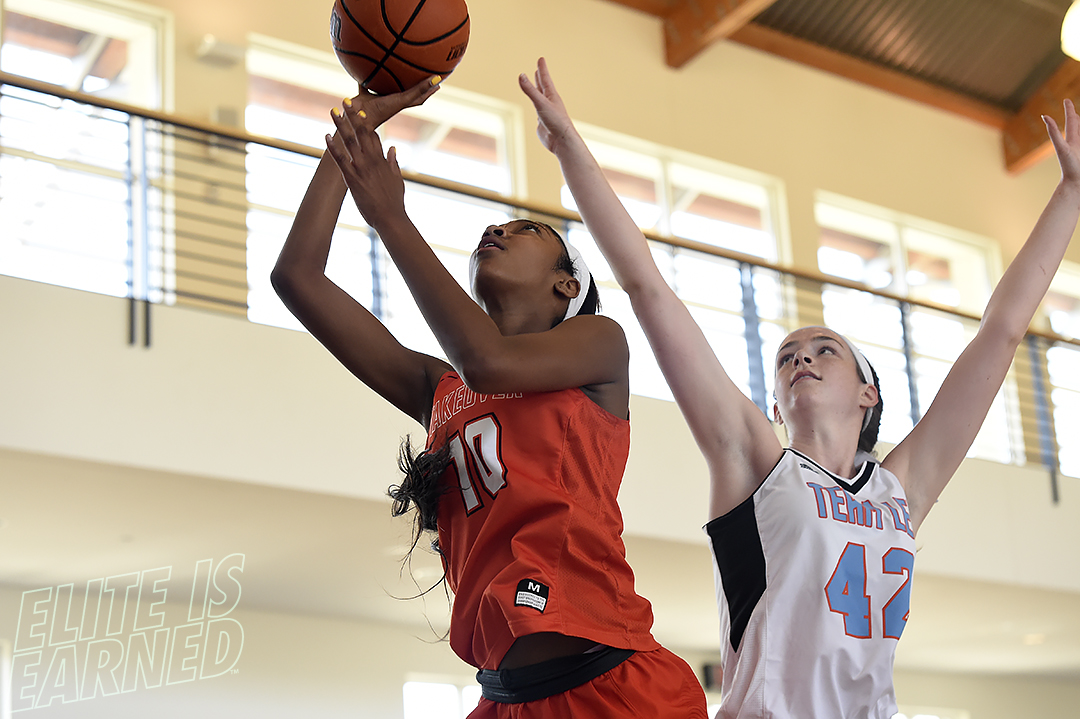 Rachel Harvey Picks Northridge
Rachel Harvey of San Francisco, California, committed to Cal State Northridge. The 5-7 combo guard gives the Matadors three strong signees in the class. Last fall Harvey showed her ability to attack down hill and elevate to finish in traffic at the Check Me Out NorCal Showcase.
Harvey joins ELITE 150 wing-forward Paetynn Gray of Round Rock, Texas, and international commit Rochelle Fourie, a 6-3 post from Palmerston North, New Zealand.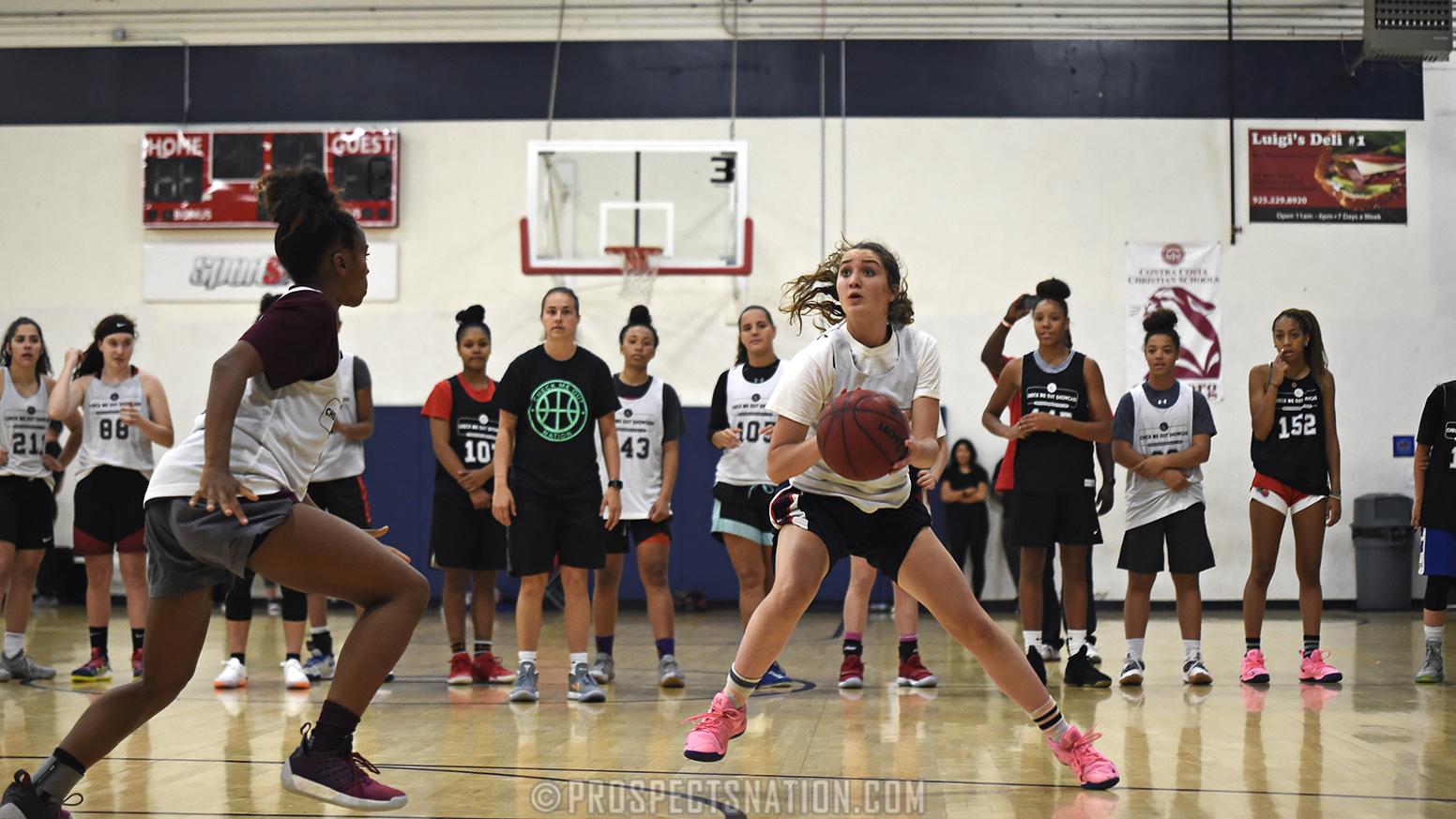 Moriarity To Nebraska In '21
Kendall Moriarity of Wheaton, Illinois, announced she committed to Nebraska this past weekend. The 6-0 guard is the Huskers' first commitment in the 2021 class. She chose Nebraska over offers from Iowa, Penn State, Wisconsin, and others.
Moriarity is a versatile player who can contribute to her teams in a lot of ways. She can wear the primary ballhandler hat, the scoring hat or defer to the hot hand.
Dorroh Releases Top Five
Kiya Dorroh of Tuscon, Arizona, has narrowed her finalists list down to five. The 6-1 wing from Sabino High School has narrowed her list to Missouri, Nebraska, North Carolina, Texas and Vanderbilt.

Chris Hansen is managing editor of ProspectsNation.com and serves on the McDonald's All-American and Naismith Trophy selection committees. He was a co-founder of and the national director of scouting for ESPN HoopGurlz from 2005 until 2012 and is the director of the Check Me Out Showcase and ELITE is EARNED events. He can be reached at chris@prospectsnation.com.