Rundown: Cheesman, Gordon, Jenks, Newman, Vantimmeren, Verhulst
Posted
3 years 5 months ago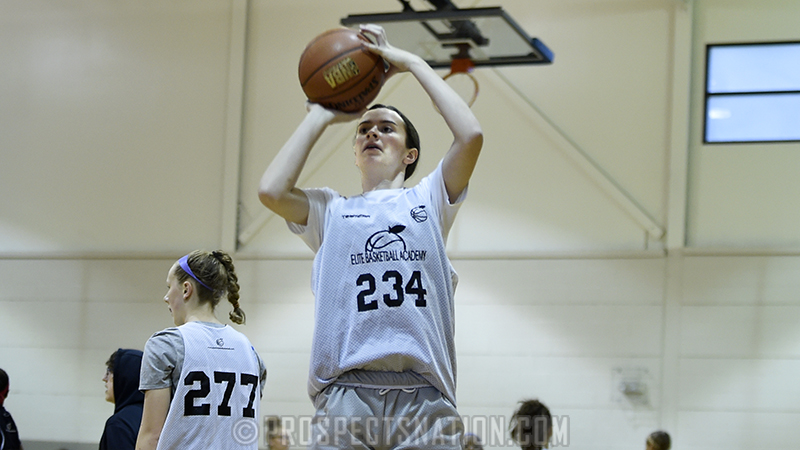 Payton Verhulst elevates for a jumper at the 2019 BCS All-American Showcase in Buford, Georgia. *Photo by Chris Hansen.
While the ProspectsNation.com staff has been crisscrossing the country covering showcases and camps of regional and national consequent, the recruiting race has been charging forward outside the gym.
BrandonClayScouting.com Podcast
West Virginia Lands Jenks
TT Jenks of Louisville, Kentucky, showed her versatility as a player during the BrandonClayScouting.com All-American Showcase back in August. This weekend, Jenks chose to take her skill set to Morgantown to suit up for Mike Carey's Mountaineers. Jenks has consistently grown her game and frame resulting in a spot in the Elite 150 national rankings.
Mizzou Hosts Elite Recruits
The Tigers have been on the prowl recruiting some of the nation's best. They landed newly minted Elite 150 prospect Jayla Kelly of Chesterfield, Missouri, a couple weeks ago. Last weekend, Robin Pingeton's staff hosted fellow Elite 150 recruit Myra Gordon of Dallas, Texas, for their football game against Ole Miss. They also had a couple of Class of 2021 standouts on campus in Payton Verhulst of De Soto, Kansas, and Ally Vantimmeren of Grand Rapids, Michigan.
Cheesman Hits The Road
In addition to working with our staff at Training Academies in Atlanta and Nashville, Kendal Cheesman of Tampa, Florida, has been busy visiting colleges. The rising frontcourt prospect has visited Belmont, Princeton, Vanderbilt and Villanova over the past two weeks. She's one to keep an eye on over the next six months as we eye expansion to 100 in our national rankings.
Newman Makes an East Coast Swing
After making a splash at the BrandonClayScouting.com National Academy in Indianapolis, Newman made a recruiting swing that saw the dynamic forward visit Maryland, North Carolina and Penn State over the past two weeks. She's one of the nation's most sought after frontcourt prospects and for good reason. Newman has the build and upside that WNBA forward Jessica Shepard displayed during her high school days.

Brandon Clay serves as the WNBA Director of Scouting for ProspectsNation.com and owns The JumpOffPlus.com International Report, which is picked up by more than 150 colleges and universities nationwide. He serves as the Executive Camp Director for the Elite Basketball Academy Camps. He serves on the Naismith Trophy Men's / Women's College Player of the Year Academy and is chairman of the HS Boys / Girls Board of Selectors and is on the McDonald's All-American Selection Committee. He also is the publisher of BrandonClayStyle.com.