Recap: Rockin' The Hardwood I
Posted
9 years 9 months ago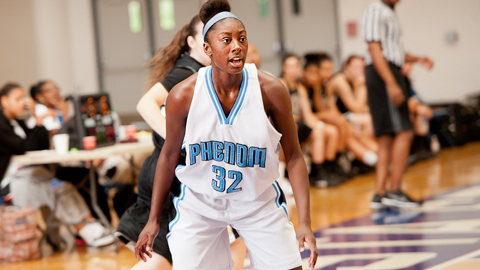 '14 Watch List swing player Chayla Cheadle is stepping into the spotlight this spring.
*Photo by Ty Freeman.
Tweet
FAYETTEVILLE, Ark. – In just its fourth year, Rockin' The Hardwood has become the Arkansas' top club season tournament. Hosted by Michael Hogue and Team Arkansas Elite, 72 of the region's top teams convened to compete and be seen by the ProspectsNation.com staff. Here's a look at some of the standout players from the event.
Chayla Cheadle (Rockbridge, Mo.) - Missouri Phenom – 2014

Cheadle of Rockbridge, Mo., is making the transition to a primary piece of a nationally known club program. A four-star prospect in the junior class, Cheadle is adjusting after the Phenom graduated several players and her sister, Kayla, decided to devote herself to club volleyball this off-season. In the process, Chayla's recruiting has heated up with multiple schools in the Big 12 and other BCS football conferences putting scholarship offers on the table.
This weekend Cheadle, a 5-foot-11 swing forward, handled the role of primary option well, finding various ways to contribute on both ends of the floor and making her teammates better. Though not a dominant scorer by nature, she was able to make her presence felt both inside on the offensive and defensive glass and by knocking down the open 15 to 17-foot jump-shot. The latter was not a part of Cheadle's game this time a year ago and is a consistent weapon in her offensive arsenal.
AROUND THE RIM
♦Caroline Hogue of North Little Rock, Ark., has seen her game mature since our last evaluation this past summer. The 6-1 class of 2015 post has an innate ability to rebound the basketball and control the lane in the process. Coupling that with her soft left-handed shooting touch on the offensive end gives colleges plenty of reason to be excited about the three-star prospect going forward.
♦Class of 2015 guard Riley Rose of Searcy, Ark., is a speedster with the basketball in her hands. Blessed with a lean, ripped frame Rose was able to consistently shot opportunities for herself and her Team Arkansas Elite teammates as well. We'll keep an eye on the four-star prospect over the course of the club season.
♦Like Rose, Alaysia Ready of Jacksonville, Ark., was a legitimate threat with the basketball in her hands. The class of 2016 point guard showed a smooth handle to go along with her foot speed in the open floor. Ready should be one our readers need to know when we add star grades to the freshman class later on this fall. Follow @BrandonClayPSB
Clay is the owner of Peach State Basketball, the JumpOffPlus.com National Scouting Report and serves as Executive Camp Director for the Elite Basketball Academy. He can be reached at brandon@prospectsnation.com.