Posted
10 years 2 weeks ago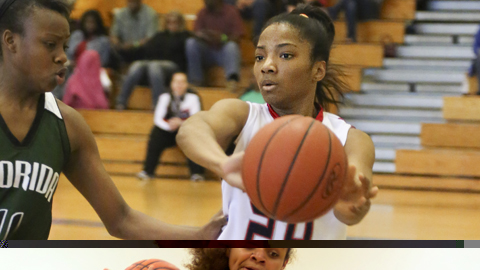 Temple signee Alliya Butts was fantastic at the Keil Moore Showcase. *File photo by Ty Freeman.
Tweet
BRYN MAWR, Pa. – With 81 kids from 10 different states representing most of the Northeast, there were ample opportunities to play against elite competition. The platform allowed for exposure and a great tune-up before the high school season kicks off.
Alliya Butts (Edgewater Park, N.J.), Holy Cross
As a class of 2014 Temple signee, it's no secret that the 5-foot-5 point guard can create offense for herself and others. This weekend we had the opportunity to see Butts put her skill set and athleticism on full display. As a smaller guard she does an excellent job using her quickness to her advantage. Attacking the rim and forcing defenses to rotate to stay in front of her allows her to put her showcase advanced passing skills. Butts will be a nice puzzle piece for the Owls as she is a true point guard with a little flare to her game.
Briana Hardee (Waldorf, Md.), St. Mary's Ryken
It was refreshing to see Hardee, a class of 2015 wing, play and compete this weekend. The 5-10 guard missed a considerable amount of time with a knee injury and is just getting back into form. Hardee showed a high level of aggressiveness, as she was able to attack the rim and make plays heading towards the basket. Her ability to pressure the ball defensively was also on full display.
Ednaija Lassiter (Boston, Mass.), Newton North
A class of 2016 forward, Lassiter is a talented offensive prospect that made us take note of her game this weekend. Lassiter has a feel for playing and creating with the ball in her hands and if she can get an offensive rhythm she can make it tough for an opposing defense. Lassiter showed she can thrive as both a perimeter shooter and as a rim attacker off the bounce; a quality combination that projects well to the next level.
Taryn McCutcheon (Washington, W.Va.), Parkersburg South
As the future point guard of the Michigan State program, McCutcheon's pedigree as one of the better players in the class of 2016 is fully qualified. She is a talented point guard who can make plays with the ball in her hands. Her savvy and craftiness allow her to be effective in open settings and should translate well to the next level as plays tend to breakdown defenders from time to time.
Janelle Robinson (Bethlehem, Pa.), Bethlehem Catholic
Robinson came to the camp as an unsigned senior and proved that she is worthy of a serious look from schools in need of a point guard for the class of 2014. She is a rangy athlete who plays hard on both sides of the ball. Her skill set and athleticism should allow her to fit into a diverse group of offensive and defensive systems.
Jalissa Ross (Boston, Mass.), Newton North
We were really impressed with Ross, a class of 2015 forward. She is a quality athlete who gives effort and energy on both sides of the ball. As her offensive game continues to develop and grow she should be an exciting two way forward for a college program to add to their roster.
Kalista Walters (Fleetwood, Pa.), Bethlehem Catholic
Walters is an impressive prospect who has continued to develop her skill set throughout her time on the national scene. At 6-1 she has good length and mobility and should be able to play multiple positions during her college career. This weekend we saw Walters display some of her perimeter skill set and as she continues to polish her ability to play facing the basket and couple that with a quality low post play, she will bring a tremendous amount of versatility to a college program. Follow @KeilMoorePSB

Moore is the Director of Scouting for the JumpOffPlus.com National Scouting Report and international scouting report. He has been a member if the women's basketball community for more than six years as a trainer and evaluator. He can be reached at keil@prospectsnation.com.