Reax: No. 6 Slocum To Maryland
Posted
7 years 9 months ago
This past weekend the Maryland Terrapins got some great news with the verbal commitment of Destiny Slocum. The 5-foot-7 point guard from Meridian, Idaho, is ranked sixth in the 2016 class and the five-star prospect fills an immediate need on Brenda Frese's roster.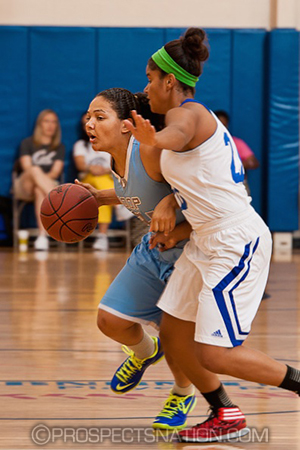 Slocum is lead guard who can fill the role as a lead scorer or a distributor and has made a name for herself as a tremendous competitor. She has competed against some of the top players in the country, earning a spot on the USA Basketball U19 national team as an alternate, helping the team win gold in Russia this summer. She's travelled a national schedule with her Boise Hoop Dreams club team and been a standout at several Check Me Out Showcase events on the west coast.
Slocum, who originally committed to Washington before reopening her recruitment this spring, will join Baylor transfer Ieshia Small in bolstering the Terps' backcourt a year from now. That duo will hit the court with five other 2016 Maryland verbal commitments – Kaila Charles, a 6-0 wing from Glen Burnie, Md., Stephanie Jones, a 6-1 wing from Harve De Grace, Md., Blair Watson, a 6-0 wing from Nutley, N.J., Sarah Myers, a 5-9 guard from Cumming, Ga., and Jenna Staiti, a 6-5 post from Cumming, Ga.
These seven players will comprise the core the Terps program beginning in 2016. Current sophomores A'Lexus Harrison, Kristen Confroy and Kiara Leslie as well as current freshmen Kiah Gillespie and Brianna Fraser will round out Coach Frese's roster.
Look for Maryland to transition into the 2017 class looking to add depth at the guard position.

Chris Hansen is managing editor of ProspectsNation.com and serves on the McDonald's All-American and Naismith Trophy selection committees. He was the national director of scouting for ESPN HoopGurlz from 2005 until 2012 and is the director of the Check Me Out Showcase. He can be reached at chris@prospectsnation.com.