PSB Spring Showdown Championship Recap
Posted
7 months 2 weeks ago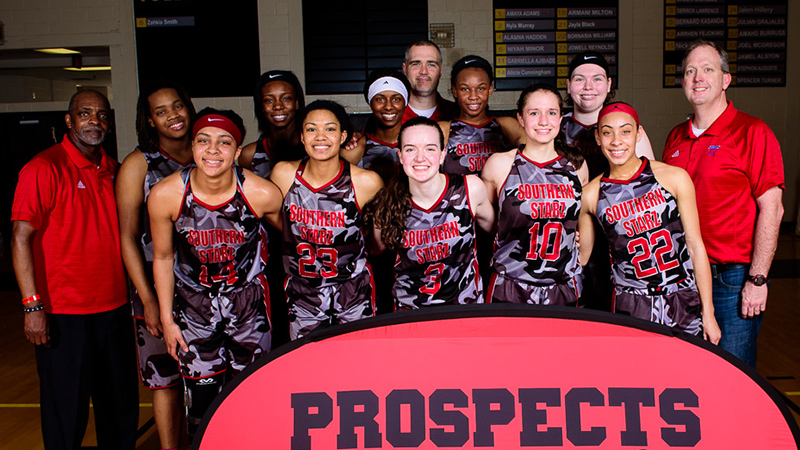 The Alabama Southern Starz 2018 team captured gold in the PSB Nationals Division *Photo by Ty Freeman
LAWRENCEVILLE, Georgia, - For high school prospects, high school season is in the rearview mirror and the NCAA evaluation periods are on the horizon. The month of March is the time where club teams look for competitive tournaments in preparation for the live periods. The PSB Spring Showdown provided an elite stage for teams from across the Southeast. Check the social media posts by clicking #PSBSpringShowdown for more highlights and videos from the tournament. Here are the standouts players from Championship Sunday.
Maori Davenport (Troy, Alabama), All Alabama Roadrunners – 2019
Davenport, ranked No. 26 nationally, backed up her reputation with a solid performance in late March. Now listed at 6-foot-4 she should be considered in the elite category of defenders and rebounders. She alters shots inside and outside of her area. Davenport has the ideal frame for the position and athleticism that allows her to play from endline to endline. Her offensive skill set is emerging as a major reason as to why we could see her climb the ranks even more.
#PSBSpringShowdown

'19 Maori Davenport is CONSTANTLY working to get the ball. A high energy big for All Alabama Roadrunners. @art_CHHS pic.twitter.com/bC8oA7Z2M7

— PSB Events (@PeachStateBBall) March 26, 2017
Nicole Smith (Peachtree City, Georgia), PTC Thunder – 2022
Identifying young talent like Smith is a big reason why non-certified tournaments are important for JumpOffPlus.com evaluators. She is a young post player with legitimate length and agility that is rare to see at a young age. Her instincts and touch around the basket helped in leading her team to a championship in a 2021 bracket division. Smith still has plenty of development in front of her, but she is certainly on the right track in terms of being a prospect of interest for college coaches.
McNulty caught our eye for the second time in a month's time (Coach Hemi MS Showcase Recap). In a championship game versus Team Elite in the #EBASuper64 championship game, McNulty came through with timely buckets and energy on the defensive end. She is a versatile player who can score in traffic or with jumpers facing the basket. Most importantly it is the spirit that she brings to the court that seems to galvanize her teammates to play harder.
Karleigh Sledge (Tuscumbia, Alabama), Alabama Southern Starz – 2018
Sledge came up big in the Starz championship victory over Team Elite EYBL Sophomore. Her off-side rebounding and finishing around the basket were timely. Her ability to get position and keep a nose for the ball will make her an asset for the Starz all summer long. At 6-foot tall she puts us in the mid of Kenendy Gavin, class of 2017 University of Southern Mississippi signee, who also played for coach Doug Bush's squad last season. She is a productive player who does not have to be the primary target in order to produce.
Unique Miller (Atlanta, Georgia), Team Elite - 2021
One of the more intriguing players on the rise in the Atlanta area is Miller. She stands at 6-2 and is built very strongly. Her size, athleticism and strength are her clear strengths now. However, she has great feet and touch around the basket. She scored a game high 18 points in a win on Sunday morning for coach Kirk Pointer's 2021 team. Although she has the size of a center, she is more of a classical power forward who will work well in the pick and dive action on the perimeter. She is equally effective as a perimeter defender while having the spring to block shots on the interior.
#PSBSpringShowdown
'21 Unique Miller beasted the competition today in a win. 18pts for Team Elite

MORE https://t.co/MjoRw4XpzQ pic.twitter.com/0QSRiFekHp

— Jonathan Hemingway (@JLHemingwayPSB) March 26, 2017
Around the Rim
The Alabama Southern Starz were big winners at the Spring Showdown as multiple teams from their program came away with championship wins. The class of 2019 team walked away with a win on Sunday. Forward Jasmine Gracie of Huntsville, Alabama, is a prospect to watch on this team.
Class of 2019 Kennedi Manning of Georgia Pistols East made herself known on Championship Sunday. She is a slender built post player with great length and mobility.
Team Elite Mario has a roster full of athleticism and playmakers. Class of 2020 guard Jayla Kimbrough of Decatur, Georgia, made a great first impression. Her aggressiveness on both ends make her a potential difference maker in future evaluations.
Blue Star Florida rolled deep with much talent throughout the 3-day tournament. Their 2021 team took home a championship behind the effort of Elise Ramirez of Orlando, Florida. The lanky forward scored well in the midrange.
Perhaps the most impressive athlete of the weekend was Lanett Williams of Team Elite EYBL Sophomore. The 6-1 forward leaped and blocked shots off the backboard. She ran the court like a guard and caught the attention of everyone.

Jonathan Hemingway is the Assistant Director of Scouting for the JumpOffPlus.com National Scouting Report, is on the Naismith Trophy Board of Selectors and owns CoachHemi.com, the go-to source for coaches for X's and O's. He is the floor director of #TeamEBA camps, a site director for #TeamPSB tournaments and can be reached at jonathanhemingway@peachstatebasketball.com.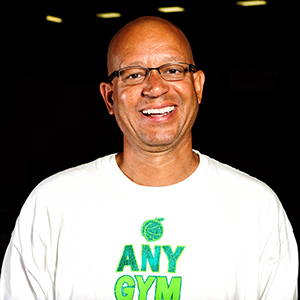 Stephen Peck is the owner of Dream In Motion Athletics and is a national evaluator for the JumpOffPlus.com National Scouting Report. He also serves as a on-floor skills coach at the Elite Basketball Academy events. He can be reached at StephenPeck@peachstatebasketball.com.