Coach Hemi Middle School Showcase
Posted
10 months 3 weeks ago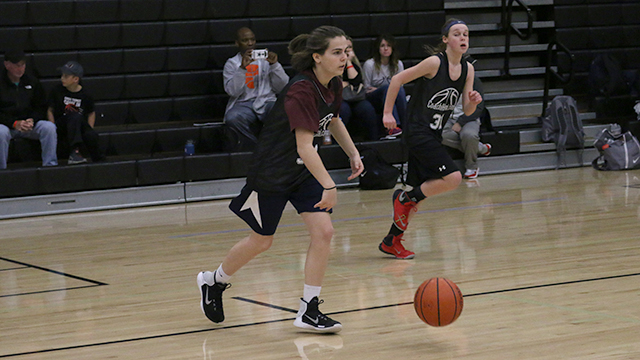 Gracie Midkiff brings the ball up the floor in transition. * Photo by Larry Rhinehart
CLEVELAND, Tennessee – Finding a camp that provides a platform of exposure and instruction is important for middle school aged prospects. The final weekend in February provided an opportunity for nearly 50 players in East Tennessee and surrounding. Evaluators were on hand to document the players' abilities and a team of coaches were there to push them to get better. Here is a look at the players who made the biggest impression during the three-hour workout.
Abbi Bilbrey (Byrdstown, Tennessee) Pickett County - 2021
Bilbrey will be a must-track player once she enters high school this fall. She stands at 5-foot-11 and has the versatility to play inside and out. Her skill and footwork allow her to make plays while either playing on the wing or on the block. She finished the ball effectively in the paint and possesses a nice feel for the game. Her best days of basketball are still in the future.
Gracie Midkiff (Maryville, Tennessee) Alcoa Middle School – 2021
We first saw Midkiff last fall at the Coach Hemi Fall Workout. She showed growth in her game as a primary scorer from the point guard position. She has a quick trigger from deep range and a near perfect release when on balance. Her ball handling abilities still allow her to set the table for her teammates. However, it is her confident footwork that gives reason to believe that she will be impact player in upcoming years.
LeeAnna McNulty (Honaker, Virginia) Honaker High School – 2021
McNulty was one of the most productive players at the camp. She brings a high energy attitude and fills the stat sheet in a variety of ways. She scored around the basket and grabbed rebounds in and outside of her area. Her versatility will make her an asset for every team that she plays for in upcoming years.
Tessa Miller (Crossville, Tennessee) South Cumberland Elementary – 2021
A player Miller's size, 5-foot-11, will always garner attention from evaluators. It was not her height, but her skill and versatility that was the topic of conversation at the end of Sunday's camp. She has range on her jumper and ball skill to handle in traffic. Miller will need to find ways to maximize her size and play bigger at times, but that will not be an issue for long given that she has a coachable attitude.
Sarah Thompson (Gate City, Virginia) Gate City – 2021
In a gym that was filled with guards, Thompson stood out as one of the best. Her ability to attack the lane aggressively is her calling card. She possesses a good first step and solid body control to navigate through attacking defenders. Her shooting touch is solid as she proved that she could hit jumpers from range as well. It is her intangibles that give us hope that she will continue to develop into an impact player. She provided vocal leadership and picked up concepts quickly in an intense setting.
Quick Hitters
Class of 2021 guards Campbell Penland of Sevierville, Tennessee and Tori Rutherford of Bean Station, Tennessee continue to exhibit confidence in their play-making abilities. Both players put the ball on the deck well with either hand and hit the open jumper.
Two class of 2021 forwards that got attention on Sunday were Ashton Estrada and Brenna Droke (Cleveland, Tennessee). Estrada has length to play on the interior, but has a shooting touch that could turn her into a stretch forward. While Droke is a consistent player who rebounds and hits midrange jumpers.
There were plenty of playmakers in the gym at this camp. Class of 2021 guards Jamaryn Blair of (Cleveland, Tennessee) and Sadie Thompson of (Moulton, Alabama) were two of the more aggressive guards at the camp. Blair hit multiple pull-up jumpers to go along with her tough on ball defense. Thompson showed her high school varsity experience in this setting by crossing up the defense to finish at the basket.
More coverage from the #CoachHemi Middle School Showcase will be posted at CoachHemi.com in upcoming weeks.

Jonathan Hemingway is the Assistant Director of Scouting for the JumpOffPlus.com National Scouting Report, is on the Naismith Trophy Board of Selectors and owns CoachHemi.com, the go-to source for coaches for X's and O's. He is the floor director of #TeamEBA camps, a site director for #TeamPSB tournaments and can be reached at jonathanhemingway@peachstatebasketball.com.

Stephen Peck is the owner of Dream In Motion Athletics and is a national evaluator for the JumpOffPlus.com National Scouting Report. He also serves as an on-floor skills coach at the Elite Basketball Academy events. He can be reached at StephenPeck@peachstatebasketball.com.